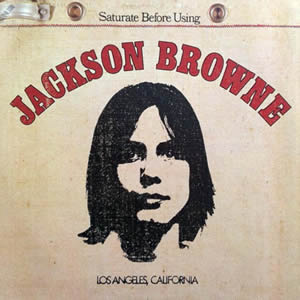 Sometimes referred to as "Saturate Before Using", Jackson Browne's 1972 self-titled debut showcases his early style of composing and performing reflective ballads. This album achieved a healthy measure of commercial success and received critical acclaim which has expanded through the decades as its original compositions communicate a romantic sensibility and employ a subtle arrangement and production style. Further, while only 23 at the time of it's release, Browne was already a quasi-veteran in the Southern California music scene, which gave him the opportunity to enlist A-list musicians and singers to back him up on this debut.
Jackson Browne was born in Germany to American parents but spent most of his childhood in California. He began performing folk songs in his teens and joined the Nitty Gritty Dirt Band shortly after graduating high school (while Browne was only in the band for a short time, the Nitty Gritty Dirt Band would later recorded a number of his compositions). After leaving the Dirt Band in 1967, Browne moved to New York City and became a writer for the publishing company Nina Music, where he had various connections with people in the folk scene. Browne contributed to Nico's debut album Chelsea Girl and some of his songs were recorded by Tom Rush, Gregg Allman, Joan Baez, Linda Ronstadt and the Byrds before he ever recorded his own versions. After moving back to LA, Browne signed with his manager David Geffen's new Asylum Records in 1971.
Browne's first album featured several guest performers, including the vocal harmonies of David Crosby and Graham Nash and the guitars of Jesse Ed Davis and Albert Lee. The sessions were spearheaded by producer/engineer Richard Sanford Orshoff and recorded at Crystal Sound Recorders in Hollywood.

Jackson Browne

by

Jackson Browne
Released: January 1, 1972 (Asylum)
Produced by: Richard Sanford Orshoff
Recorded: Crystal Sound Recorders, Hollywood, 1971
Side One
Side Two
Jamaica Say You Will
A Child in These Hills
Song for Adam
Doctor, My Eyes
From Silver Lake
Something Fine
Under the Falling Sky
Looking Into You
Rock Me on the Water
My Opening Farewell
Primary Musicians
Jackson Browne – Lead Vocals, Piano, Guitar
Jim Gordon – Organ
Leland Sklar – Bass
Russ Kunkel – Drums, Percussion
The record begins with "Jamaica Say You Will", a melodic piano tune with the fine accompaniment of bass and drums by Leland Sklar and Russ Kunkel respectively. This song was inspired by a gardener who worked across the street from the Pacific Ocean and it had been previously released by The Byrds on their 1971 album Byrdmaniax. "A Child in These Hills" follows as an acoustic folk tune with great electric interplay by Albert Lee throughout, along with fine harmonica textures by Jimmie Fadden, especially during the train-like unique outro. The somber "Song for Adam" is pure acoustic folk with a very slight arrangement, written in memory of Browne's friend Adam Saylor, who died in 1968 either by accident or suicide.
The upbeat pop/rocker "Doctor, My Eyes" features a thumping piano, a fine melody and layered textures of sounds which made it a Top 10 hit for Browne. The song's lyric is a statement of a man who had stoically endured life's hardships with a slightly optimistic view moving forward and its unique arrangement features electric guitar by Davis and congas by Kunkel. Both "From Silver Lake" and "Something Fine" are sparsely arranged folk ballads, followed by the interesting "Under the Falling Sky", a rhythmically intense song with a lyric which paints an image of deep human connection.
Jackson Browne concludes with three fine compositions, starting with the ballad "Looking into You", which features guests David Jackson on piano and Flying Burrito Brother Sneaky Pete Kleinow on pedal steel guitar. "Rock Me on the Water" is a gospel-like composition with a solo piano break by Craig Doerge before the tune grows more uplifting as it reaches its climax. The album concludes with the slightly melancholy and beautifully constructed "My Opening Farewell", featuring intricate interplay between Browne's acoustic guitar, Sklar's bass and Doerge's piano.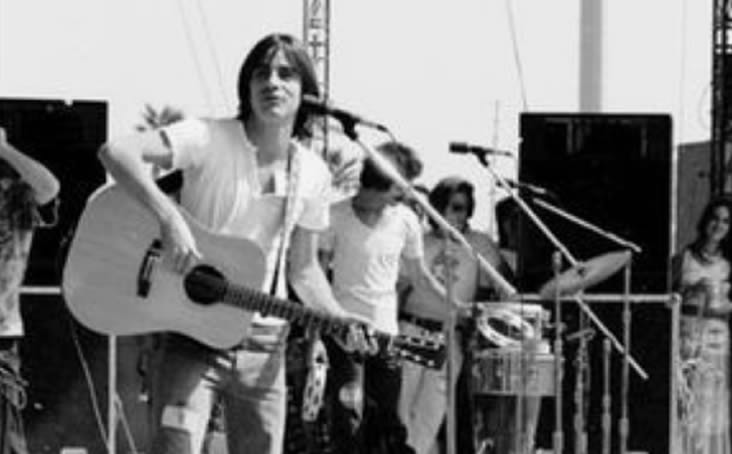 Browne set high standards with this eponymous debut but found the success hard to replicate on his subsequent albums For Everyman (1973) and Late for the Sky (1974), before he once again found commercial success starting with 1976's The Pretender and continuing through the late 1970s and early 1980s.
~

Part of Classic Rock Review's celebration of 1972 albums.