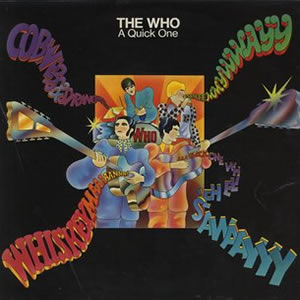 The Who's second album is widely regarded as the pivotal album for the group due to their rapid departure from the R&B/pop formula featured on the band's debut, My Generation, as well as a migration towards more original songwriting. The album was released under the title A Quick One on Reaction Records in the U.K., but American record company executives at Decca Records released the album under the title Happy Jack, rather than the sexually suggestive title of the original release. Due to the song "Happy Jack" being a top 40 hit in the US this track replaced a cover of the hit "Heat Wave" which was included on the original UK version of the album.
The band began to grapple with more complex themes, both melodic and lyrical, especially on their first mini-opera "A Quick One While He's Away", the album's title track. This nine-minute suite contains song snippets telling a story of infidelity and reconciliation. The album was recorded in London with the band's co-manager Kit Lambert as producer. While a select few of the songs on A Quick One became staples of classic rock radio, it is the hidden gems that really bring out the charm of this album. Further this album is the most diverse as far as songwriting, with each band member penning some of the tracks. Although this fact makes the album interesting, it also makes the album uneven as it is definitely superior on the second side. It is clear that not all members are in the songwriting class of guitarist Pete Townshend, who would go on to write most of the band's future material by himself.
This future was bright for The Who, as they rapidly evolved subsequent to A Quick One. Their sound became more focused and the songs themselves became at once more artistic and more melodic. In this sense, the band's evolution in 1966 went on to serve them better than any other mid-sixties British pop group.

A Quick One

by

The Who
Released: December 9, 1966 (Reaction)
Produced by: Kit Lambert
Recorded: London, September-November, 1966
Side One
Side Two
Run Run Run
Boris the Spider
I Need You
Whiskey Man
Heat Wave
Cobwebs and Strange
Don't Look Away
See My Why
So Sad About Us
A Quick One While He's Away
Song Included On Alternate "Happy Jack" Version
Happy Jack
Band Musicians
Roger Daltry – Lead Vocals, Trombone, Percussion
Pete Townshend – Guitars, Keyboards, Penny Whistle, Vocals
John Entwistle – Bass, Keyboards, Horns, Vocals
Keith Moon – Drums, Percussion, Vocals
Being that each band member wrote and sang lead vocals on at least one song from this album, there are a variety of combinations throughout A Quick One. Singer Roger Daltry wrote "See My Way", an average song which is assisted greatly by the addition of French horn and trumpet by bassist John Entwistle.
Each side of the album opens with songs written by Townshend but with Daltry on lead vocals, a combo which would become commonplace in future years. "Run Run Run" is a remnant from their mod pop days with an amplified, slightly distorted, driving guitar accented by bass with not too much fluctuation until the song breaks down after the lead and then picks back up in a higher key. "Don't Look Away" opens the second side on a high note with an excellent composition which fluctuates from folk to rock to blue grass. "So Sad About Us" moves the sound closer towards the classic-era Who, especially with the bass and drums sound.
Entwistle added a couple of fine songs to the album's first side. "Boris the Spider" is memorable and catchy, albeit almost "monster mash-ish" in its construction, especially when he uses his deep "evil" voice during the choruses. His other effort, "Whiskey Man" is closest to the Beatles circa Rubber Soul with a bit of "doominess" to it and a definite edge with French horn, also performed by Entwistle. This is perhaps the best song on the first side.
Drummer Keith Moon shows his strong surfer music influence with "I Need You" on which he also performs lead vocals. The drums are placed right up front in the mix with touches of bouncy organ above the guitar and bass. Moon's other contribution is one of the more bizarre songs the band would ever record called "Cobwebs and Stange". This instrumental alternates from jug-band to drum solo several times and contains some odd instrumentation including a trombone and bass drum performed by Daltry.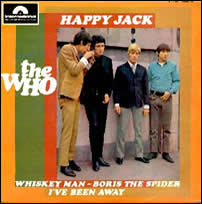 The only song written and sung by Townsend is "Happy Jack", the only true "hit" on the album, peaking at #3 on the U.K. charts and the band's first top 40 hit in the U.S. This odd song was apparently about an old man that Townshend and his friends would tease when they were children, but who would never get angry, only smiling in response. It is a pleasant-sounding number that focuses on the rhythm section of Townshend and Entwistle, as well as some nice vocal harmonies. The song did not appear on the original U.K. release of A Quick One, which instead included the cover of Martha & the Vandells hit "Heat Wave". This was one of many covers recorded around the same time, including "Batman", "Bucket T", and "Barbara Ann", all of which were kept off the original albums but later added as bonus tracks on CD versions.
No matter which version of the album, all songs were short and direct, clocking in under 3:05 until we reach the final, 9-minute-plus "A Quick One While He's Away". There are six distinct parts to the song, starting with an a cappella section, harmonized by all four members. Daltry then uses his best "Dylan" voice for the "Crying Town" section, with Entwistle playing the part of "Ivor the Engine Driver" and Townshend taking lead in the concluding "You Are Forgiven". This song tells the story of an unnamed girl whose lover has been gone for over a year and she commits infidelity, to which she ultimately confesses and is "forgiven". Despite the fact that certain music sections closely mimic some country and western standards and there is some harsh editing when fusing parts together, the song as a whole is a true original and future live performances were cohesive and excellent as is evident in this 1968 performance below.
They would go on to create the pop-art influenced The Who Sell Out in 1967, the world's first rock opera Tommy in 1969, their most popular album (and our 1971 Album of the Year) Who's Next in 1971 and their masterpiece double album Quadrophenia in 1973. All would be more popular and more highly regarded than A Quick One, but this 1966 effort was the catalyst which made those possible.
~

Part of Classic Rock Review's celebration of 1966 albums.