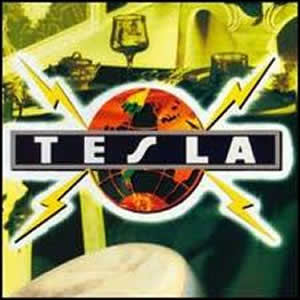 Out of the deluge of "hair bands" that populated the rock scene in the late 1980s, Tesla was, perhaps, the most talented and interesting. The band composed songs which were deeper and less formulaic and had slightly better dynamics then the clones of Poison or Mötley Crüe. By the time the band got around to its third studio album, Psychotic Supper in 1991, they seemed primed to move into the top level of popular rock bands. Their previous studio album, Great Radio Controversy in 1989, got their great radio play with a few charting hits as well as critical respected. This was followed by the live Five Man Acoustical Jam, which put the band on the cutting edge of the rising trend of performing stripped down versions of heavier songs in an intimate setting. With that setup, the band looked to knock it out of the park with this release.
But Psychotic Supper suffered greatly from its time and place in the rock and roll scene. It was released within 30 days of two of the most influential albums of the decade coming out of the Seattle grunge scene – Pearl Jam's Ten and Nirvana's Nevermind, both of which would become a phenomenon in the coming years. To compound this misfortune, Tesla's album was also released within 30 days of long awaited albums by established artists – Metallica's self-titled (black) album and Guns n Rose's duo realease of Use Your Illusion I and Use Your Illusion II. All of this combined to "crowd out" the news of the release and effectively diffuse any momentum that Tesla had built.
The album contains a more stripped-down production method (than practiced in the eighties) and few overdubs to give it an air of legitimacy and live feel. It is the band's bluesy, acoustic-tinged, approach at its height, with just a flourish of self-indulgence which may have further "dated" the sound in a year of radical change in rock n' roll.

Psychotic Supper

by

Tesla
Released: August 30, 1991 (Island)
Produced by: Michael Barbiero
Recorded: 1991
Track Listing
Band Musicians
Change In the Weather
Edison's Medicine
Don't De-Rock Me
Call It What You Want
Song and Emotion
Time
Government Personnel
Freedom Slaves
Had Enough
What You Give
Stir It Up
Can't Stop
Toke About It
Jeff Keith – Lead Vocals
Frank Hannon – Guitar, Keyboards, Vocals
Tommy Skeoch – Guitar, Keyboards
Brian Wheat – Bass, Piano
Troy Luccketta – Drums & Percussion
"Call It What You Want" is one of the most striking songs with the moody and melodic intro morphing into an exciting, upbeat theme with dynamic vocals and sonically pleasing guitar accents. While the "Tesla sound" may be encompassed in "Call It What You Want", their overall band theme could be "Edison's Medicine", which tells the story about the famous inventor Thomas Edison and his lesser known (but equally brilliant) rival Nikola Tesla, the band's namesake.
"Song and Emotion" is an almost bluesy rendition on picked electric lead by the soulful vocals of Keith. The song slowly works its way in before exploding into a heavier rhythm while still maintaining its original feel. "Government Personnel" is a pure acoustic, near-spoof that lasts barely a minute but is still very entertaining. The highly suggestive "Toke About It" uses Van Halen-like showmanship rock to present a party atmosphere to close out the album.
"What You Give" is the most memorable anthem from Psychotic Supper, due especially to the interplay between Frank Hannon on acoustic and Tommy Skeoch on electric guitars. The song itself is a philosophical examination of relationships that is intentionally slow developing to accent the vocal performance as well as its own fine arrangement.
Some of the heavier material on the album include the driving, accent-heavy, and aptly titled "Don't De-Rock Me" and the more standard fare "Had Enough" with some bluesy-edged lead guitars.
Tesla never quite fit into any specific box as far as genre goes, and sadly this prevented the band from getting their due in retrospective critique. In the late eighties they were a step ahead of the (what was then considered) "heavy metal" scene and in the early nineties they weren't melodramatic enough to benefit from the grunge or alternative waves that swept the rock world. Psychotic Supper was, in effect, the band's "last hurrah". After their next album, Bust a Nut in 1994, the band commenced a six year "hiatus" to close out the century which all but ended the productive portion of their run at fame.
~

Part of Classic Rock Review's celebration of 1991 albums.