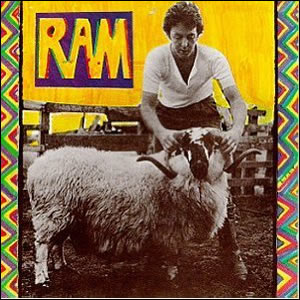 Although Paul McCartney had, by any success metric, the best post-Beatles career of any of his former band mates, he often frustrated fans and critics alike with his constant fluctuation between the artful, avant garde and the well-polished pop hits in his collection. McCartney's sophomore effort, Ram, although probably more of the former than the latter, strikes the proper balance between these two extremes more than any other album in the McCartney collection.
The album is much more well respected today than it was upon it's release in the spring of 1971, just a year after the official breakup of the Beatles and the simultaneous release of his debut solo album McCartney. There are three reasons why this was probably the case. The first was the confusion brought on by the different names used – from "Paul McCartney" to "Paul & Linda McCartney" (this one) to "Paul McCartney & Wings" to simply "Wings". Next, there was a barrage of material coming from McCartney under these various names. Between 1971 and 1973, he released four albums, multiple non-album singles and a movie soundtrack. Finally, there was a variety of song writing and production quality among this material and evident within the album itself.
McCartney was recorded at home on his Scottish farm, and (almost) all by Paul alone. Ram has a similar feel in spots, but definitely has a sharper studio feel throughout, especially on the hit medley "Uncle Albert/Admiral Halsey".

Ram

by

Paul & Linda McCartney
Released: May 17, 1971 (Apple)
Produced by: Paul & Linda McCartney
Recorded: Columbia Recording Studios and A & R Studios, New York,
November, 1970-March, 1971
Side One
Side Two
Too Many People
3 Legs
Ram On
Dear Boy
Uncle Albert/Admiral Halsey
Smile Away
Heart of the Country
Monkberry Moon Delight
Eat at Home
Long Haired Lady
Ram On (Reprise)
The Back Seat of My Car
Primary Musicians
Paul McCartney – Bass, Piano, Vocals
Linda McCartney – Keyboards, Vocals
David Spinozza – Guitars
Hugh McCracken – Guitars
Denny Seiwell – Drums
This odd medley, combining two unrelated subjects, moods, and tempos, is the first song that really sounds "done" on the album. The raw, quasi-unfinished production works well for through album's first three songs, but wears a little thin by the time we get to "Dear Boy". "Uncle Albert/Admiral Halsey", returns to the rich production that was so prominent on The Beatles' later albums, such as Abbey Road, and features a flugelhorn solo by trumpeter Marvin Stamn. Also, this is one of the few song's on the album where Linda's vocals are not sonically "treated" and appear to be on par with Paul's.
Linda McCartney has received much criticism for her vocal abilities over the years, but her contributions to Ram range from adequate to good in most cases, especially on "Long Hair Lady", where she actually has some "speaking parts" with lead vocals (most of her contributions are background, harmonies, or "call backs"). However, on most songs her voice is highly treated with effects that make it obvious that she is not on the same plane as her talented husband.
The album's title song, "Ram On", is a ukulele-driven ballad with somber vocals and over-dubbed effects on piano, percussion, vocals, and various string instruments. The song gives a moody "meaning" to the song and the album. The beginning has an odd piano exercise, sound room instructions, and a false start, no doubt left here for avant garde reasons – but flounders at end with quick fade-out just when it starts to get enjoyable.
The first side finishes with "Smile Away", which may be a nostalgic nod to the simple, early Beatles rockers, but would have worked better as a strictly live song. It is understandable why it would not be well received in 1971, when so many thresholds in rock were being crossed and elevated.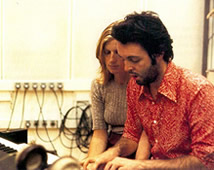 Side two of the album finds some of the more interesting songs. "Heart of the Country" is a down-home, country-esque song, much like "Rocky Raccoon" of the past and "Sally G" a few years in the future. "Monkberry Moon Delight" and "Long Hair Lady" are both fantastic in their uniqueness – one a screaming screed above a driving piano riff that transitions to differing, interesting parts, the other is a mini-suite that seamlessly alternates between moody psychedelia to a blue-grass melody.
The album concludes with "Back Seat of My Car", a good, classically-McCartney ballad. It is theatrical and romantic, almost melancholy, and is also an anthem of solidarity for Paul and Linda, dedicated to their own world and their own desires no matter what critique rains upon them, with the defiantly-repeated lyric; "…we believe that we can't be wrong…".
Perhaps the album's strongest number is the one that starts it off, "Too Many People". With a nice diminishing acoustic riff, accented by an excellent overtone of electric riff by guitarist Hugh McCracken and Paul's Rickenbacker bass. It is expertly honed and yet has a raw edge to it, plus there is much folklore surrounding this song.
John Lennon took offense to some of the lyrics in this song, which led to his retort in a song on his album Imagine later in 1971 (check out our review of that album). McCartney did admit that he had Lennon in mind when he wrote the line; "…too many people, preaching practices…", but some have speculated that it was actually a deeper dig with the closing line; "…she's waiting for me… actually focused on Yoko and her alleged fascination with Paul before she got involved with John.
Whatever the ultimate truth, it appeared that at times both Lennon and McCartney were speaking to an audience of one – each other. When John wrote a song personifying his childhood vision of Liverpool in "Strawberry Fields Forever", Paul immediately responded with his own in "Penny Lane". McCartney came up with the jug band concept in "Sgt. Pepper's" and Lennon comes up with the carnival concept in "Being for the Benefit of Mr. Kite". And after John Lennon collaborated with his non-musician wife on several projects, Paul McCartney enlisted his own non-musician wife starting with this album, Ram.
It's a shame that this creative rivalry could not survive beyond 1980.
~

Part of Classic Rock Review's celebration of 1971 albums.