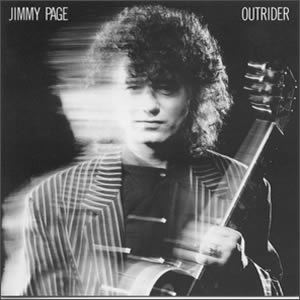 Although Jimmy Page had a pretty rich post-Led Zeppelin career, he only released one solo studio album, Outrider, in 1988. Originally intended to be a double album, the project was pared back when Page's demo tapes were stolen, leaving him with no pre-production material. As a result, the single LP finished product has a bit of a hurried and unpolished sound, which Page himself referred to as "demo quality". However, there is a certain charm to many of the pieces on the album which are more sound-oriented than composition-oriented, as Page heavily returns to the rock-infused blues which launched Led Zeppelin nearly two decades earlier. The album was recorded at a time when Page had moved on from his mid-eighties "super group" The Firm but was yet to form the various hyphenated collaborations of the nineties, including a reunion with Zeppelin band mate Robert Plant.
Six years before that eventual reunion, at the time of this album's release, there were several positive signs including Page, Plant, and Jones reuniting during Atlantic's 40th reunion, Page showing up on stage a some of Plant's solo concerts, and Plant co-writing and performing a song on this Outrider album for Page. In fact, "The Only One" featured three of the four Led Zeppelin members who would reunite on December 10, 2007, as the late John Bonham's son, Jason Bonham, plays drums behind Plant and Page on the track. on the downside, even though this upbeat rocker reached the Top 20 on the Mainstream Rock Tracks chart, the song itself seems a bit underdeveloped with a convoluted chorus, making it an opportunity lost for a great musical oasis.
Then 22 years old, Jason Bonham ended up playing on most of the album's tracks. His former band, Virginia Wolf, had released two albums and toured the U.S. in support the of Page's former band, The Firm. Listening to the album, there is no doubt that Bonzo's son was a perfect match for this album.

Outrider

by

Jimmy Page
Released: June 19, 1988 (Geffen)
Produced by: Jimmy Page
Recorded: The Sol, Berkshire, England, Early 1987
Side One
Side Two
Wasting My Time
Wanna Make Love
Writes of Winter
The Only One
Liquid Mercury
Hummingbird
Emerald Eyes
Prison Blues
Blues Anthem
Primary Musicians
Jimmy Page – Guitars, Synthesizers
Felix Krish – Bass
Jason Bonham – Drums, Percussion
There is a definite divide between the two sides of the original album. The first side is dominated by blues/rock riffs, including two instrumentals along with the Page/Plant track and two songs Page composed and recorded with vocalist John Miles. The second side contains selections with a lighter touch and features vocalist Chris Farlowe on three of its four tracks.
"Wanna Make Love" is the real gem of the first side with well-defined guitar riffs and blended slide guitars along with a good rock vocal melody by Miles. Although there is a "lead" area, it is not really a proper guitar solo, just a way for Page to reiterate the great effects chorus of bottleneck sounds and growling wah-wah. "Wasting My Time" starts the album with Page's band mate in The Firm Tony Franklin on bass guitar. The first of two composed by Page and Miles, the song seamlessly alternates between the quasi-riff chorus and verse sections, all held together only by the steady drumming of Bonham along with some slight bluesy riff overdubs and a pretty decent guitar lead.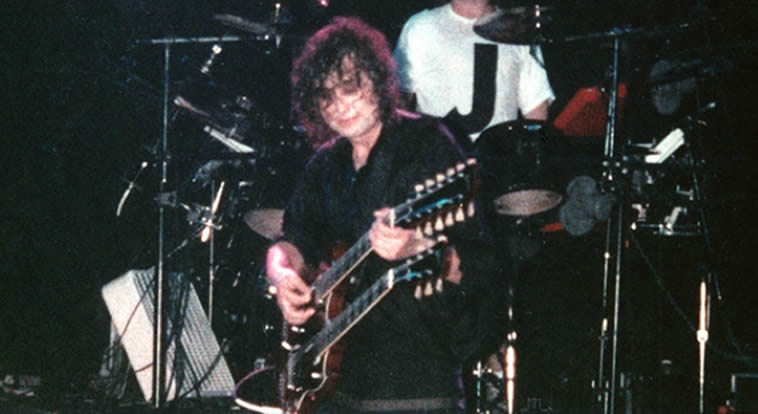 "Writes of Winter" is the first, riff-driven instrumental with a driving rhythm which echoes Joe Perry from Aerosmith who ironically cut his teeth by mimicking Page's version of "Train Kept a Rolling", the first song Zeppelin ever performed together. "Liquid Mercury" is another heavy, riff-driven piece which sounds like it should be the foundation for a proper rock song. Barriemore Barlow plays drums on this one as well as the final instrumental "Emerald Eyes", a gently strummed acoustic piece with interesting overdubbed tremolo effects.
The rest of the album features Farlowe on vocals. Leon Russell's "Hummingbird" is a moderate blues song which differs vastly from anything on the first side, both musically and vocally. "Prison Blues" contains sexual innuendo lyrically, shredding guitar by Page, and a solid bass by Felix Krish. "Blues Anthem (If I Cannot Have Your Love…)" wraps up the album with a true ballad which sounds like it provided inspiration for the Black Crowes (another group which Page would team up with in the future) a few years down the line. It is short and sweet acoustic lament to end a short and frantic album.
Outrider fared moderately on the charts, reaching the Top 40 in several countries. Unfortunately, the album hasn't sustained much popularity through the years and Jimmy Page hasn't attempted any kind of similar follow-up in the past 25 years.
~

Part of Classic Rock Review's celebration of 1988 albums.