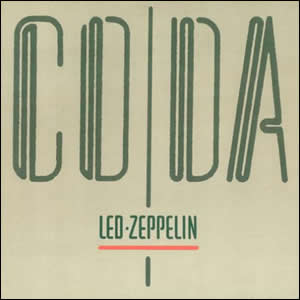 Coda is a unique album for us to review. Although it is listed officially as the ninth and final studio album by Led Zeppelin, it could just as well be listed as a quasi-compilation of unreleased tracks in the tradition of The Who's Odds and Sods or Bob Dylan's Basement Tapes. Like those, this is a fine and entertaining album, and a must-have for any serious fan of the artist. But we internally debated whether it was proper to include Coda with our reviews from 1982. After all, it had been a full two years since the death of drummer John Bonham and the subsequent disbandment of Led Zeppelin as a cohesive group. Also, the most recent recordings on Coda were made four years prior to its November 1982 release, with the earliest recording stretching back to the late 1960s. The truth is, we simply could not overlook this album. After all, this IS Led Zeppelin and this band is likely to be the only one which Classic Rock Review covers every single studio album (I mean, we've already done Presence, what can we possibly exclude?)
The album spans the band's entire career, from live performances just after their debut album to unused songs from In Through the Out Door sessions. However, it focuses mainly on the bookends of very early material and very recent material with very little representation from the band's most popular "middle" years. This is most likely due to the fact that 1975's Physical Graffiti included many unreleased songs from that era.
With such a chasm between the early and recent material, producer and lead guitarist Jimmy Page did a great job making it all sound cohesive. This included extensive, yet not overwhelming, post-production treatment of each track. According to Page, the album was released because there was so much bootleg stuff out following the disbandment. However, Coda was not a comprehensive collection in its original form. The 1982 LP contained eight tracks and ran at a mere 33 minutes in length. Eleven years later, four more tracks were added to CD versions of the album, tracks which were mysteriously excluded originally. Some have suggested it was really only released to fulfill a contract obligation to Atlantic Records.


Coda

by

Led Zeppelin
Released: November 19, 1982 (Swan Song)
Produced by: Jimmy Page
Recorded: Various Locations, June 1969-November 1978
Side One
Side Two
We're Gonna Groove
Poor Tom
I Can't Quit You Baby
Walter's Walk
Ozone Baby
Darlene
Bonzo's Montreaux
Wearing and Tearing
Tracks Added to CD Edition in 1993
Baby Come On Home
Travelling Riverside Blues
White Summer/Black Mountain Side
Hey Hey What Can I Do
Band Musicians
Robert Plant – Vocals, Harmonica
Jimmy Page – Guitars
John Paul Jones – Bass, Piano, Keyboards
John Bonham – Drums, Percussion

"Walter's Walk" is the oddest song in this collection, as it is the only that comes from the mid-era of the band, credited as a 1972 recording during the Houses Of the Holy sessions. However, both Page's guitar style and especially Robert Plant's vocals are clues that a significant amount of overdubbing was likely done for the Coda album. As one who, recently reviewed Plant's 1982 debut Pictures At Eleven, it is quite clear that his vocals on this track are a much greater match for 1982 than for 1972. Still there's no doubt that this song existed in some form in the early 1970s as a portion of it was included in the extended jam version of "Dazed and Confused".
Most of the original second side were tracks leftover from the 1978 Stockholm sessions for In Through the Out Door. These are all solid and well produced tracks which were only excluded due to time constraints and were slated to be released as an EP following the band's 1980 North American tour, a tour which never took place due to Bonham's death. From these particular tracks, you can hear that Zeppelin was experimenting with more modern genres during that era. "Ozone Baby" is the closest to new wave that the band ever came. It is riff-driven with some interesting changes and features harmonized vocal effects from Plant, a rarity for the band. "Wearing and Tearing" is the song most closely resembling the times, admittedly a response to the punk scene that swallowed up the U.K. while Led Zeppelin was on an extended hiatus in the late seventies. In this sense, it is probably the most interesting song on the album because it possesses the raw power of their early material and offers a glimpse to where they might have gone had they continued.
"Darlene" is a fantastic, oft-overlooked gem by Led Zeppelin with a perfect guitar riff and entertaining rock piano. John Paul Jones really stepped to the forefront on In Through the Out Door, writing much of the material and adding the extra dimensions of keyboards on a consistent basis. That approach is best demonstrated on this track, which incorporates a basic, rockabilly canvas with some interesting variations and song transitions. The side is rounded out by "Bonzo's Montreux", a live drum rehearsal caught on tape by one of the engineers before a 1976 show in Montreux, Switzerland. Page later added some electronic effects, and the band had a suitable tribute to their fallen comrade.
Coda begins with a wild frenzy of a song, "We're Gonna Groove", written by soul artists Ben E. King and James Bethea with the original title "Groovin'". A studio version was scheduled to appear on Led Zeppelin II, but due to the band's hectic schedule that year, they never got around to recording it. Page took a live version of the song, recorded at Royal Albert Hall, and did a masterful job of overdubbing lead guitars and enhancing the vocals and drums for the Coda track. He did something similar for "I Can't Quit You Baby", which is taken from the same concert, the only song in the "studio album" collection to be repeated, which is unfortunate, although this version is superior to that on the band's first album.
"Poor Tom" is the absolute gem from this album, a folk song from sessions for Led Zeppelin III, recorded in 1970. It is backed by a consistent and infectious drum shuffle by Bonham. The song contains dueling acoustic guitars and some fine harmonica by Plant, a great skill by the vocalist often overlooked. The unexplained lyric to this song is rumored to have deep roots in English folklore and/or contemporary philosophy. From those same sessions came "Hey, Hey What Can I Do?", another acoustic folk song that was released as the B-side to "Immigrant Song", but was long out of print when it was finally released on Zeppelin's 1993 box set and subsequent versions of coda.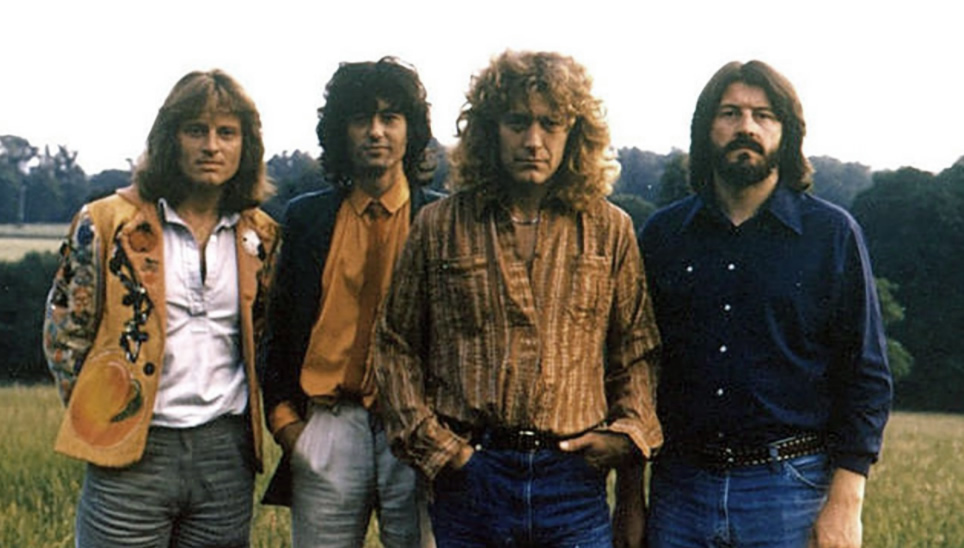 Three more songs were also added to post-1993 versions of the album. "Baby Come On Home" is a straight-up soul ballad from sessions so early that the tape canister was actually labeled, "The Yardbirds" (Led Zeppelin was originally called the "New Yardbirds"). That master tape went missing for several decades and allegedly turned up in a refuse bin outside Olympic Studios in 1991. The track itself is an interesting listen with Page playing a Leslie guitar and Jones on piano and Hammond organ, not to mention the sheer novelty of hearing the band perform this genre straight up. "White Mountain/Black Mountainside" is a long, solo instrumental that Page performed often during the band's early years until it morphed into music which would become "Stairway to Heaven". "Traveling Riverside Blues" is a barrage of blues anthems that show the Zeppelin sound forged in the earliest days, especially the bluesy slide guitar by Page and the great bass by Jones. It is the finest of the four newly added tracks and it baffles fans like myself as to why it was originally excluded. Although this song got its title from a Robert Johnson classic, it is actually more like a (then) modern day tribute to the blues legend, with Plant incorporating lyrics from several of Johnson's songs.
The term "coda" means a passage that ends a musical piece, following the main body. To the band's credit, they kept their compact implicit in this title and did not continue any further without without Bonham. This gave Led Zeppelin a bit of career cohesion which all but guarantees that their tremendous legacy will never be stained.
~
Led Zeppelin online



Led Zeppelin official website
Buy Coda

Part of Classic Rock Review's celebration of 1982 albums