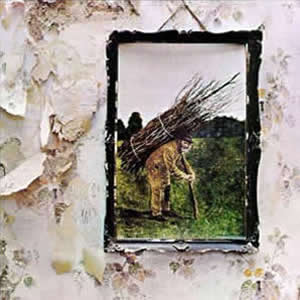 Led Zeppelin's fourth studio album, which has no proper title but is commonly referred to as Led Zeppelin IV, may well be the pinnacle of the band's early sound. Over time it has become their most popular album by far but, ironically, it is the only album in a string of six consecutive (from Led Zeppelin II in 1969 to In Through the Out Door in 1979) that did not reach #1 on the charts, as it peaked at #2. The album itself was also a bit of a philosophical statement, as the band and manager Peter Grant had decided to avoid the rock press and mainstream promotional channels and go "directly to the fans" with an almost-secret-society-type product which contained no official title or other descriptive language save for the four original symbols located on the inner sleeve and vinyl label.
This new, fourth album is where it would all came together for the band, with the confluence of the different themes and styles that Zeppelin had explored through their first three years and first three albums as well as with many, many happy accidents. The result is an album which contains moments that will forever be etched in rock history.
Their previous album, Led Zeppelin III released in 1970, was a critical and commercial disappointment at the time (although it would gain much appreciation and esteem years later). This was due mainly to confusion by fans and critics alike, due to the high content of acoustic folk songs, which vastly deviated from the band's heavier, blues-based approach of their first two albums. In retrospect, this attempt by the band to branch out to other styles and genres was rather ingenious as it became rather popular throughout the seventies. With the continued diversity of styles on this fourth album, Led Zeppelin assured ever-growing success for generations to come.

Led Zeppelin (IV)

by

Led Zeppelin
Released: November 8, 1971 (Atlantic)Produced by: Jimmy Page
Recorded: Island Studios, London & Headley Grange, East Hampshire
December, 1970 – February, 1971
Side One
Side Two
Black Dog
Rock and Roll
The Battle of Evermore
Stairway to Heaven
Misty Mountain Hop
Four Sticks
Going to California
When the Levee Breaks
Band Musicians
Robert Plant – Vocals, Harmonica
Jimmy Page – Guitars, Mandolin
John Paul Jones – Bass, Recorders, Piano, Synths, Guitar
John Bonham – Drums, Percussion
In time, Zeppelin would become one of the most diverse rock bands ever, incorporating elements from blues, jazz, folk, country, funk, reggae, as well as developing their own distinct styles that would be echoed in heavy metal, arena rock, and jam bands for decades to come. But in late 1970, Jimmy Page, the band's lead guitarist and sole producer, was especially stung by the harsh critique and weak sales of their latest album and wanted to get a new album out as soon as possible, as he was brimming with ideas. He got together with Robert Plant, Zeppelin's dynamic vocalist and chief lyricist, to work on some these new concepts, the first of which was an extended piece that was intended to be a replacement for the band's live showcase "Dazed and Confused", which dates back to the band's first album.
Put together from a couple of instrumental pieces, written on several 6 and 12 string guitars, the song "Stairway to Heaven" would go on to not only be the band's most famous song, but the most requested song ever on FM radio. The song draws lyrical influence from Welsh folklore, and musical influence from multiple areas, depending on the part of the song, of which there are three distinct, set back to back in sequence. It starts with Page's finger-picked, folk acoustic accompanied by recorders played by bassist and keyboardist John Paul Jones. After a few poetic verses, the song enters the pivital second part, a madrigal played on an electric 12-string, with ever intensive verses and refrains. One of the absolute best moments in rock history is when drummer John Bonham makes his entrance at about 4 ½ minutes into the song's duration, adding the rhythmic element that finally breaks the tension and reminds us that, although massively overplayed through the years, this IS the definitive Led Zeppelin signature. The song's finale is a heavy, electric jam with overdubbed guitars and high-majestic vocals, bringing the song to the heights before concluding with a calm refrain with an a capella vocal.
Recording for the fourth album started at Island Studios in London in December, 1970. Jethro Tull was in the studio at the same time recording Aqualung, and Led Zeppelin wanted a little more space to be creative. So they found an old estate in the English countryside called Headley Grange and moved there for better atmosphere. Here they could hunt in the forest by day, drink tea at the proper hour, and gather around the campfire at night, with moments of inspiration for recording in between. This was possible due to the latest technical innovation, the Rolling Stones mobile studio, a portable, professional recording unit, that was used for some of the classic albums of the early seventies. It was brought to Headley Grange by that band's road manager, Ian Stewart, who was also a piano virtuoso and would ultimately contribute to the songs "Rock and Roll" and "Boogie With Stu" during these sessions.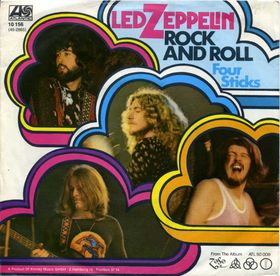 Aside from "Stairway to Heaven", the band did not have any fully developed songs coming into these recording sessions, which left open the opportunity for the many "creative accidents" that would make up this fouth album, several of which involved Bonham. The drummer was having trouble with the odd timings involved with the song that would become "Four Sticks" (in fact, the song got its title when Bonham, in frustration, actually did a take with four sticks in his hands), and took a break from trying by kicking into the straight-forward, 4/4 beat of "Good Golly, Miss Molly". Page joined in with an improvised riff, and the song "Rock and Roll" was born. That signature, opening beat that Bonham played would become one of the most recognizable intros in rock history.
Another unplanned composition is "The Battle of Evermore", which was the result of Page picking up a mandolin brought in by Jones and composing a distinct piece, that was originally intended to be a short instrumental, but built into a Medieval folk song when Jones added an acoustic and Plant added vocals and lyrics and even wrote a separate vocal part for a "town crier", which was later performed by folk singer Sandy Denny, the only guest singer to ever appear in a Led Zeppelin song.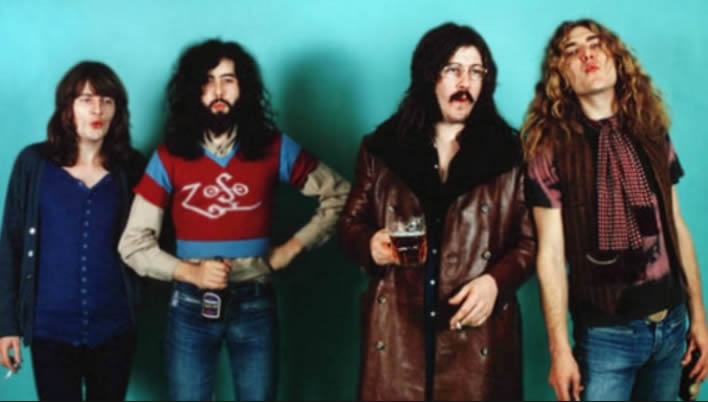 While at Headley Grange, the band wrote and recorded the bulk of the rest of the album, including the heavier songs like "Misty Mountain Hop", "When the Levee Breaks", and "Black Dog", which was actually named for a stray black lab that kept coming around the place. Also, the band recorded many songs that would left off the album, like "Down By the Seaside", "Night Flight", "Black Country Woman" and the afore mentioned "Boogie With Stu". Page toyed with the idea of releasing a double album, but didn't want the necessary delay in release that would be required for such an undertaking. Unfortunately, the album would be delayed anyway for several months because of mixing problems and the abrupt departure of an audio engineer. Even though all recording was wrapped up by late February, 1971, Led Zeppelin's fourth album would not be released until November 8th of that year.
Beyond, the production issues, Page also got some heavy static from Atlantic Records on several fronts. The executives not only had concerns with the album's cover art, but had a very big problem with Page's plan to not include the band's name on the exterior jacket nor give the album a proper title. The executives and marketing "specialists" at the record company called this strategy an act of "career suicide", but Page was adamant in his quest to "let the music do the talking". This strategy also included avoiding any of the normal publicity associated with releasing a new album, especially press releases and access.

The only definitive markings with this album were the personal symbols that each member constructed of their own design. The exact meaning of these "four symbols" has never been revealed much by the band members, especially Page, who came up with the concept and whose own symbol, an odd script that appears to spell out the word "Zoso", is the most mysterious of all. After reluctantly agreeing to this peculiar concept, Atlantic distributed graphics of the four symbols to the trade magazines.
The final fight with the record company, involved the song "Stairway to Heaven", which Atlantic desperately wanted to release as a single, but Page refused because doing so what mean that it would have to be edited from its running time of 7:50, and this was completely unacceptable. As it turns out, this refusal along with the album's unplanned, delayed release built up so much anticipation among fans that it contributed to thousands upon thousands of sales over an extended period of time.
The real genius of Led Zeppelin IV is just how unique, unconventional, and unaware this album's creation was. There is virtually nothing fabricated, it is pure rock n roll. John Bonham displays amazing efficiency, playing on only about 5 1/2 of the album's 8 tracks, but making an indelible impression while he is there, with some of the most memorable drum beats in history. John Paul Jones, a virtuoso bass player, contributes piano, synths, recorders, acoustic guitar, and even some vocals. Robert Plant, a vocalist at the height of his fame due to his signature, high-pitched wails, tones it back where appropriate, especially on the lighter, folk-influenced songs like "Going to California". Jimmy Page, perhaps the greatest producer since George Martin, is still ambitious enough to make something truly unique, while still unafraid to "borrow" from some of the great genres of the past.
It's so refreshing that a band at this stage, going into their fourth album with a lot success already in the bag, would make an album that reaches the fringes of rock without a self-aware agenda to do so.
~
Led Zeppelin online



Led Zeppelin official website
Buy Led Zeppelin IV

Part of Classic Rock Review's celebration of 1971 albums