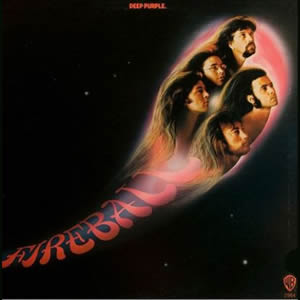 I started this review planning to explain how this album set up Deep Purple for its, presumptively superior masterpiece, 1972's Machine Head. But the more I've listened to Fireball in preparation for the review, the more I began to think that it may be just as good as it's more famous and heralded successor. On this album, the band fuses influences from diverse contemporaries like Black Sabbath and The James Gang while perfecting their own distinct style, which they had started on the preceding album, Deep Purple In Rock.
Fireball contains seven songs, many of which are built around a basic riff and theme but extended by instrumental solo sections that are, in no way, boring or mundane. In most cases, these instrumentals are traded between guitarist Ritchie Blackmore and organist John Lord, both virtuoso players with well-refined sounds. Bassist Roger Glover also gets involved with a solo of his own in the opening title song, "Fireball".
However, the musician that shines the brightest on this album is drummer Ian Paice. Perhaps the most underrated drummer during the classic rock era, Paice may not quite reach the talents of Keith Moon or John Bonham, but he is certainly not too far behind. The 1971 album is far ahead of its time, as many of the styles and techniques would be echoed by countless "hair bands" in the 1980s. But Paice's drumming gives Fireball an edge that those future efforts would not contain, as few drummers can match such skills, something that apparent right from the very start of the album with his double-kick beat that introduces "Fireball".

Fireball

by

Deep Purple
Released: July, 1971 (Warner Brothers)
Produced by: Deep Purple
Recorded: De Lane Lea Studios, The Hermitage, & Olympic Studios, London
September, 1970 – July, 1971
Side One
Side Two
Fireball
No, No, No
Demon's Eye
Anyone's Daughter
The Mule
Fools
No One Came
Musicians
Ian Gillan – Vocals
Jon Lord – Keyboards, Piano, Hammond Organ
Ritchie Blackmore – Guitars
Roger Glover – Bass
Ian Paice – Drums
One of the signatures of this "Mark II" version of Deep Purple is that the songs possess great ambiance, Lead by the Blackmore/Lord, heavy guitar/distorted organ riffs. This ambiance makes a great canvas for the dynamic vocals of Ian Gillian. Although the "Mark I" version of the band put out three fine albums prior to his arrival in late 1969, Gillian proved to be the missing piece that completed the band and launched them into their finest run through the early seventies.
Surprisingly, the only "hit" song that came from these same recording sessions, "Strange Kind of Woman", was left off the original album (it was added as a bonus track in later CD issues). Amazingly, aside from the title song and the bluesy "Demon's Eye", most of the original songs on Fireball remain unknown to anyone who doesn't own actually the album, with little to no airplay on classic rock or AOR stations. So there are definitely some hidden gems to be discovered by the average listener.
"The Mule" is way ahead of it's time. It fuses some clam 60s psychedelia with a wild, almost uncomfortable drum beat by Paice. "Fools" begins with a very calm, tension-building intro that harkens back to the earliest Deep Purple albums before launching into a crisp and heavy riff. It is surprising that this has not been redone. "No One Came" is a catchy, traveling-type groove, while "Anyone's Daughter" is a surprising departure into country-rock with some slide guitar by Blackmore and an impressive, honky-tonk piano by Lord.
So, upon further review, Fireball is more than a mere stepping stone on the way to the masterpiece Machine Head, but is in fact a classic in its own right.
~

Part of Classic Rock Review's celebration of 1971 albums.