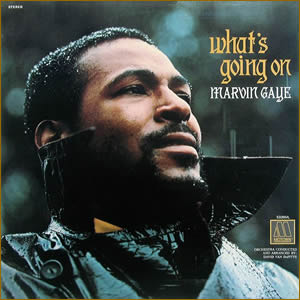 When something is completely original, breakthrough, and/or innovative it grabs our attention. Classic Rock Review's mission is to spotlight what are, in our opinion, the most essential albums in the history of rock n roll. And classic rock n roll is our focal point, so we don't normally drift too far from the mainstream center of that particular genre. But we do reserve the right to occasionally travel to the fringes when we spot something there that is extraordinary and cannot be ignored.
What's Going on is, in no way, a rock n roll album. But it did evolve from a common ancestor and would become an incredibly influential album that would effect the direction of rock n roll (as well as many other genres) as the subsequent decades unfolded.
It was written in the wake of a great tragedy in Gaye's live after the death of his longtime singing partner Tammi Terrell, who died of a brain tumor at age 24 in March, 1970. Gaye went into a deep depression and temporarily retired from music order to try out (unsuccessfully) for the the Detroit Lions football team. Then he was contacted by Al Cleveland and Renaldo Benson, who asked Gaye to produce a politically conscious song that they were working on.

What's Going On

by

Marvin Gaye
Released: May 21, 1971 (Tamla)Produced by: Marvin Gaye
Recorded: Hitsville USA, Golden World, & United Sound Studios, Detroit
& The Sound Factory, Hollywood between June, 1970 and March, 1971
Side One
Side Two
What's Going On
What's Happening Brother
Flyin' High (In the Friendly Sky)
Save the Children
God Is Love
Mercy, Mercy Me (The Ecology)
Right On
Wholy Holy
Inner City Blues (Make Me Wanna Holler)
Primary Musicians
Marvin Gaye – Vocals, Piano, Percussion
Joe Messina & Robert White – Electric Guitars
James Jamerson & Bob Babbit – Bass
David Van De Pitte – Orchestral
Chet Forest – Drums

The song was titled "What's Going On" and it was slated to be performed by the Motown R&B group The Originals, but soon Cleveland and Benson was able to convince Gaye to come out of his brief retirement and perform it himself. The song contains a cool groove highlighted by the animated bass of James Jamerson and Marvin's emotional and soaring vocals, with deep, introspective lyrics that fluctuate the title from a statement to a question and then back again. It would set the pace for the eventual album of the same name, although none of the other songs on the album would quite reach the excellence of this title song.
However, when the song was complete, it initially faced resistance from Motown founder and CEO Berry Gordy, Jr, who felt it deviated from the "Motown sound" and consequently, would not sell to the target audience. Gordy eventually gave in and was proven wrong to the highest degree as "What's Going On" became the fastest selling song in Motown's history upon it's release in early 1971. Encouraged by this success, Gaye set out to record a full album in the same basic theme, this time with the full support of Gordy and the label, who let Marvin take the reigns and produce it as he saw fit.
The result is what many consider to be Marvin Gaye's masterpiece, although some of the accolades bestowed upon this work have been ludicrously fawning through the years, especially by those critics looking for deep political or spiritual meaning. Although, it has much of both, the music is not done justice by inflating this meta data beyond the thin shell of its environmental context.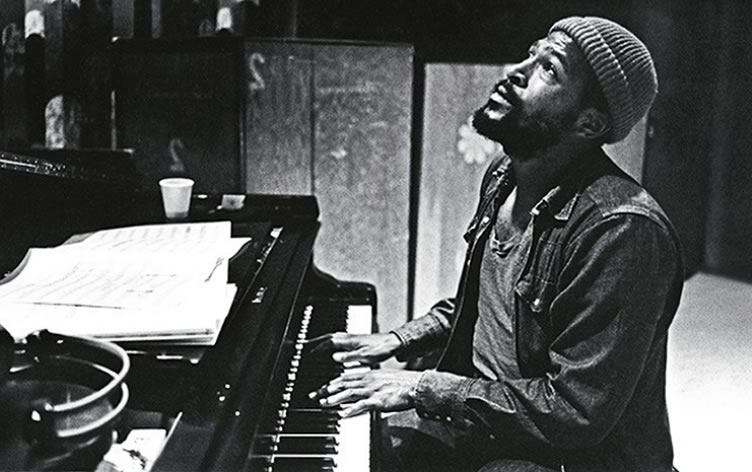 The music, however, is deep. Influenced by a wide array of contemporaries, ranging from Miles Davis ("Flyin' High In the Friendly Sky") to War ("Right On"). But, most importantly, there is a spark of originality here that make it distinct from anything else during Marvin Gaye's career or, perhaps even, Motown's. It is richly produced with many background singers and vocalists, an array of percussionists, and an orchestra conducted by David Van De Pitte. Further, the songs fuse together, unfolding like an audio movie much like a rock opera, except (as we noted earlier) this is not rock n roll.
What's Going On started as a happy accident, where a down-in-the-dumps singer comes across a work that gives him principal and purpose and, utilizing deep talents not before discovered, he produces an extraordinary work of art, well ahead of its time.
~

Part of Classic Rock Review's celebration of 1971 albums.