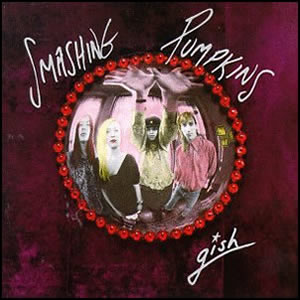 Gish is the debut album by alternative rock band Smashing Pumpkins, released independently in 1991. The album was co-produced by Butch Vig and recorded in his studio in Madison, Wisconsin. The other co-producer was the band's lead vocalist, guitarist, and songwriter Billy Corgan who worked tirelessly on getting the right sound, spending hours each on everything from harmonies to guitar tones to drum tunings. This was highly unusual for indy recordings at the time, which were usually recorded "nearly live" in a few days due to shoe-string budgets. This album had about 30 days of working sessions and was very intense and stressful for the four band members.
The result is a technically proficient album with strong performances by all members, starting with the beautifully executed syncopation by drummer Jimmy Chamberlain, who was described as a jazz/hard-rock drum freak let loose on alt-rock radio. Along with Corgan, the rich and layered guitars were performed by James Iha, who has a knack for playing catchy melodies. Rounding out the lineup is bassist D'arcy Wretzky, whose low, cutting bass lines have been compared to that of Black Sabbath's Geezer Butler.
The album itself has two distinctive influences – a hard-edged, alternative metal and a softer, psychedelic, dreamy influence. On Gish, these distinctions are often pulled apart, making it slightly unballanced overall, top-heavy with the songs with the most punch up front. Corgan was the son of a professional jazz guitarist and started his musical career in the early 1980's forming the the Smashing Pumpkins in 1988 in Chicago.

Gish

by

Smashing Pumpkins
Released: May 28, 1991 (Caroline)
Produced by: Butch Vig & Billy Corgan
Recorded: Smart Studios, Madison, WI, December 1990–March 1991
Track Listing
Band Musicians
I Am One
Siva
Rhinoceros
Bury Me
Crush
Suffer
Snail
Tristessa
Window Paine
Daydream
Billy Corgan – Lead Vocals, Guitars
James Iha – Guitars, Vocals
D'arcy Wretzky – Bass, Vocals
Jimmy Chamberlin – Drums
Four songs on the album were previously recorded as demos in 1989. "I Am One" starts the album and was Smashing Pumpkin's first single. A frenetic and explosive rocker led by Chamberlin's opening groove and the many layers of guitars by Corgan and Iha. The closer "Daydream" is also in this group, although it varies widely as a folky number featuring D'Arcy on lead vocals and including a "hidden track" at the very end.
The psychedelic "Rhinoceros" contains a cool and unique tremolo guitar and almost whispered vocals, giving an effect that is at once fascinating and nerve wracking. At over 6 minutes, it is the longest song on the album and provides a glimpse into the type of material that the band would develop in later years. It is one of the few early songs that would be performed live consistently throughout the band's career.
A couple more of the heavier songs on the album are "Siva", with flowing feedback and crunchy guitars and the catchy "Bury Me", which is held together by D'Arcy's bassline and features co-lead vocals by Iha.
Then there are the dreamy/pop sixties-influenced numbers. "Suffer" is a steady jam with soft, chiming riffs and beats by all band members. It includes several soun effects, like a distored sitar approximation and a strange flute solo. Corgan has described "Snail" as his favorite from this album primarily because it is so unapparent as anything of quality upon first listen, but slowly creeps into a better place. "Tristessa" took its title from Jack Kerouac's 1960 novella of the same name. The word is Spanish for "sadness" and the song was originally pressed as a 7″ single prior to the release of this album.
Released prior to the more heralded 1991 albums by Pearl Jam and Nirvana, Gish nonetheless paved the way for Smashing Pumpkins to become one of the most important alt-rock bands of the 1990s. Although the album had no chart success and many mainstream critics didn't look at this album untll the years when the band's popularity was exploding, Gish eas the highest selling independent album for three years following its release.
~

Part of Classic Rock Review's celebration of 1991 albums.