Buy Use Your Illusion I
Buy Use Your Illusion II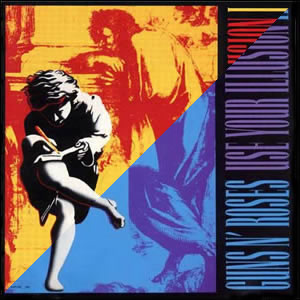 It had been four years since Guns n' Roses had put out their last full studio album, which also happened to be their first studio album and the biggest selling debut of all time, Appetite For Destruction. With fans and critics alike eager for new material, the band unloaded a great volume of music on September 17, 1991, the day they released the equivalent of two double albums, Use Your Illusion I and Use Your Illusion II.
With these albums, especially Use Your Illusion I, the band demonstrated much growth and expansion of style, including elements of country, blues, and progressive rock, while maintaining the hard rock edge which made Guns n' Roses famous in the first place. Much like Led Zeppelin's Physical Graffiti, these albums included older recordings which were not previously used interspersed with new material that was written for the project(s). The band also included a well-known cover on each album and each also has at least one track sung by band members other than lead singer Axl Rose.
These two albums, released in 1991, would be the final studio albums with this classic lineup in tact and Guns n' Roses would not release another studio album for 17 years until Chinese Democracy in 2008. Also, the band put out no less than ten videos from these two albums, a final gorge for the heyday of MTV and music videos, which would go into rapid decline through the nineties.

Use Your Illusion I and Use Your Illusion II

by

Guns n' Roses
Released: September 17, 1991 (Geffen)
Produced by: Mike Clink & Guns n' Roses
Recorded: A&M Studios, Record Plant, Studio 56, Conway Studios, Metalworks, Los Angeles, 1990-1991
Use Your Illusion I
Use Your Illusion II
Right Next Door to Hell
Dust n' Bones
Live and Let Die
Don't Cry (Original)
Perfect Crime
So Cruel
Bad Obsession
Back Off Bitch
Double Talkin' Jive
November Rain
The Garden
Garden of Eden
Don't Damn Me
Bad Apples
Dead Horse
Coma
Civil War
14 Years
Yesterdays
Knockin' On Heaven's Door
Get the Ring
Shotgun Blues
Breakdown
Pretty Tied Up
Locomotive
So Fine
Estranged
You Could Be Mine
Don't Cry (Alternate)
My World
Group Musicians (Both Albums)
Axl Rose – Lead Vocals, Keyboards, Guitar, Percussion
Slash – Acoustic & Electric Guitars, Dobro, Six String Bass
Izzy Stradlin – Guitars, Vocals
Dizzy Reed – Keyboards, Vocals
Duff McKagan – Bass, Vocals
Matt Sorum – Drums, Vocals
Use Your Illusion I starts off with a song intentionally aimed at Rose's neighbor in Hollywood who had recently sued him, called "Next Door To Hell". It also contains "Back Off Bitch" and "Bad Obsession", which were originally written for Appetite for Destruction "Bad Obsession" later features Michael Monroe, of Hanoi Rocks and a big influence on the band, playing the harmonica and tenor saxophone.
"Don't Cry" is a calm and steady song, which became a big radio hit. The serene guitar is cut by Rose's sharp vocals which climax with a ridiculously long, 25 second, ad hoc vocal to end the song. Another version of this song, with alternate lyrics was included on Use Your Illusion II. "Live and Let Die" is a cover that would've been better left alone, as it does not add anything to the intensity of the original Paul McCartney version. "The Garden" has a bluesy beginning with a moderate acoustic accented by a long slide electric. It then kicks in more intensely for the heavier and doomier chorus sections which feature Alice Cooper on vocals. This is interesting because much of the theatrical feel of these albums are reminiscent of early Alice Cooper Band, especially the 10-minute-plus closer of Use Your Illusion I called "Coma".
A couple of other interesting tracks from the first album are the punk-influenced, fast and furious "Garden of Eden", and the slow country/waltz with a heavy slide guitar presence, reminiscent of cuts from the Stones Sticky Fingers called "You Ain't the First". "Dead Horse" which starts with intentionally flat and apathetic vocals over an opening acoustic part but later kicks into a better jam. But, without a doubt the best song on either album, and perhaps the best song ever by Guns n' Rose, is "November Rain" on Use Your Illusion I.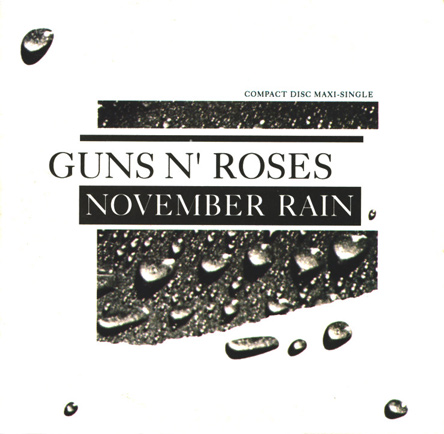 It is amazing how, from several different perspectives, "November Rain" represents the exact end of an era, the eighties hair-band era with the obligatory power ballad and high budget music video. For this song, the tab was about $1.5 million for an eight minute video which itself depicts the good times ending; as a joyous wedding celebration through most of the song morphs into a surreal funeral during the coda. The irony here is that Guns n' Roses themselves help bring an end to this hair band era with the cutting-edge Appetite for Destruction, which cut against the grain of many rock conventions and helped open up the industry to the deluge of grunge which was rapidly approaching. But the song itself is purely great – a piano ballad led by Rose, a theatrical, orchestral backdrop, and some of the finest guitar work by Slash which helped secure his spot as a rock legend. "November Rain" may well be one of the best songs of the entire decade of the nineties.
I suppose the danger of releasing so much music at one time is simply overkill. And if one is to listen to both of these extra-long albums, back-to-back they may become numb to the band's edge (especially the vocals) and it all eventually becomes repetitive. What was exciting and innovative on the first album, feels like over-indulgence on the second, and this is part of the problem with Use Your Illusion II. The other part is that it is simply not as good as its twin brother. In this light, the opening "Civil War" comes off as preachy and melodramatic and Bob Dylan's "Knockin' On Heaven's Door", which had long been a staple of the band in concert, just doesn't to have the effect it had a few years before (and this may be the most tolerable of all their covers, due to an excellent lead by Slash).
Released a few months ahead of the albums and featured in the film Terminator II: Judgment Day, "You Could Be Mine" was the first big hit from either album and actually propelled sales of Use Your Illusion II slightly ahead of those by Use Your Illusion I. In reality, this is an average song at best, which benefited greatly from the cross-marketing, including a special video featuring Arnold Schwarzenegger in character.
Being just about as long as UYI I, this second album does include a few interesting highlights. Izzy Stradlin, who wrote several songs on both albums, sang solo lead on "14 Years", a song dedicated to Axl Rose, whom he had known since 1977 (14 years earlier) when the high school classmates started their first band together in their hometown of Lafayette, Indiana. "Yesterdays" is a highly reflective song, which sounds like it should be reserved for the end of one's career. Bassist Duff McKagan provided lead vocals on "So Fine", while the provocative "Get In the Ring" gets very personal during a profanity-laced middle section where Rose calls out several members of the music press by name. The second album concludes with the weird and distorted rap "My World", which feels like a throwaway filler so that they could reach the 30 song mark between the two albums.
Seven years later, with fans already in a frenzy for new material from Guns n' Roses (which would not arrive for another decade), the band released a compilation simply entitled Use Your Illusion, which featured six of the more popular cuts from each album, a sort of "trial pack" for the casual fan.
~

Part of Classic Rock Review's celebration of 1991 albums.