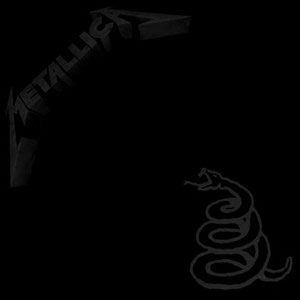 After four studio albums and ever-building popularity in the 1980s, heavy metal band Metallica felt they were poised for their artistic breakthrough. During the summer of 1990, the band got together to write some songs lead by primary songwriters James Hetfield and Lars Ulrich, but with input from the other members of the band; lead guitarist Kirk Hammett and bassist Jason Newsted.
The band then hired Bob Rock as mixing engineer, having been impressed by his past work with Mötley Crüe. However, after comparing the band's previous studio albums to a recent live show, Rock was convinced that the band was not capturing their live energy in their self-produced recordings and convinced Metallica, to hire him on as full producer, to which they agreed. As Ulrich stated, "We felt that we still had our best record in us and Bob Rock could help us make it." However, things did not go smoothly at first, as Rock was very frank and forthcoming with the band and they resented being told what to do. Eventually Rock reached an implicit compromise with the band members. He would not mess with their arrangements, just their tempo, and after about 8 months of marathon rehearsing, recording, and mixing sessions, they forged a new and tremendously successful sound for Metallica. It was a combination of the band's traditional thrash metal grit with a slowed down tempo, diverse instrumentation, and more melodic vocals. Under Rock's direction, the bass guitar was also brought up to a more equitable position in the mix, which also enhanced the breadth of the sound and added a new, doomier dimension.
The result was the band's 1991 eponymous fifth album that would come to be known as "The Black Album", due to its simple cover and packaging. The album would go on to tremendous commercial success, breaking the radio silence that many thought the band would never realistically break through.

Metallica

by

Metallica
Released: August 13, 1991 (Electra)
Produced by: Bob Rock, James Hetfield, & Lars Ulrich
Recorded: One On One Recording Studios, Los Angeles,
October 6, 1990-June 16, 1991
Track Listing
Band Musicians
Enter Sandman
Sad But True
Holier Than Thou
The Unforgiven
Wherever I May Roam
Don't Tread On Me
Through the Never
Nothing Else Matters
Of Wolf & Man
The God That Failed
My Friend of Misery
The Struggle Within
James Hetfield – Lead Vocals, Guitars
Kirk Hammett – Lead Guitar
Jason Newstead – Bass, Vocals
Lars Ulrich – Drums, Percussion
The lynchpin that holds the entire look and feel of The Black Album together is the opener "Enter Sandman". Built off a riff by Kirk Hammett, this doomy, futuristic sounding motif was the first written for the album and the last recorded, but the first mixed so Rock could use it as a sonic template for the final, mixed and mastered sound of the album. A rather simple song with a simple theme on dreams and nightmares, "Enter Sandman" would become a recognizable audio icon in many corners of pop culture. The song is followed by "Sad But True", which could almost be considered "Enter Sandman, Pt II", as it has a similar sound and theme about dreams. "Holier Than Thou" was originally slated as the first "emphasis single", as it harkens back to the band's traditional, thrash metal style, with the sound driven by Hetfield's layered rhythm guitars and Ulrich's front & center double-kick drums.
On a macro level, the album winds through a journey of differing sounds which fuse with the base, core sound of the band. "Wherever I May Roam" starts with an Eastern-influenced sitar riff before kicking into the typical, slow beat metal sound, occasionally reaching other gears as it works through some odd timing signatures while maintaining an overall cohesiveness. "Don't Tread On Me" has a marching, almost patriotic feel in the intro before it nicely fuses into a steady beat with interesting chord changes during the verses, making it a unique listen on the album. "Nothing Else Matters" was a love song written by Hetfield, which he originally did not intend to use for Metallica but was eventually encouraged to do so by the other band members. The song includes a full orchestral score by Michael Kamen, most of which was not used for the album's version of the song, but was remixed for an alternate "elevator version", which the band found fascinating.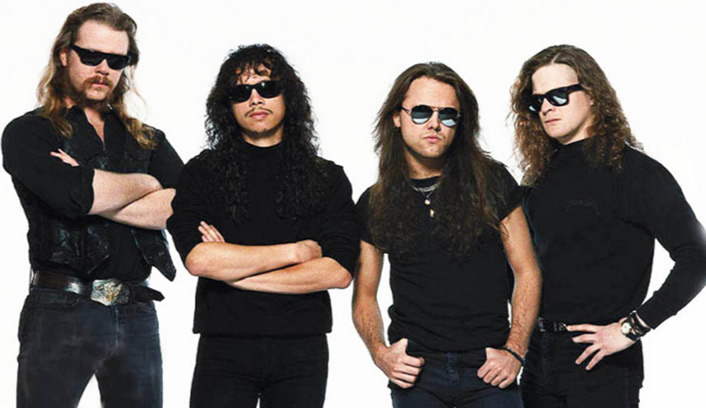 Another personal song written by Hetfield is "The God That Failed", which dealt with growing up in a family with Christian Science beliefs that forbid medical treatment from outside physicians. Hetfield's mother eventually died from cancer, in part because of this practice. Newsted's main songwriting contribution to the album is "My Friend of Misery". The song, which begins with a doomy bass riff, was originally intended to be an instrumental (as all previous Metallica albums had contained one) but was adapted into a proper song that fits nicely with the overall feel of the album.
The best song on the album is "The Unforgiven". Like much of their songs, it contains building and fluctuating sections held together by consistent drumming by Ulrich, but "The Unforgiven" offers a reverse method by returning to the calm and melodic during the chorus, not the verse. From the finger-picked, classical acoustic guitar in the intro, to the melancholy guitar lead, to Hetfield's best vocal performance ranging from traditional grit in the verse to a softer, very melodic melody during the choruses, this song is a bonafide classic. Apparently the band concurred, writing two sequels – 1997's "Unforgiven II" from ReLoad and 2008's "Unforgiven III" from Death Magnetic. Ironically, the band lifted a horn sound from an old Clint Eastwood "spaghetti western" for the intro to this song, while Eastwood would return to westerns the following year with a film named Unforgiven.
Prior to this album, most critics dismissed Metallica as an over-hyped garage band, which would never catch on beyond the core of dedicated, cult-like fans. Metallica would prove them wrong and make many in the ever-changing industry reconsider the scope of genres which have mass appeal. The album would be a major influence for the post-grunge sound of the mid to late nineties and be the absolute pinnacle of Metallica's long and successful career. As Hammett simply referred to it; "it is our Dark Side of the Moon".
~

Part of Classic Rock Review's celebration of 1991 albums.