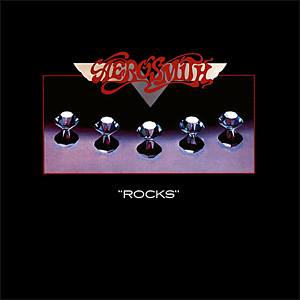 We commence our look at 1976 with a review of the fourth of four great albums by Aerosmith that launched their career during their classic period of the 1970s. Starting with their self-titled debut in 1973, Get Your Wings in 1974, and Toys In the Attic in 1975, Rocks is probably the most aptly named of these as it completes the slow metamorphosis of the band from the heavy blues sound of their to a pure, raw rock band. The album was a commercial success and became a great influence on the prolific hard rock and heavy metal sound throughout the next decade and a half.
Although Rocks is less pop-oriented than the band's previous album, it carries on many of the same trends that began with that album. These include exploring (and/or inventing) different sub-genres like rap rock and funk and finishing up with a "power ballad", which was still a fresh concept for hard rock bands in the mid seventies. However, Rocks is by far the most cohesive Aerosmith album. It is solid from top to bottom and a real jam with a mixture of tight riffs and improvised leads throughout. The production is at once clean and dense and the overall sound is still fresh-sounding to listeners three and a half decades later.
The content of the album ranges from themes of longing and nostalgia, to darker themes of impending doom and death, to songs which celebrate the rock n roll lifestyle in general. The music includes strong input and participation from each band member with compositions being penned by four different songwriters.

Rocks

by

Aerosmith
Released: May 3, 1976 (Columbia)
Produced by: Jack Douglas & Aerosmith
Recorded: The Wherehouse, Waltham, MA, February-March, 1976
Side One
Side Two
Back in the Saddle
Last Child
Rats in the Cellar
Combination
Sick As a Dog
Nobody's Fault
Get the Lead Out
Lick, And a Promise
Home Tonight
Band Musicians
Steven Tyler – Lead Vocals, Keyboards, Harmonica
Joe Perry – Guitars, Vocals
Brad Whitford – Guitars
Tom Hamilton – Bass, Vocals
Joey Kramer – Drums, Vocals
"Back In the Saddle" launches Rocks as it would launch concerts for years to come. The song starts with a dramatic build-up before giving way to an understated main riff with droning lead guitars by Joe Perry. It contains a cowboy-influenced double-entente lyric, repleat with sound effects to match the mood and lead singer Steve Tyler's screaming hook. The song is one of the heaviest on the album along with "Rats In the Cellar", a song that borders on heavy metal, but with a nice bluesy harmonica solo by Tyler. The song was inspired by the death of the group's drug dealer and should jave been taken as a dark omen. "Combination" features dual lead vocals by Perry and Tyler with some nice instrumental sections including a frantic outtro.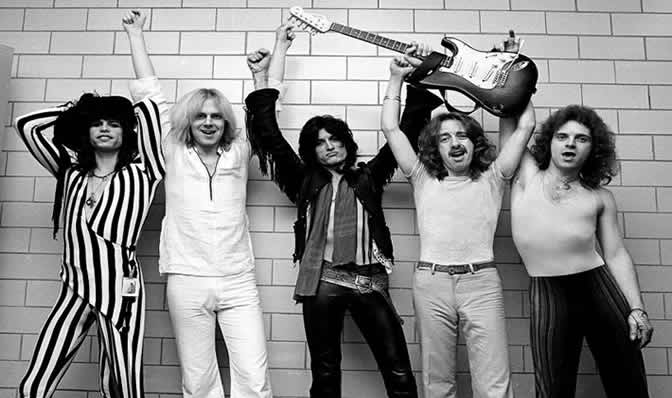 The hit song "Last Child" was co-written by guitarist Brad Whitford and is a very upbeat and entertaining song. It features Perry on the lap steel and guest Paul Prestopino on banjo and is a great example of the hip-hop rock that the band formulated in the mid-seventies, starting with "WalK This Way" and "Sweet Emotion" on the previous album. There is a great lead section and outtro, which makes ths song a classic. The "Home Sweet Home" theme is later reprised on the Tyler piano ballad "Home Tonight", which once again features Perry on the lap steel as well as Hamilton, drummer Joey Kramer, and producer Jack Douglas performing background vocals.
The album's second side includes some of the basic, straight-up rockers which somehow never seem to fade over time. "Sick As a Dog" was co-written by bassist Tom Hamilton, who plays guitar on the song while both Perry and Tyler play bass. "Get the Lead Out" is a good time, dance-promoting song that goes off on a few nice musical tangents while "Lick and a Promise" is about rock groupies and more generally, the rock audience audience.
The album's best song is "Nobody's Fault", a great song with fantastic hook and poetic (albeit apocalyptic) lyrics;
"Holy lands are sinking, birds take to the sky
The prophets are all stinking drunk and I know the reason why…"
Co-written by Brad Whitford, this is a heavy song, almost metal, that uses thick analogies to tell of a coming, inevitable doom. Several members of the band have cited this song as among their favorites ever.
While it appeared like the band was ever-climbing in 1976, they were in fact at the apex of their early career which would falter due to hard drug use among band members. Although Aerosmith would put out a couple more decent studio albums plus a live album by the decade's end, these paled in comparison to the great early albums. The band would soon face turmoil that would derail their career for nearly a decade before they would make of the great comebacks in rock history.
~

Part of Classic Rock Review's celebration of 1976 albums.