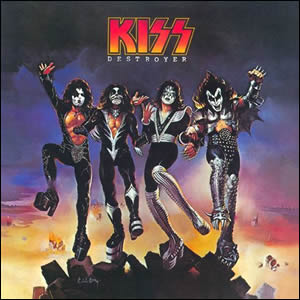 On the brink of mainstream success, glam rock band Kiss set out to create a serious studio album by enlisting Alice Cooper's producer Bob Ezrin. In producing the band's fourth album, Destroyer, Ezrin added richer production and instrumentation with some outside musicians to the band's base, party-rock sound. As none of the band members had any formal musical training or knew much musical theory, Ezrin ran the sessions like a classroom, explaining theory along the way and scolding any band member who deviated from specific directions, something Kiss would later refer to as "musical boot camp". The result was the most successful album to date, following the modest success of the the first three studio albums, and the launching of Kiss into super-stardom through the late 1970s and beyond.
The group was formed in 1972, when guitarist/vocalist Paul Stanley and bassist/vocalist Gene Simmons stumbled upon an Ad placed by veteran New York drummer Peter Criss. Criss had previously played in a band called "Lips", to which Stanley evolved into the name "Kiss". Starting as a trio, the group played hard rock covers and eventually injected original material as well as their trademark stage costumes. After three studio albums with modest success, Kiss released a very successful live album in late 1975 called Alive!, which sought to capture the live energy of their concerts.
For the production of Destroyer, rather than try to recreate a concert setting on this studio album, Ezrin went the opposite route and made what is perhaps the most experimental album in the Kiss catalog. Not everyone was on board with this, as lead guitarist Ace Frehley (who joined the group as a fourth member in 1974) caused much friction to the point where he was threatened to be replaced and then relented. Virtually no one was on board with the inclusion of the orchestra to back "Beth", with the exception of Criss, who wrote song and sang lead. This song, of course became a smash hit for the band and opened up their music to whole new audiences.

Destroyer

by

Kiss
Released: March 15, 1976 (Casablanca)
Produced by: Bob Ezrin
Recorded: Electric Lady & Record Plant, New York, Sep 1975- Feb 1976
Side One
Side Two
Detroit Rock City
King of the Night Time World
God of Thunder
Great Expectations
Flaming Youth
Sweet Pain
Shout It Out Loud
Beth
Do You Love Me?
Rock and Roll Party
Group Musicians
Paul Stanley – Rhythm Guitars, Vocals
Ace Frehley – Lead Guitars, Vocals
Gene Simmons – Bass, Vocals
Peter Criss – Drums, Percussion, Vocals
The album's opener, "Detroit Rock City" includes news reports and other sound effects overlaying a hard rock song with dramatic lyrics written by Stanley and inspired by a real life story where a fan was killed in a car crash while hurrying to get to a Kiss concert. "King Of the Night" follows, but is of far less quality, almost a caricature of a pretentious rock song by players with minimal skill. "God Of Thunder" features vocals by Simmons and over the years came to be known as his theme song, even though it was actually written by Stanley.
One can definitely hear the Alice Cooper influence on "Great Expectations", which uses a Beethoven piece in the intro before breaking into a decent but haunting rock song. "Flaming Youth" is a piece orchestrated by Ezrin from three separate songs written by Frehley, Simmons, and Stanley. Alice Cooper guitarist Dick Wagner played the guitar lead on this track as well as on "Sweet Pain", another mediocre, formulaic song that opens the album's second side.
"Shout It Out Loud" was strongly influenced by the band's label Casablanca Records, who insisted that the band create another "rock anthem" in the same vein as "Rock and Roll All Nite" from the previous album. While the song was popular and eventually became a regular concert staple on the oldies circuit, it was not nearly as successful as its predecessor.
Peter Criss's "Beth" was written several years earlier when he was in the band Chelsea, with the lyrics coming nearly verbatim from a bandmate's phone conversation with a clingy girlfriend (who he called "Beck", short for Becky) as the band was rehearsing. Criss was the only band member to actual perform in the song, singing with his raspy voice which strongly contrasted the piano and strings by the New York Philharmonic Orchestra, which Ezrin brought in to back the track. "Beth" was originally the B-side of the "Detroit Rock City" and later released as a single of its own, peaking at #7 on the Billboard singles chart in September 1976, the group's first Top 10 song. It was a last-minute addition to the album as Simmons and Stanley strongly objected because it was not a typical Kiss song.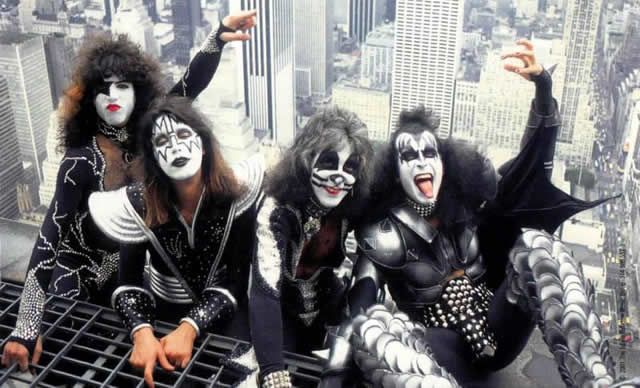 "Do You Love Me?" is the last real song on the album with an almost hip-hop drum beat, funky bass, and a good guitar during the bridge. The lyrics question how much adoration is for the man versus the rock star in the situations the band members were starting to experience. It also acts as a bit of a prediction as stardom was just starting to befall the New York band behind the white makeup.
In less than a year following Destroyer, two more highly successful studio albums were released, Rock and Roll Over in November 1976, and Love Gun in 1977. This was followed by a second popular live album (Alive II) and a whole plethora of touring, marketing and media successes that made Kiss one of the top earning bands of the decade.
~

Part of Classic Rock Review's celebration of 1976 albums.