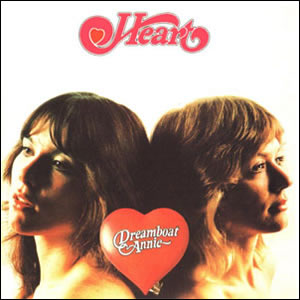 Heart, originally labeled the "female Led Zeppelin," had an impressive debut with Dreamboat Annie. The album was appropriately released on Valentine's Day in 1976. Produced by Mike Flicker, the album has a simple and direct sound that accentuates the rock dynamics within the instruments and vocals. The Seattle based band recorded the album in Vancouver and first released it in Canada only in 1975 on the Mushroom Records label, which at the time did not have a U.S. distribution system. But, due to heavy sales and radio play in Canada, Mushroom expanded to the U.S. solely to promote Heart, starting in Seattle and then working city by city through the United States, as the band's popularity spread. The ultimate goal was to land a national distribution contract, but soon relations between the band and Mushroom deteriorated due to questionable ads. The result was Dreamboat Annie never quite reaching the heights that it legitimately deserved as a top-notch rock album with an original approach until the 1980s when Mushroom went out of business and Capitol Records picked up distribution of the early Heart material.
In the mid 1970s, there were very few women who performed and recorded the assertive, Zeppelin-esque rock that Heart had developed. Lead by singer Ann Wilson and her younger sister, guitarist and songwriter Nancy Wilson, the band developed something unapologetically strong and within the realm previously exclusive to male musicians and fans. These strong yet melodic rockers made for a potent combination which would be copied in future decades but was quite unique at the time Dreamboat Annie was released. But even within this new sub-genre, Heart added some variety with ballads and folk-influenced numbers, making this album an interesting listen.

Dreamboat Annie

by

Heart
Released: February 14, 1976 (Mushroom)
Produced by: Mike Flicker
Recorded: Can-Base Studios, Vancouver, July-August 1975
Side One
Side Two
Magic Man
Dreamboat Annie (Fantasy Child)
Crazy On You
Soul Of the Sea
Dreamboat Annie
White Lightning and Wine
(Love Me Like Music) I'll Be Your Song
Sing Child
How Deep It Goes
Dreamboat Annie (Reprise)
Group Musicians
Ann Wilson – Lead Vocals, Flute
Nancy Wilson – Guitar, Piano, Vocals
Roger Fisher – Guitars
Howard Leese – Keyboards
Steve Fossen – Bass
The album blasts out of the gate with the popular rocker "Magic Man" with a simple, rocking beat which provides the perfect backdrop for Ann Wilson's voice. The song contains a long mid-section with extended leads by guitarist Roger Fisher and keyboardist Howard Leese in turn, giving it a more "epic" feel beyond its melodic hook in the verse and chorus. This "epic" or "concept" structure is extended to the album itself with three different versions of the title song "Dreamboat Annie". However, only the version which closes side one acts as true song, a fast picked folk song with layered harmonies and picked acoustic guitar and banjo. The other two kind of sound like alternate takes which were added as filler.
Probably the best song that Heart would ever record, "Crazy On You" is an absolute gem which employs all the elements that make a great rock song. It has a finger-picked acoustic intro which highlights the skills of Nancy Wilson, divergent instrumentation throughout as the acoustic makes a soft bed for the dynamic electric guitars to pierce through melodically, a good riff and hook, beautiful interludes, and a sense of mystique brought out by the chord arrangements. Once again, the dynamic and emotional vocals of Ann Wilson push the song over the top.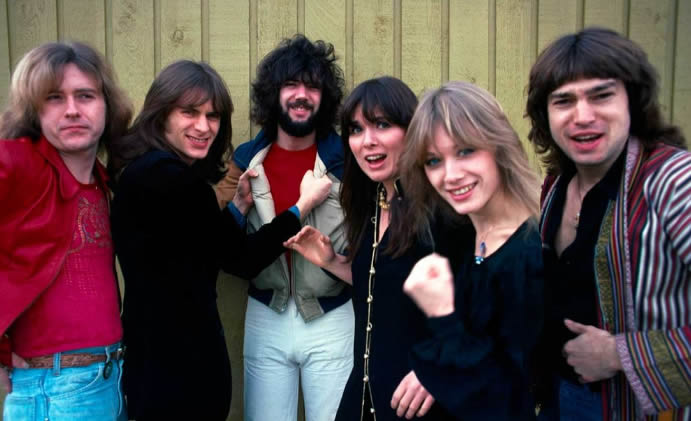 There is a lot to like about the album, especially when you explore some of the lesser known songs. "Soul Of The Sea" is a nice guitar ballad with layered strings which contrasts with "White Lightning and Wine", a pure, bluesy rocker, driven by the rhythm of Steve Fossen and the sultry vocals of Wilson. "(Love Me Like Music) I'll Be Your Song" features strummed acoustic by Nancy Wilson and some nice slide guitar by Leese, making the vibe almost country in ways, while another acoustic ballad "How Deep It Goes" features nice bass flourishes, fine synths, and good harmonies. "Sing Child" is the only group composition and really presents early Heart as a true band as it includes a guitar solo and jam in the middle along with some Ian Anderson-like flute by Ann Wilson.
Heart would go on to produce more popular albums, especially as they morphed towards being a more pop-oriented band. But Dreamboat Annie displays them at their most innovative and talented and is a most impressive debut.
~

Part of Classic Rock Review's celebration of 1976 albums.