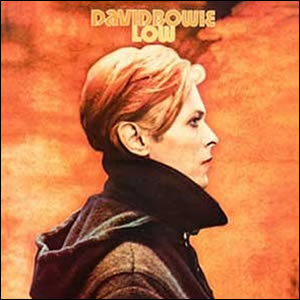 Low was a 1977 breakthrough album by David Bowie, which contained avant-garde tracks rich with experimental synthesizers and unique compositional approaches. The album was co-produced by Bowie and Tony Visconti and is considered the first of Bowie's "Berlin Trilogy" along with Heroes later in 1977 and Lodger in 1979. All three of these albums were collaborations with composer Brian Eno. Much of the album's second side grew from music Bowie had developed for a soundtrack in 1975 but was rejected by the film's director. The later-written first side contains a balance of art-rock experimentalism and rock n' roll tradition, in a mix of instrumentals and uniquely arranged pop/rock fragments of songs.
The songwriting on Low tended to deal with difficult issues.  Bowie was attempting to kick a cocaine habit which was an agonizing experieince for him. The title was partly a reference to Bowie's "low" moods during the album's writing and recording. Also influencing the album's darker themes was the hopelessness of people beyond the Iron Curtain, as symbolized by the Berlin Wall. Bowie had moved to Berlin when he decided to get clean from drugs, bringing him within close geographic contact to the European population without freedom or opportunity in East Germany and other Soviet bloc nations.
Bowie was a rock pioneer during the early days of rock's glam era. In the mid seventies he tried to find his place with different styles, including a bit of avant-garde with 1976's Station to Station. With Low put Bowie back at rock's cutting edge by exploring the new frontier of analog synthesizers and electronic effects. The result would be one of the most critically acclaimed albums of Bowie's long career.

Low

by

David Bowie
Released: January 14, 1977 (RCA)
Produced by: David Bowie & Tony Visconti
Recorded: Château d'Hérouville, France, and Hansa Studio by the Wall, West Berlin, 1976
Side One
Side Two
Speed of Life
Breaking Glass
What In the World
Sound and Vision
Always Crashing In the Same Car
Be My Wife
A New Career In a New Town
Warszawa
Art Decade
Weeping Wall
Subterraneans
Primary Musicians
David Bowie – Lead Vocals, Guitars, Keyboards, Saxophone, Harmonica
Brian Eno – Piano, Keyboards, Percussion, Vocals
Carlos Alomar – Guitar
George Murray – Bass
Dennis Davis – Drums
Although Low was Bowie's eleventh studio album, none of the previous ten had included a pure instrumental. That streak is broken  with the album's opener, "Speed of Life."  Even though the pattern is rather simple and repetitive, the ambiance of sound lets the listener know from the jump that this is no ordinary rock n' roll album by making immediate implications about the content of the album and its heavy use of synthesizers as both effects and instruments. "Breaking Glass" follows clocking in at under two minutes, which is really a shame because this fragment is very entertaining and could be tolerated for another minute or two. The funk-influenced track features great bass by Rick Murray.
"What in the World" employs a very 1980s sound well before that decade commenced, with a cool "digital blipping" effect and and other heavy use of synthesizer by Eno. The song also features Iggy Pop on backing vocals. "Sound and Vision" is a funky jazz piece with long intro and small doses of vocals doled out before the actual verses begin about 2/3 through the song. This song was the one singled out by RCA when they warned that the release of Low was tantamount to commercial and artistic suicide, citing the extremely long instrumental intro of "Sound and Vision." Ironically, "Sound and Vision" became Bowie's biggest U.K. hit in several years and was adapted by the BBC as background music for its program announcements.
"Always Crashing in the Same Car" may be the song that best personifies this album, with sparse (albeit profound) lyrics and vocals and direct and interesting instrumentals, especially the outtro guitar lead by Carlos Alomar. The lyrics express the frustration of making the same mistake over again and are backed up by more inventive synths and interesting, metallic-tinged guitars by Ricky Gardiner.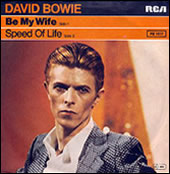 "Be My Wife" is almost like two alternating songs in one – the Beatle-esque "sometimes it gets so lonely" part, and the more traditional Bowie style of the "Be My Wife" section. The overall electronic feel is toned down a bit for a heavier, guitar-driven rock arrangement decorated by sharp "ragtime" piano notes. The first side ends with another instrumental called "A New Career in a New Town", which breaks from a decidedly new-age intro into an interesting fusion of New Wave and Blues. The song features a harmonica solo by Bowie, giving it a whole new dimension.
As odd as the seven-song first side is, it pales in comparison to the quartet of dramatic pieces which make up side two. "Warszawa" is a collaboration between Bowie and Eno, which sounds like something off Pink Floyd's Atom Heart Mother or Obscured By Clouds. It contains long, trance-like chord progressions and vocal motifs of nonsensical lyrics, revealing its original intent to be part of a film score. Visconti's four-year-old son actually played a part in developing this piece by playing A, B, C in a constant loop at the studio piano while Eno worked out the synth parts. "Warszawa" was titled for the Polish city which Bowie visited during 1976 and its bleak mood was inspired by the the feeling he got from the city itself. "Art Decade" is a pun on 'art decayed' and reflects Bowie's concern over his own artistic inspiration. The core melody is performed on heavily produced keyboards and was influenced by the German band Kraftwerk.
"Weeping Wall" refers to the Berlin Wall, with the melody being an adaptation of the traditional song "Scarborough Fair". On this track, Bowie played all instruments including several percussion and synthesizers. The album concludes with "Subterraneans", which Bowie says was also influenced by the misery in East Berlin. Unfortunately, this piece is really an uninspired ending to an otherwise interesting album.
Although critical reaction to Low was tepid upon its release, it has come to be acclaimed for its originality and is universally considered ahead of its time for 1977.
 
~

Part of Classic Rock Review's celebration of 1977 albums.