Buy Bat Out of Hell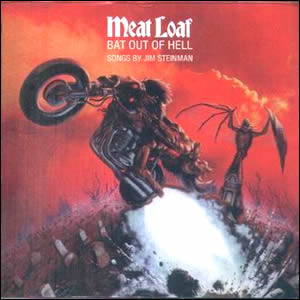 Although credited as a solo album by Meat Loaf, the blockbuster album Bat Out of Hell was actually forged through a collaboration of three people – Meat Loaf (born Marvin Lee Aday), songwriter Jim Steinman and producer/guitarist Todd Rundgren. This album would go into the stratosphere sales-wise, certified platinum fourteen times over and currently ranked ninth all-time in worldwide sales. However, these gentlemen may have been the only three to believe in this project during its early years. By the time of its release in late 1977, the album had been worked on for over five years but it had been rejected by every major Label (and quite a few minor labels as well). The project was finally picked up by tiny Cleveland International Records, not so much by musical merit but more so when owner Steve Popovich heard the witty dialogue which precedes the song "You Took the Words Right Out of My Mouth (Hot Summer Night)" (see video below).
Meat Loaf met Steinman shortly after releasing his soul-influenced debut album Stoney & Meatloaf in 1971. Both were deeply interested theatrical music as Meat Loaf had starred in several Broadway plays and the film, Rocky Horror Picture Show, and Steinmen had composed for several productions including a sci-fi update of Peter Pan called Neverland, which was a pre-cursor to Bat Out of Hell. Writing for the album started as early as 1972, with the songs fully developed by the end of 1974, when Meat Loaf decided to leave the theatre to concentrate on this project. In 1975, the dual performed a live audition for Todd Rundgren, an avant garde performer and producer, who was impressed that the music did not fit any rock conventions or sub-genres to date. However, this was a double-edged sword as they had immense difficulty finding a record company willing to sign them. According to Meat Loaf's autobiography, the band spent two and a half years auditioning the record and being rejected. One of the most brutal rejections came from CBS head Clive Davis, who first dismissed Meat Loaf by saying "actors don't make records" before turning his ire towards Steinman's songwriting;
"You don't know how to write a song! Have you ever listened to pop music? Have you ever heard any rock-and-roll music? You should go downstairs when you leave here and buy some rock-and-roll records…"
The group had reached a verbal deal with RCA Records and started recording the album in late 1975 at Bearsville Studios in Woodstock, NY. However, the RCA deal fell through during production and Rundgren essentially footed the bill for recording himself. And this was no small bill as the album includes contributions by sixteen rock musicians and singers as well as the New York Philharmonic Orchestra. Some of these backing musicians include members of Bruce Springsteen's E Street Band as well as Rundgren's backing band, Utopia.
Steinman, who wrote every song and gave the album its title and artwork, had wanted equal billing with Meat Loaf on the album's title, but was out-voted by record execs who felt that Meat Loaf alone was a more marketable, with the unorthadox, "Songs by Jim Steinmen" sub-heading appearing on the album's cover. Even after the album was finally released in October 1977, it took awhile to catch on In the U.S. Ironically, it was after a CBS Records convention where Meat Loaf performed a song for that label's top artist Billy Joel, that the album finally got some mainstream momentum.

Bat Out of Hell

by

Meatloaf
Released: October 21, 1977 (Epic)
Produced by: Todd Rundgren
Recorded: Bearsville Studio, Woodstock, NY, 1975-1976
Side One
Side Two
Bat Out of Hell
Hot Summer Night
Heaven Can Wait
All Revved Up With No Place to Go
Two Out of Three Ain't Bad
Paradise By the Dashboard Light
For Crying Out Loud
Primary Musicians
Meatloaf – Lead Vocals
Jim Steinman – Keyboards, Percussion
Todd Rundgren – Guitars, Keyboards, Vocals
Roy Bittan – Piano
Ellen Foley – Vocals
Kasim Sulton – Bass
Max Weinberg – Drums
Although Bat Out of Hell is generally high caliber throughout, it is quite uneven in musical flow, especially when you compare the dynamic and climatic opening title song and the slow moving closer "For Crying Out Loud", a relationship-oriented song which spends about seven of its eight and a half minutes with a very simple and subdued arrangement.
Steinman has described "Bat Out of Hell" as "feverish, strong, romantic, vibrant, and rebellious". He stated that his goal was to write "the ultimate car or motorcycle crash song". It starts with a rapid and frantic piano backed by tribal drums before breaking into a calmer section with thick, dimensional guitar overtones. After about a two minute overture, the song proper commences with Meat Loaf singing the vivid lyrics. Steinman was extremely ambitious with this song and constantly suggested new parts to enhance the song, many of which were rejected by Rundgren. However, Steinman insisted on a motorcycle effect in the song and an exasperated Rundgren finally grabbed a guitar, set some custom controls and mimicked a Motorcycle effect in one take. Another great moment comes at the very end when Meatloaf's intense and sustained vocals dissolves into a calm and subdued outro with a female chorus and synthesized strings.
In between the colossal epics that bookend the album are five excellently crafted, pop-oriented songs which maintain the dramatic overall feel of the theme. "Heaven Can Wait" is ballad which showcases Meat Loaf's voice more than any other song, accompanied only by piano and a light orchestral arrangement by Ken Ascher. Converesly, "All Revved Up with No Place to Go" is a thumping rocker driven by the bass of Kasim Sulton and featuring saxophone by Edgar Winter. Although it is shortest song in duration on the album, it still feels kind of epic due to the interesting arrangement of the mid-section made up of short vignettes and a section with a breathless rant by Meat Loaf to close the song and first side.
After the unique intro, spoken by Steinman and Marcia McClain, "You Took the Words Right Out of My Mouth (Hot Summer Night)" settles into a classic, do-wop style rock song with a very catchy hook. Another radio-friendly track is the ballad "Two Out of Three Ain't Bad". This melancholy love song counter-balances the more theatrical music perfectly, while still maintaining an edge with the slightly satirical title. The song was written near the end of the album's production and was reportedly influenced by the success of the Eagles' soft rock approach in the late seventies. The single version of the song edited out the controversial lyric "There ain't no Coupe de Ville hiding at the bottom of a Cracker Jack box" and reached #11 on the Billboard charts, the group's highest-charting single.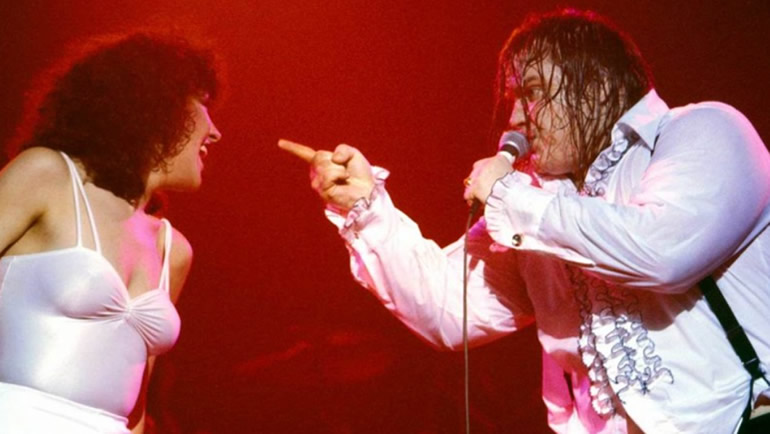 "Paradise by the Dashboard Light" is either the most brilliant or the lamest song on the album. This duet features Ellen Foley sharing lead vocals and tells a hilarious story of teenage desire leading to permanent misery in three or four distinct sections. On one hand, the song is brilliantly produced, including a "play-by-play" section by New York Yankee announcer Phil Rizzuto, a couple of perfectly blended duet sections, and a Caribbean-influenced "Let Me Sleep On It" section. On the other hand, the song has grown to be the over-played caricature of Meat Loaf and this famous album.
The album's title was resurrected for two more Meat Loaf albums. In 1993 came Bat Out of Hell II: Back Into Hell, again featuring the songwriting of Jim Steinman. In 2006 came Bat Out of Hell III: The Monster is Loose, which did not involve Steinman, who had registered "Bat Out of Hell" as a trademark in 1995 in an attempt to prevent Meat Loaf from using the title again.
~

part of Classic Rock Review's celebration of 1977 albums.