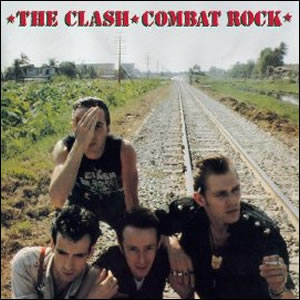 The last significant album by The Clash came in 1982 with Combat Rock. The album follows the experimental triple album Sandinista!, which itself followed the double album London Calling. The original plan for this album was a double LP called "Rat Patrol from Fort Bragg", but the idea was scrapped after internal wrangling when some band members were dissatisfied with the album's mix by guitarist Mick Jones. Legendary engineer Glyn Johns was brought in to re-mix the album which was then reduced to its single LP form. Although much less experimental than Sandinista!, the band continues to explore many sub-genres on Combat Rock particularly those funk and Caribbean rhythms.
Led by singer/guitarist Joe Strummer, the band dove into social and political issues with both feet, including the catalogue number of the album, FMLN2, in honor of the El Salvador political party Frente Farabundo Martí para la Liberación Nacional, a communist organization formed in part by Cuba's Fidel Castro in the late 1970s. I always find it fascinating when rebellious figures such as Strummer embrace parties and systems which would either neuter them or completely destroy them if they found themselves fully entrenched in that system. That being said, this idelogical approach to the material on the album makes it all the more interesting and unique, which is probably the most important attribute of a rock album.
Still, even though Combat Rock is filled with offbeat songs and experiments with sound collage, it was labeled by some as the Clash's "sellout" album, particularly because of two radio friendly tracks on the first side. The album did reach the Top Ten on both sides of the Atlantic, spending over a year on the U.S. charts. Still, this was far from a conventional, commercial rock album with unique themes, asymetrical arrangements, and inner stress about differing musical approches which would eventually fracture the group permanently.

Combat Rock

by

The Clash
Released: May 14, 1982 (Epic)
Produced by: The Clash
Recorded: Ear Studios & Wessex Studios, London, Sep 1981 – April 1982
Side One
Side Two
Know Your Rights
Car Jamming
Should I Stay Or Should I Go
Rock the Casbah
Red Angel Dragnet
Straight To Hell
Overpowered By Funk
Atom Tan
Sean Flynn
Ghetto Defendant
Inoculated City
Death Is a Star
Band Musicians
Joe Strummer – Guitars, Vocals
Mick Jones – Guitars, Vocals
Paul Simonon – Bass, Vocals
Topper Headon – Drums, Piano
The album begins with a "public service announcement" in the form of the satirical "Know Your Rights". an upbeat ska bounce, new-wave percussive effects, and wet tremolo guitars give a light atmosphere which contrasts the cynical lyric, which recites three "rights" with absurd exceptions for each:
"1.The right not to be killed. Murder is a crime, unless it is done by a policeman…
2.The right to food money, providing of course, you don't mind a little investigation…
3.The right to free speech, as long as you're not dumb enough to actually try it…"
"Car Jamming" follows with a choppy guitar riff that makes for a mock-dance beat. The song has interesting melody with background vocals by guest Ellen Foley and a distant, sustained lead guitar later on in the song. "Red Angel Dragnet" features spoken vocals by bassist Paul Simonon and a funky bass beat with slight reggae guitars. The song is laced with dark humor and contains quotes from the movie Taxi Driver.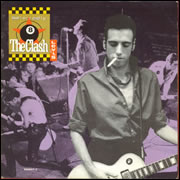 "Should I Stay or Should I Go" is a basic, riff-driven, rock song with a simple 4/4 drum beat and a catchy blues progression during the verse. This infectious song would become the band's biggest hit and reach #1 in the U.K. Mick Jones performs lead vocals and the title was reportedly referring to his  impending departure from The Clash (although Jones has since denied this) and features some Spanish language backing vocals by Strummer, giving it a very unique edge. "Straight to Hell" is driven by rotating drum beat, leaving room for improvisation vocally and the slightly whining guitars. The song is very melodic, which adds to the surrealism of the dark lyric.
Cheap sound effects aside, "Rock the Casbah" is the best song on the album. The song is driven by the rhythms of drummer Topper Headon who contributes bass and the opening piano riff as well. Lyrically, the song borrows words and terms from various Middle Eastern languages and gives a fabulous account of a popular rebellion against a ban on rock music by the Sharif (or "king"). The video for the song was shot in Austin, Texas and includes a couple of U.S. Air Force jets, which were unwitting participants. A dance remix of the song called "Mustapha Dance" was released with many versions of the single.
The second side contains less accessible, more niche tracks. On "Overpowered by Funk" it is hard to tell whether the band is embracing this cheesy new 80s sound or ridiculing it. The song features a "rap" by graffiti artist Futura 2000, who had accompanied the band on their 1981 European tour as a live, on-stage backdrop painter. "Atom Tan" sounds much like a Frank Zappa composition at first, but becomes quite repetitive and weak when it finally does break. "Sean Flynn" is distant but interesting, featuring diverse instrumentation including saxophone by Gary Barnacle and flute and xylophone by unidentified players.
The closest to pure reggae on the album, "Ghetto Defendant" contains some excellent percussion effects and spoken poetry by beat poet Alan Ginsburg, who performed on stage with the band during their New York shows. "Inoculated City" has pretty good melodies and harmonies throughout. It is a nice new-wave-ish tune with weird overtones, including a lifted sample from a commercial for a toilet bowl cleaner called "2000 Flushes". "Death Is a Star" is a good closer for the album with distant, almost Syd Barret-era Pink Floyd aura. The song is topped by the piano of guest Tymon Dogg.
After Combat Rock, the Clash began to disintegrate. Drummer Headon was asked to leave the band just prior to the release of the album, and Jones would depart a year after its release. The band would never again reach the heights of the heyday in the late 1970s and early 1980s.
~

Part of Classic Rock Review's celebration of 1982 albums.