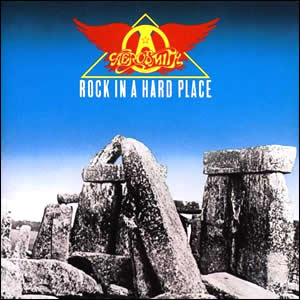 Rock In a Hard Place is considered by some to not be a "real" Aerosmith album because it is the only one to not include all five members. I have a hard time concurring as this has been one of my favorite Aerosmith albums for close to thirty years. It is a strong, edgy, and (most importantly) unique effort that captures a lot of dynamics surrounding the band's situation perfectly. Though, many fans and critics lamented the departure of guitarists Joe Perry and Brad Whitford and claimed that the band's traditional chemistry was not present on this album. Perry left the band abruptly while in the middle of recording the previous album, Night In the Ruts and went on to form the Joe Perry Project. Whitford was still with the band at the beginning of this album's sessions in 1981 but departed after recording just one track.
Of course, the music still sounds like Aerosmith because of the presence of Steven Tyler. But Tyler's voice is strained throughout the album, something that may otherwise be a liability, but surprisingly this adds to the overall air of desperation throughout the mixes. It also adds to the feel that this is a straight-forward, no B.S. rock jam album, although certain facts seem to dispute this notion. Primarily, there was a very steep price tag ($1.5 million) in producing this album, and from that perspective it is understandable why so many may consider it a failure.
Perry and Whitford were replaced by guitarists Jimmy Crespo and Rick Dufay, who each brought a unique yet hard-rockin' edge. This was especially true for Crespo, who co-wrote many of the songs on the album. Also, drummer Joey Kramer plays especially well on this album, holding together some of the looser compositions with a strong and steady rhythm.

Rock In a Hard Place

by

Aerosmith
Released: April 1, 1982 (Columbia)
Produced by: Jack Douglas, Steven Tyler, & Tony Bongiovi
Recorded: Record Plant, New York, 1981-1982
Side One
Side Two
Jailbait
Lightning Strikes
Bitch's Brew
Bolivian Ragamuffin
Cry Me a River
Prelude To Joanie
Joanie's Butterfly
Rock in a Hard Place (Cheshire Cat)
Jig Is Up
Push Comes To Shove
Group Musicians
Steven Tyler – Lead Vocals, Harmonica
Jimmy Crespo – Guitars, Vocals
Rick Dufay – Guitars
Tom Hamilton – Bass
Joey Kramer – Drums

The album starts in a frenzy with "Jailbait", a collaboration by Tyler, Crespo, and Dufay. The song seems to be linked in many ways with "Bitch's Brew" as it explicitly refers to it, is composed in a very loose lyrical fashion, and the subject matter seems to very similar – seduction and sex. Of these two, "Bitch's Brew" is a lot more interesting due to its odd arrangement and Tyler's vocals, which are particularly strained throughout, and he does a pretty impressive Bob Dylan impersonation during the final verse.
A slow, synthesized string introduces "Lightning Strikes", a song written by longtime band collaborator Richard Supa about gangs and gang fights. This is the only track to feature Brad Whitford, who left the band during its recording in 1981. Whitford, who was a founding member of Aerosmith, is billed as simply an "additional musician" in the credits. The band created one of their earliest actual music videos for MTV and other networks with this song. Directed by Arnold Levine
"Bolivian Ragamuffin" is a heavy blue composition similar to the band's material on Draw The Line. Crespo wails on a crying, slide electric throughout and this song seems to be the band at its most intense jamming on the album. A cover of Arthur Hamilton's "Cry Me a River" lightens the mood a bit with a soft, jazzy, night club intro and opening verses. However, the song does explode later into a full-fledged strong rock interpretation while maintaining the basic, moody vibe.
The second side starts with, perhaps, the oddest Aerosmith song on record called "Joanie's Butterfly". Kicking off with a "Prelude" that includes a highly synthesized, barely audible, spoken voice above a chorus of quasi-Eastern chants by Tyler, the song proper breaks in with a more straight-forward, Eastern-flavored rhythm, with a strummed acoustic, layered percussion, a dulcimer, and more layered vocals. At about 1:45, the song breaks into a more rock-oriented arrangement with some really nice sonic changes straight through until the long ending crescendo with violin and various other string instruments. The song was co-written by producer Jack Douglas who is yet to reveal the true meaning (if any) of the odd lyrics which are extremely cryptic;
"He was a kick ass rocking horse, he was a one horned, unicornucopia
Two, two in Utopia, three star, verge into infinity…"
The album finishes strong with three well-produced rockers. The title song, "Rock In a Hard Place (Cheshire Cat)" is a fine rock song featuring the strongest performance on the album by bassist Tom Hamilton and more great guitar work by the two newcomers. "Jig Is Up" is one of the great forgotten classics of Aerosmith, with a solid rock sound not heard from the band since 1976's Rocks, and a lyrical theme similar to the Stones' "Brown Sugar". The album closes with Tyler's "Push Comes to Shove", a completely undecipherable screed by the singer that is reportedly about his then girlfriend and future wife, but who knows to what end. Nonetheless, it is a pleasant listen in the Aerosmith-blues style and features some good piano by session man Paul Harris.
Panned by most critics, fans, and band members themselves, Rock In a Hard Place may well be an underrated gem in the long career of one of America's most storied bands. Still, purists lament that it is the only release which deviates from the five man lineup that was the band before and would be the band again. In 1984, Aerosmith embarked on a reunion tour which brought Perry and Whitford back into the fold and the original lineup remains in tact to this day.
~

Part of Classic Rock Review's celebration of 1982 albums.