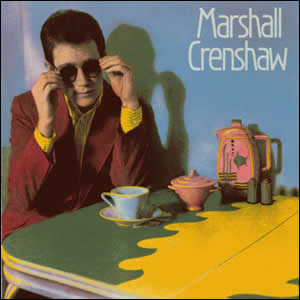 Marshall Crenshaw writes songs that could be described as simple, traditional pop/rock songs with a hint of Rockabilly in the tradition of Buddy Holly and early Beatles. In fact, Crenshaw got his first break playing John Lennon in the off-Broadway production of the musical Beatlemania in the 1970s. All the while, Crenshaw was writing and recording original songs. In 1981 rockabilly artist Robert Gordon recorded Crenshaw's "Someday, Someway" and scored a minor hit. Encouraged, Crenshaw wrote and recorded a full length LP with a three piece band. This eponymous album was well received by critics and fellow musicians when it was released in 1982.
The album spent six months on the charts peaking at #50 and selling over 400,000 copies. These are respectable stats for a debut album, but it was hardly a blockbuster. So why is this album significant? In a sea of artists trying to be the next Michael Jackson, Crenshaw just did his thing. At that time when he was being compared to the heavily synthesized music considered cutting edge, he may have sounded a bit old fashioned, but his songs have stood up over time and still sound fresh today.
A good song can be a reflection of what the writer is thinking, feeling or experiencing . Marshall Crenshaw manages to do that perfectly on this album. The songs are not complicated, they are put together with three musicians and accentuated with overdubs. There really is a beauty in simplicity when it's done well. The lyrics are straightforward and forthright and while there is sometimes a bit of sarcasm, they are clever and always upbeat. Crenshaw's style was not necessarily the "next big thing" in pop music, but he created one great album filled with refreshing, smart pop tunes that stood out from the rest.

Marshall Crenshaw

by

Marshall Crenshaw
Released: April 28, 1982 (Warner Brothers)
Produced by: Richard Gottehrer & Marshall Crenshaw
Recorded: Record Plant, New York, January 1982
Side One
Side Two
There She Goes Again
Someday, Someway
Girls
I'll Do Anything
Rockin' Around in N.Y.C.
The Usual Thing
She Can't Dance
Cynical Girl
Mary Anne
Soldier Of Love (Lay Down Your Arms)
Not For Me
Brand New Lover
Band Musicians
Marshall Crenshaw – Guitars, Vocals
Chis Donato – Bass
Robert Crenshaw – Drums
The album opens with "There She Goes Again" a melodic tune with a catchy chorus " Will her heart ever be satisfied, there she goes again with another guy." This is followed by the most recognized song on the album and Crenshaw's only Top 40 hit, "Someday Someway". Here we have another infectious melody and chorus that gets stuck in your head long after the music stops, showing how Crenshaw can craft a simple song into a pop masterpiece.
Later on the first side comes a pair of power pop tunes – "Girls, Girls Girls" and "I'll Do Anything For You", which are simple love songs that almost anyone can relate to. "Rockin Around In N.Y.C." has a great rockabilly beat to help paint a euphoric scene of chasing down a dream.
There are a couple of songs here that bear an eerie resemblance to rock legend Buddy Holly. So much so that they may fool those who don't know any better into thinking that it actually is the Crickets. The strongest of these is "Cynical Girl", which starts out with a jangly Holly-ish melody and adds Crenshaw's crisp, bouncy vocal settling into a steady rhythm with some cool lyrics;
"Well I hate TV, there's gotta be somebody other than me who's ready to write it off immediately…"
To date, Crenshaw has recorded nine more studio albums since his 1982 debut, but he has never quite reached the same level of popularity. However, several of his songs were covered through the years by many talented artists, a validation of Marshall Crenshaw's songwriting talent.
~

Part of Classic Rock Review's celebration of 1982 albums.