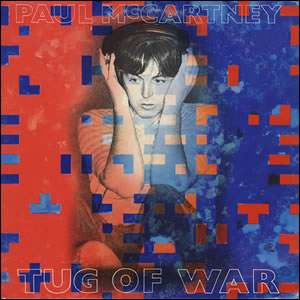 The naive belief that one could end war by political correctness at a time when no major wars were occurring in the Western world may be the best way to describe the underlying theme of Tug Of War, the 1982 album by Paul McCartney. It comes in the wake of many events including the death of John Lennon and the dissolution of McCartney's post-Beatles group, Wings. In fact, the earliest sessions for Tug Of War (in late 1980) were actually intended for the final Wings album. But following Lennon's assassination, recording was suspended and that album was never completed. Lacking direction, McCartney called in Beatles producer George Martin to work on his material for the first time since the "Fab Four" broke up.
Reuniting with Martin guaranteed that the album would receive much attention. Much of the production is rich and rewarding, as one would expect from a George Martin production. However, the creative muse from McCartney seems contrived at times. Aside from the songs with his ex-Wings band mates, there are two collaborations with Stevie Wonder, one with Carl Perkins, and one with fellow Beatle, Ringo Starr.
As a whole, the album is almost interesting musically but not cohesive in the slightest. In total, there is about half of a great album here of well-produced and melodic songs. This shows that there was great potential in this reunion of McCartney and Martin. But then there's the rest of the album which sounds like it should have been reserved for some kind of celebrity collection.


Tug Of War

by

Paul McCartney
Released: April 26, 1982 (EMI)
Produced by: George Martin
Recorded: AIR Studios, London, 1981
Side One
Side Two
Tug Of War
Take It Away
Somebody Who Cares
What's That You're Doing?
Here Today
Ballroom Dancing
The Pound Is Sinking
Wanderlust
Get It
Be What You See (Link)
Dress Me Up As a Robber
Ebony and Ivory
Primary Musicians
Paul McCartney – Lead Vocals, Bass, Keyboards
Eric Stewart – Guitars, Vocals
Denny Laine – Guitars
George Martin – Piano
Stevie Wonder – Keyboards, Vocals
Steve Gadd – Drums

In March 1982, McCartney's duet with Stevie Wonder, "Ebony and Ivory", was released to broad acclaim. It reached #1 in many countries and consequently, Tug Of War immediately hit #1 on the album charts when it was released in April. The song uses the allegory of the ebony (black) and ivory (white) keys on a piano to make a statement on racial harmony, in a quite simplistic and tacky way. Still, it was a very popular song and the second most popular of McCartney's entire career behind the Beatles' "Hey Jude". The other collaboration with Wonder is "What's That You're Doing?", a song that is quite off-putting because of the cheap electronics brought to the forefront. For the amount of talent between these two geniuses, this is really a low quality, throwaway track, extended way too long in length with sounds generated as if a couple of teenagers got a hold of a synthesizer.
"Here Today" was written as a bittersweet folk melody in memoriam of John Lennon with a string arrangement by Martin. But these fall short of magic and even the song written in tribute to Lennon seemed fluffy and lacking true substance, as if McCartney wrote the song he thought people wanted him to write rather than something deep and REAL. Some have compared the opening title song, "Tug of War" to Lennon's "Imagine", but that is a bit generous. It is a fine enough song, with good melody and interesting changes, but it is far from a classic.
"Take It Away" may be the last great Wings song, and it is certainly the best song on the album. It contains elements that harken back to greats like "Listen to What the Man Said", with sonic supremacy, excellent vocal choruses, and just the right brass added at just the right time. The song starts as  reggae but morphs into something for show-style. If the rest of the album was of this quality, it would have been a great album
The second side opens with a few fine tracks, starting with the fun "Ballroom Dancing", which is  well-produced with great sonic flavorings throughout. "The Pound Is Sinking" is a good acoustic song with a country and western type rhythm edged with a elements of doomy-ness and theatrics reminiscent to early Genesis. "Wanderlust" is a great piano song with good production and excellent vocals. It nods towards McCartney's 1979 marijuana bust in Japan without getting too specific.
"Get It" is a duet with Carl Perkins, that is not totally unpleasant, but out of place here among some of the finer compositions. A weird "link" called "Be What You See" leads to "Dress Me Up As a Robber", a funked-up disco with high-pitched vocals, which again calls into question some of the selections on this album (he should let Earth, Wind, and Fire be Earth, Wind, and Fire) The only really interesting part is the lead, Spanish-style acoustic.
In the end, Tug Of War would end up being the crossroads between McCartney's fine albums of the seventies and the rather forgettable albums of the eighties.
~

Part of Classic Rock Review's celebration of 1982 albums.