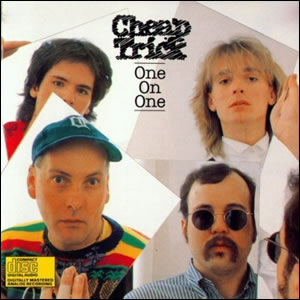 Many critics believed that Cheap Trick was already past their peak by the time that got around to recording their sixth studio album, One On One in 1982. The band had really hit an apex in the late 1970s by combining the glam-fused power pop of British bands like Sweet with the good time heavy rock of California artists like Van Halen and all with an edge. In fact, this Illinois based band may have been too clever for their own good as they always seemed just outside the mainstream at any giving moment, but we digress. The truth is, with One On One, Cheap Trick may have actually hit its rock-centric peak, despite what mainstream critics may have said.
The album is laced with the intense yet measured, screaming vocals of Robin Zander, giving it all an air of importance mastered by the likes of The Who's Roger Daltry. This wailing tops off the master song craft of guitarist and chief songwriter Rick Nielsen, a founding member of the band and its predecessor in the late 1960s. Although, at first, the songs themselves may seem muddled and distant, subsequent listens give the songs more breadth and depth.
The slickness of production on this album by producer Roy Thomas Baker gives it a bright, glam feel. But this could have just as easily had a darker, biker-rock feel due to the flexible writing style. One On One was the first album to feature bassist Jon Brant, the replacement for Tom Petersson, who departed after the band's previous album All Shook Up.

One On One

by

Cheap Trick
Released: April 30, 1982 (Epic)
Produced by: Roy Thomas Baker
Recorded: 1981-1982
Side One
Side Two
I Want You
One On One
If You Want My Love
Oo La La La
Lookin' Out for Number One
She's Tight
Time Is Runnin'
Saturday At Midnight
Love's Got a Hold On Me
I Want to Be a Man
Four Letter Man
Band Musicians
Robin Zander – Lead Vocals, Guitars, Keys
Rick Nielsen – Guitars, Vocals
Jon Brant – Bass, Vocals
Bun E. Carlos – Drums, Percussion
The album starts off with the upbeat "I Want You" which establishes the hyper, high end vocals ala Sweet in an upbeat and pure rocker. The title song follows with a more steady, quasi-heavy metal motif. The first side wraps with "Oo La La La" containing a bluesy, Aerosmith-like hook and especially with heavy yet vocals, and "Lookin' Out For Number One" a grinding, heavy metal screed.
The beautiful and elegant "If You Want My Love" is the showcase for the first side. A very Beatle-esque piece right down to the three-part "oohs", with several distinguishing parts that build a very moody and desperate love song. The song is a prime example of the band's rich talent, especially the composing and arranging talents of Neilson.
Side two begins with the hyper and fun "She's Tight", with the album's best vocal performance by Zander. The song strikes just the right amount of synths to balance the almost-punk main riff, giving it a very infectious feel overall. Critics have said this was the band trying to achieve a more commercial rock sound, unlike anything before. This may be true, but it is still undeniable that this is excellent to the hilt.
The next track "Time is Runnin'" is the truest pop-oriented song to this point on the album, while "Saturday at Midnight" really deviates from the feel of the rest of the album as a new-wavish, dance track, released as a 7″ single to appeal to a wider audience. Drummer Bun E. Carlos co-wrote "Love's Got a Hold on Me" as electronic effects on his flanged-out drums lace the wild yet melodic "I Want Be Man". The album concludes with the Queen-like rocker "Four Letter Word", complete with faux audience rudiments.
With One On One, Cheap Trick released an album full of brash, loud, raucous rockers. The album achieved moderate success but physical copies of the album were out of print for several years. In April 2010 it was reissued along with the following 1983 album Next Position Please on one CD.
~