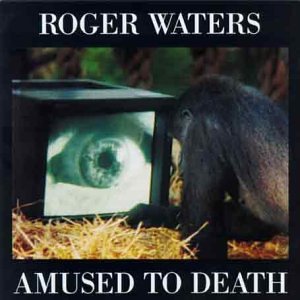 For what turned out to be his final solo studio album (to date, 20 years and counting), Roger Waters composed a complex (and often confused) concept album called Amused to Death. The title came from a book by author Neil Postman, which explored the history of the media and the concept (although cloudy) is of aliens arriving after the extinction of humans and finding all our skeletons sitting around television sets and trying to work out why it was that our end came before its time.  They come to the conclusion that we "amused ourselves to death". While the album follows the same calm, storytelling, musically rich template of Waters' two previous solo efforts, this album seems to be the most directly influenced by that material of Waters' former band, Pink Floyd. In fact, there appears to be some direct sampling from Pink Floyd songs "Take Up Thy Stethoscope and Walk", "Echoes" and "Shine On You Crazy Diamond".
Lyrically, the album is brimming with hate on a variety of subjects from capitalism to America to religion to war to television to Stanley Kubrick to Andrew Lloyd Weber. Waters makes a few good points on these varied subjects, with the better use of sarcasm in these instances. However, the logic of the vast rants on Amused to Death is convoluted, such as when Waters somehow ties Chiang Kai-shek and the Chinese Nationalists (deposed in 1949) to the slaughter at Tienanmen Square 40 years later by the very Communists that deposed them. He also applies moral relativism to the "Germans killing the Jews" and the "Jews killing the Arabs". But the greatest offense may just be the mere fact that so much of the lyrical material seems dated and irrelevant, unlike past efforts which seem timeless and relevant to any era. Just take the example of Waters harping on television habits from his perspective at the dawn of the Internet age. A futurist, Mr. Waters is not.
Conversely, the album is superb musically. Waters' enlisted legendary guitarist Jeff Beck to play lead guitar and a whole host of talent to provide additional music and vocal support. Amused to Death is mixed in QSound, a virtual surround sound, which enhances the spatial feel of the audio along with the various sound effects sprinkled throughout the album. The quality of production by Waters, Nick Griffiths, and Patrick Leonard is simply superb and makes this album worthwhile for any audiophile even if you like nothing else.

Amused to Death

by

Roger Waters
Released: September 7, 1992 (Columbia)
Produced by: Roger Waters, Nick Griffiths, & Patrick Leonard
Recorded: Various Locations, 1988-1992
Track Listing
Primary Musicians
The Ballad of Bill Hubbard
What God Wants, Part I
Perfect Sense, Part I
Perfect Sense, Part II
The Bravery of Being Out of Range
Late Home Tonight, Part I
Late Home Tonight, Part II
Too Much Rope
What God Wants, Part II
What God Wants, Part III
Watching TV
Three Wishes
It's a Miracle
Amused to Death
Roger Waters – Lead Vocals, Bass, Synthesizer, Guitars
Jeff Beck – Guitars
Andy Fairweather Low – Guitars
Patrick Leonard – Piano, Keyboards
Graham Broad– Drums, Percussion


"The Ballad of Bill Hubbard" starts the album off with a spoken word story of the desperation of trying to save a comrade in the battle lines during World War I, recited in the first person by Alf Razell after some introductory David Gilmour-like guitar motifs by Jeff Beck, who continues to add licks even after the recital commences. The song abruptly "changes channels" into the upbeat and funky "What God Wants, Part I", the first single from the album, banned by the BBC due to controversial lyrics. Driven by the bass of future American Idol judge Randy Jackson, we hear Waters voice for the first time on this track and it is quite clear that his voice is very rough and shot.
"Perfect Sense, Part I" contains a beautiful moody piano and dual lead vocals by Waters and female soul singer PP Arnold, while "Perfect Sense, Part II" contains a sequence where sports commentator Marv Albert darkly simulates a nuclear missile attack as a sporting event. "The Bravery of Being Out of Range" is musically the best song on the album, with a strong rock arrangement and interesting chord progressions, but it again comes off preachy lyrically.
The album settles down again with "Late Home Tonight" with some interesting strings and acoustic guitars accompanying Waters speaking before the calmness is shattered by the sound of a huge explosion. "Too Much Rope" features guitarist Andy Fairweather Low, who performed on Waters' previous studio album Radio K.A.O.S. as well as many live tours. "Watching TV" is arranged like a happy-go-lucky acoustic country folk song with the very dark lyrical subject of the Tienanmen Square massacre, as Waters sings of his "yellow rose and her blood stained clothes". Don Henley later shares lead vocals on the song.
The album concludes with three extended pieces, which many consider the climax of the album. "It's a Miracle" is very sarcastic in content, with a tight composition and catchy melody. It highlights Waters very sharp satire with lyrics such as;
"We've got a warehouse of butter, we've got oceans of wine / We've got famine when we need it, got a designer crime / We've got Mercedes, we've got Porsche, Ferrari and Rolls Royce, we've got a choice…"
"Three Wishes" is a more personal song, a quality evident in the earlier works by Waters, with quality music and sad lyrics. The closing title song, "Amused to Death", is a nine minute package of cynicism and sarcasm, with a tinge of hope at the end. The theme comes full circle as Bill Hubbard is laid to rest and memorialized.
There was no tour in support of Amused to Death and selections from the album were performed sparingly on future tours by Waters. As this may be the final studio output by the musical genius, it is worth a careful listen or two, even if it falls short of Roger Waters' lyrical capabilities.
~

Part of Classic Rock Review's celebration of 1992 albums.