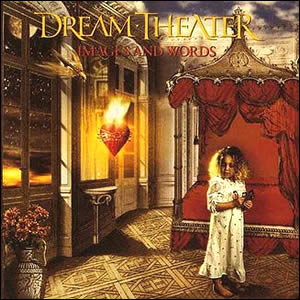 Images and Words is the second studio album by Dream Theater, released in the summer of 1992. It is the first to feature vocalist James LaBrie and is considered one of the most influential albums ever for the genre of progressive metal, although it may be short-sighted to try and place this material into a well-defined box of any musical genre. On this album the music, vocals, and lyrics are in a constant exploration that appears to respect no boundaries of musical style. The result is a very diverse and complex masterpiece made up of a multitude of elements which, for the dedicated music fan, becomes more vivid with each subsequent listen.
Dream Theater's seeds were planted in the mid 1980s when guitarist John Petrucci, bassist John Myung, and drummer Mike Portnoy, all attended the Berklee Schhol of Music in Boston. They formed a band called Majesty, along with keyboardist Kevin Moore and vocalist Chris Collins, who was later replaced by Charlie Dominici. After a name change due to a conflict, Dream Theater recorded their first album When Dream And Day Unite, released in 1989. During the subsequent tour however, the band became unsatisfied with Dominici's vocals and his creative vision and he was released from the band. It would take two solid years until they found a satisfactory replacement, auditioning nearly 200 vocalists before LaBrie, formally of the Canadian band Winter Rose, sent the band an audition tape in 1991. With LaBrie on board, the band made anew audition tape and was soon signed to a seven album contract with Atco Records.
Beyond the band's dedicated fans, Images and Words remains highly acclaimed by music critics and musicians alike. In a review of the album, critic Jonathan Scott stated;
The five musical prodigies of Dream Theater show here that they are not afraid to stand out from the crowd and shout, with unnaturally-sized drum kits and keyboardists equipped with mutant spider-fingers, that music, the art, cannot be condensed down to simple hooks and choruses…"
Providing historical context to the album, musician Jay Santos said;
"Although stemming from the late 80's, their progressive style and superior and solid execution captured the attention of serious musicians hence giving them a safe place, protected from the grunge movement…"
Santos also pointed to the fact that the NBA's San Antonio Spurs have long used portions of "Metropolis" as incidental music during their games, proving that while the band will never receive mainstream pop coverage, they still have still crossed over to mainstream culture.

Images and Words

by

Dream Theater
Released: July 7, 1992 (Atco)
Produced by: David Prater
Recorded: Bear Tracks Studios, New York, September-December 1991
Track Listing
Band Musicians
Pull Me Under
Another Day
Take the Time
Surrounded
Metropolis, Pt. 1: Miracle and Sleeper
Under a Glass Moon
Wait for Sleep
Learning to Live
James LaBrie – Lead Vocals
John Petrucci – Guitars, Vocals
Kevin Moore – Keyboards
John Myung – Bass
Mike Portnoy– Drums, Vocals


The album contains four extended pieces which clock in over 8 minutes apiece, each complex but with their own distinct signature. "Take the Time" begins very rudiment heavy before breaking into a funk section by Myung, who excels at bass throughout the track. While the song navigates through a multitude of sections reminiscent of early Genesis or Yes, it returns frequently to the main vocal hook and Petrucci's signature lead riff. "Metropolis, Pt. 1: The Miracle and the Sleeper" is sprinkled with sonic candy with more great rudiments under the verse and plenty of space for virtuosity in its multiple parts. This piece never relents and keeps your ears perked at maximum attention as each band member shines brightly throughout, most especially Moore with a killer synth lead.
The closer "Learning to Live" starts off with more virtuoso instrumentation but is far more steady and subtle compared to other extended pieces. It is quite different than anything else on the album, with a more surreal quality which may take a few times to appreciate.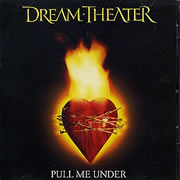 The opening song "Pull Me Under" has a long, building intro, before settling into a heavy metal riff by Petrucci and a double-kicked beat by Portnoy. Written by Moore, the lyrics are philosophical about life and death and contain a direct quote from Shakespeare's Hamlet. Despite being over eight minutes in length, the song was released as a single and peaked at #10 on the Billboard Mainstream Rock chart.
The album nicely counterbalances the extended tracks with more lighter, more conventional, and shorter tracks. "Another Day", written by John Petrucci for his father, has been described as "prog metal meets Kenny G". With its gently rocking piano and a couple saxophone leads by Jay Beckenstein, who rarely stepped away from playing "smooth jazz" before this session. "Surrounded" starts and ends as a ballad with a rotating key riff, accented by two piano chords but nicely morphs into a choppy, odd-timed rocker through the heart of the song.
The album's diversity os once again displayed later on when the pure heavy metal "Under a Glass Moon", frantic throughout and with all players at full throttle is followed by "Wait for Sleep", a short and calm ballad containing mostly just piano and vocals. This latter track acts as the default title song for the album, containing its title in the lyric and describing the scene of the album's cover.
Images and Words would become the first of a string of highly regarded albums that continues to this day, 20 years later, and is the most successful album to date commercially (although albums in recent years have fared better with chart positions). The band has gone through several personnel changes over the past two decades, with the most recent being the departure of founding drummer Mike Portnoy in 2010, who is now a member of Flying Colors (also reviewed today on our affiliate site Modern Rock Review). Still, Dream Theater keeps going strong with an album released in 2011 and another planned for later in 2012.
~

Part of Classic Rock Review's celebration of 1992 albums.