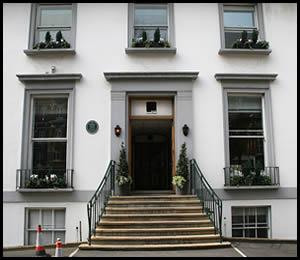 At the very end of The Beatles' very last live performance, an improvised concert on the roof of a building in January 1969, John Lennon jokingly stated, "I'd like to say thank you on behalf of the group and ourselves and I hope we've passed the audition." This, of course, was met with laughter at the absurdity of the most popular band in the world having to pass an audition. But there was a time when the Beatles did audition on a regular basis (and didn't always pass those auditions). The last real audition by the band was held less than seven years prior to that rooftop concert, and they were far from assured whether they would "pass" that one. It was held on June 6, 1962 at what would later be re-named Abbey Road Studios.
That was exactly a half century ago today. On that day, no one involved could have possibly imagined how historically connected this building in London and that shaggy rock band from Liverpool would become. Within 18 months, the Beatles would become the top rock band in the world, remain so until their breakup in 1970, and to this day remain the most popular act ever. This despite the fact that the band completely stopped touring midway through their career, relying solely on their studio recordings to maintain their fame, and these recordings have become legendary. And, with the exception of the Let It Be sessions, every one of the band's singles, albums, and film soundtracks was recorded at this studio, with the band's final studio album being a dedication which bore the name Abbey Road. Check out any major publication's top whatever list of all-time albums and you're likely to find multiple Beatles albums in the top ten, all of which were likely recorded at this studio.
(SIDE NOTE: Classic Rock Review does not make such lists, but we do extensively review each important album. The Beatles' Revolver was reviewed last year, with Sgt. Pepper's and Magical Mystery Tour coming later this summer, while the rest will be scheduled during their respective anniversary years)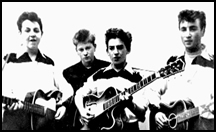 The four band members arrived together at what was then known as EMI Studios at 3 Abbey Road, St John's Wood, London in a beat-up white van. Although they were four, they weren't quite yet the "fab four". The core three members – John Lennon, Paul McCartney, and George Harrison – had been together since 1957 when they went by the name The Quarrymen. Each was a guitarist with vocal abilities and a passion for American rock n roll. The group went through several rotating members in the early years, the most notable being bass player Stuart Sutcliffe, who is credited by many for coming up with the name "Beatles" (although Lennon later contended it was his idea). In 1960, the band landed their first gigs in Hamburg, Germany, but the club owner specifically wanted a five-piece band so they hired drummer Pete Best. When the first Hamburg tour abruptly ended (three band members were deported), Sutcliffe decided to stay with his German girlfriend and attend art school in Hamburg. McCartney moved over to bass and The Beatles were now a quartet of Lennon, McCartney, Harrison, and Best.
After the band unloaded their gear for the session scheduled for 6:00 pm, the studio engineers were dissatisfied with the quality and shape of the amplifiers, especially McCartney's bass rig. So the session was delayed for about an hour while the crew went down to one of the studio's famous echo chambers in the basement of the building to retrieve a suitable bass speaker and solder the appropriate inputs. The band members were directed to the building's canteen where they nervously sipped tea and awaited the call to report to the sound stage. The building itself was already very old at that point. It was built in 1830 as a 9-bedroom townhouse along a footpath that lead to Kilburn Abbey. About a century later, in 1931, it was acquired by the Gramophone Company and converted into recording studios with the first recordings being of the London Symphony Orchestra. The company later amalgamated to form EMI (Electric and Musical Industries) an in 1957 it EMI acquired Capitol Records for distribution in American markets.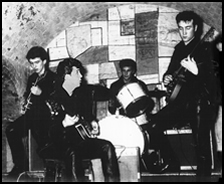 Coming into 1962, it appeared to be a promising year for The Beatles. The previous year had seen ever greater success with further Hamburg gigs and a dedicated following back in Liverpool where they frequently headlined The Cavern Club. The band had backed up singer Tony Sheridan (as "The Beat Brothers") for a single called "My Bonnie" which was making waves in Germany and caught the ear of a local Liverpool record store owner named Brian Epstein, who approached the band with an offer to manage them. Epstein got the band more money for gigs, better clothes, and their first real promise of landing a major record deal.
However, the early part of 1962 had been quite a bummer for the band thus far. They had performed their first major label studio audition for Decca in London on New Year's Day, recording 15 tracks live. But by February, Decca had turned down the group because (in their infinite wisdom) they had concluded that "guitar music" was on the decline. Then in April the band received the tragic news that their former colleague Stuart Sutcliffe had died suddenly in Hamburg from a brain hemorrhage. All the while, Epstein was using the Decca audition tapes in an attempt to draw some interest from other major labels, but no one was biting. Finally, a producer and A&R man from EMI's Parlophone label named George Martin gave the green light to audition the band in June.
Although Martin was the type of personality that wasn't quick to dispose of any possibility, he did not sincerely believe that anything would come of this session. In fact, he had no intention of attending it personally, as he delegated production responsibilities to Ron Richards (the resident "rock n roll" guy). With Norman Smith as engineer, The Beatles started their first Abbey Road recording session at around 7:00 pm that evening.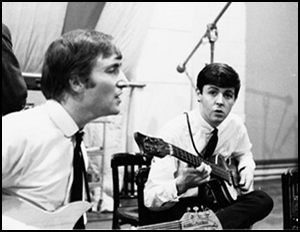 Now, this article may have thus far built up expectations that something truly magical happened on that day fifty years ago. But the truth is, this Beatles' session was quite ordinary, even sub-par to the rejected Decca session recordings. In fact, the master tapes were soon destroyed when the record company determined there was nothing of commercial value from these sessions, so there was no "inferno" of musical genius or creativity. But there were several little "sparks" on that day which set the course of music history. The first of these came when the band first performed "Love Me Do", which Smith recognized as a potential radio hit (in 1962, it was 100% about finding the next "radio hit"). He sent for George Martin down in the canteen and Martin came up to the control room and took over as producer for the rest of the session. The Beatles recorded four songs that night. Aside from "Love Me Do", there were two more Lennon-McCartney originals; "P.S. I Love You" and "Ask Me Why", and "Besame Mucho", an old Latin crooner song that had been covered by The Coasters in 1960.
When the session wrapped up at around 10:00 pm, Martin called the band members into the control room and gave what was later described as a "lecture". According to Smith;
…he gave them a long lecture about their equipment and what would have to be done about it if they were to become recording artists. They didn't say a word, they didn't even nod their heads in agreement. When he finished, George said 'Look, I've laid into you for quite a time, you haven't responded. Is there anything you don't like?' I remember they all looked at each other for a long while, shuffling their feet, then George Harrison took a long look at George and said 'Yeah, I don't like your tie!' That cracked the ice for us…"
Martin, whose specialty to that point was comedy and entertainment, was struck by the personalities, humor, and wit of the band members and within 15 minutes of giving his lecture he had decided to sign the band. However, Martin did have some problems with Pete Best's drumming and later made it clear to Epstein that he reserved the right to enlist a drummer of his choosing for any future sessions. This final point was another spark from that day which ignited the Beatles' destiny, as Lennon, McCartney, and Harrison decided to pursue the drummer they wanted all along, Ringo Starr.
Richard Starkey was a bit of a Liverpool legend to the rest of the Beatles. He was a little older, and had actually made some money as the long-time drummer for Rory Storm and the Hurricanes. Around 1960, it was fashionable for all musicians to have a stage name (Lennon was "Long John", McCartney was "Paul Rabon", and George became "Carl Harrison") and "Ringo Starr" was one of the few who actually kept his permanently. During a time when both bands were playing in Hamburg, Starr actually sat in with The Beatles when Best could not make a couple of gigs. Also, Lennon, McCartney, and Harrison, did a recording session with Starr at Akustik Studio in Hamburg in October 1960, backing up Hurricanes' bassist Lu Walters on his cover of George Gershwin's "Summertime". Until Martin's comments, The Beatles were not bold enough to try and poach Starr from his longtime band, but they decided the time was right to make the move and Starr agreed to join the band so long as he could finish out his committed dates with Rory Storm and the Hurricanes. In August 1962, Ringo Starr replaced Pete Best as the drummer of The Beatles and the true "fab four" were in place.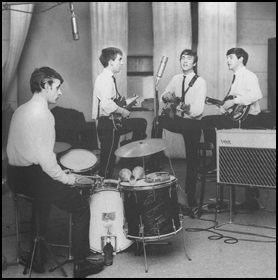 The Beatles returned to Liverpool and resumed their regular gigs at the Cavern through the summer of 1962, not returning again to the Abbey Road studios until September. When they did return, there was a bit more turmoil as Martin had booked session drummer Alan White, not realizing that the group had replaced Best in the interim. So it was White who performed on Beatles' first single "Love Me Do", with Ringo Starr relegated to playing maracas and tambourine in order to receive pay for the sessions. However, the Beatles did assert themselves that future sessions include Ringo as a permanent member of the band. They also took a stand when Martin went to "Tin Pan Alley" to get them a "hit" song called "How Do You Do It?". The band did record it, but refused to release it as a single saying they'd "never be able to show their face in Liverpool again". Ironically, the song was later recorded by another Liverpool group, Gerry and the Pacemakers, and it did reach #1 on the U.K. charts.
Martin would not have to wait long for the Beatles to score their own #1 hit, "Please Please Me", recorded in November and released in January, 1963. With this rapid success, EMI commissioned the production of the first Beatles' album. On a single day – February 11, 1963 – the band recorded the bulk of what would become the Please Please Me album. The effect of this goliath session was best captured on the day's final recording "Twist and Shout", where Lennon's voice is torn to shreds from the long day, giving it an unintended edge, which was one of the great happy accidents of rock history. The album was released by late March, and the rest as they say, is history.
Who knows what may have happened if The Beatles did not get that last "audition" on June 6, 1962? They were certainly a talented and determined band, and chances are we'd still be talking about them today anyway. But it is unlikely that the eternal marriage between The Beatles and Abbey Road would have come to be. Pete Best may have been a member of an alternate "fab four" and George Martin may have never realized his calling as rock's greatest producer. Fortunately, things worked out in the way they were destined.
Also fortunate is the fact that one of the engineers secretly made mono copies of "Love Me Do" and "Besame Mucho" before the master tape from that session was destroyed, historically preserving some of the product of that historic day. This was not revealed until the 1980s, and these two tracks were finally released to the public on Anthology 1 in 1995, giving Pete Best his first ever royalties as a Beatle thirty-three years after the fact.
~