An extraordinary debut by The Jimi Hendrix Experience, Classic Rock Review has named Are You Experienced? as our Album of the Year for the phenomenal music year of 1967. On this album, the sound is harder and heavier than anything else from 1967, yet it is not in the slightest bit unfocused. Led by the extraordinary talent of Jimi Hendrix, the Experience was an unheralded act as a group, especially when it came to the wild and entertaining drumming of Mitch Mitchell. Along with bassist Noel Redding, this power trio released the most stunning debut in rock history and one of the greatest albums of all time.
The sound forged on the album synthesized elements of 1967 psychedelic rock with traditional rock, blues, and soul. This was all topped off by the proficient and original guitar work by Hendrix, who used cutting edge techniques and technology to create sounds never before heard. Hendrix also composed solid songs, rooted in heavy blues and roots rock. This, along with the frantic but solid rhythm by Redding and Mitchell, gave Hendrix the perfect canvas on which to paint his guitar masterpieces.
Producer Chas Chandler helped form the Jimi Hendrix Experience in England in 1966 and signed the group with Track Records, a label run by The Who's managers Kit Lambert and Chris Stamp. The group started with three singles, recorded in-between tours of England in late '66 and early '67. All three ("Hey Joe", "Purple Haze", and "The Wind Cries Mary") reached the top 10 on the UK charts. The original album was released in the UK in May, 1967 without the three singles (or B-sides), but the subsequent US version did include the singles in order to maximize the impact of the group in the States, where they were still relatively unknown. At the suggestion of Paul McCartney, the Experience debuted in America at the Monterrey Pop Festival on June 18, 1967.
Some of the tracks not included on the US version (but available on other versions) include the pure blues "Red House" with its wailing lead guitar and the Cream-influenced "Can You See Me", with double-tracked vocals over a strong, riff-driven rocker. "Stone Free" is frenzied but with a good hook and "Highway Chile" has a more modern sound with a funky shuffle and R&B pattern.


Are You Experienced?

by

The Jimi Hendrix Experience
Released: May 12, 1967 (Track)
Produced by: Chas Chandler
Recorded: De Lane Lea & Olympic Studios, London, December 1966-April 1967
Side One
Side Two
Purple Haze
Manic Depression
Hey Joe
Love Or Confusion
May This Be Love
I Don't Live Today
The Wind Cries Mary
Fire
Third Stone From the Sun
Foxy Lady
Are You Experienced?
Tracks On Alternative Album Versions
Red House
Can You See Me
Remember
51st Anniversary
Highway Chile
Band Musicians
Jimi Hendrix – Lead Vocals, Guitars, Piano
Noel Redding – Bass, Vocals
Mitch Mitchell – Drums, Percussion

Are You Experienced? starts with a classic anthem from the late 1960s, "Purple Haze". A rather simple rock song that takes on a much higher aura (especially the acid era), the song is Hendrix's best known composition. It was adapted from a poem he wrote called "Purple Haze, Jesus Saves" and contains the classic lyric; "excuse me while I kiss the sky". But the true signature of this song is the instantly recognizable classic guitar riff which instantly signals the tone and tenor of the album.
"Manic Depression" contains hypnotic and frantic drums by Mitchell, under a driving rock riff by Hendrix and Redding. This song set the stage for all the future heavy blues and heavy metal song textures of the coming decades. Lyrically was more an expression of romantic frustration than the clinical definition of manic depression. "Hey Joe" is a riff-driven version of a very popular folk song by Billy Roberts. As we pointed out last year in our review of Love's debut album, "Hey Joe" seemed to be a mandatory in those days, as it was covered by The Surfaris, The Leaves, The Byrds, Tim Rose, Wilson Pickett, Cher, Deep Purple, The Mothers of Invention, and The Band of Joy. However, none of these versions are as popular as the version by The Jimi Hendrix Experience, which made the song their own through this memorable version.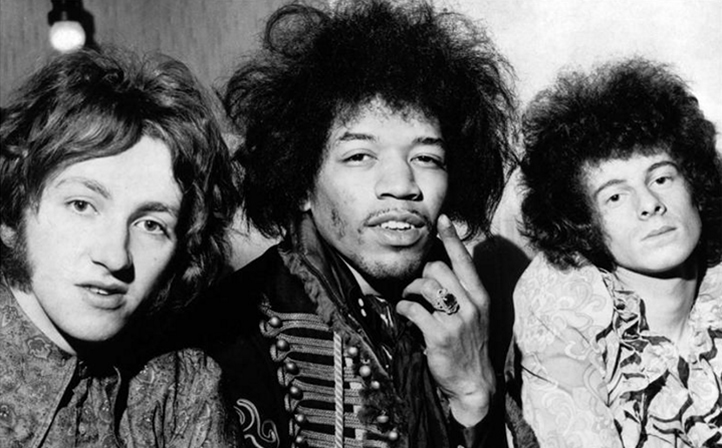 The album's first side concludes with three lesser known tracks. "Love Or Confusion" is a good and solid rock song, heavy throughout but yet somewhat psychedelic with overdubbed guitars and rotating bass and drum backing. "May This Be Love" contains soft, double-tracked vocals with Mitchell's marching drums holding together the slow moving, tidal song with slow yet wild guitars with phasing effects. "I Don't Live Today" has a call and response with riff and verse line, but is overall one of the weaker songs on the album.
The second side starts with the fantastic ballad "The Wind Cries Mary". Written by Hendrix following an argument with his girlfriend, the lyrics use a hurricane as an allegory for a relationship;
A broom is drearily sweeping up the broken pieces of yesterday's life / Somewhere a queen is weeping, somewhere a king has no wife…"
These lyrics are every bit as poetic as Bob Dylan while every bit as romantic as Otis Redding, but presented as a pure, bona fide rock ballad. Musically Hendrix's laid back and bluesy guitar is backed by a steady, driving bass by Redding. The soft and somber playing and singing by Hendrix masks a moderately fast underlying rhythm, giving the song an edge unlike any other.
The album once again picks up with "Fire", a frantic, highly charged pop/soul song complete with a backing chorus hooks by the band members. There is a nice key jump under the guitar lead, a great drum rhythm by Mitchell, and almost novelty lyrics. The song showcased the raw energy of this power trio and their ability to perform at breakneck speed. "Third Stone From the Sun" is a cool and interesting piece, multi-part, with an almost soundtrack like quality. It contains some strong jazz elements with extremely spacy guitars and an excellent drum improvisation coupled with a three note repeating bass line. This extended piece would be a pure instrumental were it not for a haunting, spoken vocals and wild vocal sound effects.
"Foxy Lady" is another popular rock song with a definite signature of psychedelia. Built around a howling guitar and inspired drumming, the sexually-charged song is full of passion and desire and would go on to become one of Hendrix's most popular songs. The album concludes with the purely psychedelic title song. Drawing strong influence from Beatles songs like "Tomorrow Never Knows" and "Strawberry Fields Forever", "Are You Experienced?" employs backwards-masked drums and other sonic and surreal sounds along with classically 1967 lyrics such as; "not necessarily stoned but beautiful". Although unlike anything else of the album which shares its name, the song is a fitting conclusion to this totally original album, even as it fades into psychedelic oblivion at its conclusion.
With uncompromising energy yet delicate artistic flair, Are You Experienced was an immediate classic that has not faded one iota 45 years later. While later punk bands took on the pretentiousness of offering uncompromising rock, the truth is not a single one had anywhere near the talent of Hendrix and there may never be a true talent of his equal again.
~

Part of Classic Rock Review's celebration of 1967 albums.