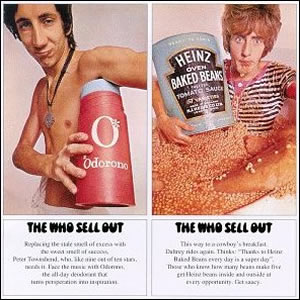 After establishing themselves as a successful singles band in the mid 1960s, The Who made a concerted effort to concentrate on making cohesive albums. This all commenced with the 1966 album A Quick One and continued with their 1967 album The Who Sell Out. Differing from later (and more famous) concept albums by the band, The Who Sell Out is a collection of unrelated songs joined together by public service announcements and original commercial jingles composed by the band using actual commercial products. Another aspect of the album is its nod to pirate radio. Differing opinions have the album either tributing or mocking (or both) the pirate radio station Radio London, which operated for three years on a ship before it was shut down earlier in 1967.
Like the bulk of The Who's material, the album was mainly conceived and written by guitarist Pete Townshend, but did include songwriting and vocal contributions from all band members. The band had originally tried to gain endorsement fees from some of the products named in the album's "commercials", but were unsuccessful in this attempt. In fact, the deodorant company Odorono took offense by this request for endorsement dollars.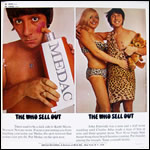 The album's cover is divided into panels featuring a photograph of each of the band members, two on the front and two on the back. On the front is Townshend applying Odorono brand deodorant and lead vocalist Roger Daltrey sitting in a bathtub full of Heinz baked beans (from which he allegedly caught pneumonia after sitting for a prolonged period). On the back is drummer Keith Moon applying Medac and bassist John Entwistle appearing as Charles Atlas. All products shown in these pictures were exaggerated in size.
The album was recorded in several cities and over several months in 1967, a year of many legendary milestones for the band. In June they put on a memorable performance at the Monterrey Pop Festival. During the subsequent North American tour Moon drove a car into a swimming pool at a Holiday Inn (establishing his reputation as rock's wild man) and during a performance on The Smothers Brothers television show, Moon packed his drums with explosives (unbeknownst to the other band members of the show's producers) and the resulting explosion caused permanent damage to Townshend's ear and hearing.


The Who Sell Out

by

The Who
Released: December 15, 1967 (Track)
Produced by: Kit Lambert
Recorded:London, New York, & Los Angeles, May-November 1967
Side One
Side Two
Armenia City In the Sky
Heinz Baked Beans
Mary Anne With the Shaky Hand
Odorono
Tattoo
Our Love Was
I Can See for Miles
I Can't Reach You
Medac
Relax
Silas Stingy
Sunrise
Rael 1
Additional Tracks
Rael 2
Glittering Girl
Melancholia
Someone's Coming
Jaguar
Early Morning Cold Taxi
Hall Of the Mountain King
Girl's Eyes
Glow Girl
Band Musicians
Roger Daltry – Lead Vocals, Percussion
Pete Townshend – Guitars, Keyboards, Banjo, Vocals
John Entwistle – Bass Guitar, Horns, Vocals
Keith Moon – Drums, Percussion, Vocals

The album starts with the first of several "Radio London" jingles, this first one using a device called the Sonovox with the days of the week simply spoken. This segues to "Armenia City In the Sky", a song by written by John Keene, a friend of the band and future member of Thunderclap Newman. Keene shares lead vocals with Daltrey above a very psychedelic sound with a driving rhythm. The comical "Heinz Baked Beans", written and arranged by Entwistle follows with marching band horns and drums.
Townshend's "Mary Anne With The Shaky Hand" was recorded in three different versions with the album and single version featuring a driving acoustic guitar and much percussive overdubs, concluding with a frantic drum section by moon. An alternate version (included as a bonus track on most modern CDs) features a cool organ sound by session keyboardist Al Kooper. Following Moon's drum chorus, the album version morphs into a full-fledged commercial for "Premier Drums" before breaking into the choppy and entertain, guitar-driven "Odorono", which is structured much more like a proper song than one of the filler "commercials".
"Tattoo" was written by Townshend and sung by Daltry, and was autobiographical of their sometimes rocky relationship. The song features complex harmonies and moody guitars throughout. Another Radio London public service announcements bridges "Tattoo" with "Our Love Was", a fine song with judicial use of brass and more fine guitar work by Townshend, including an innovative 'slide' guitar solo.
A quick medley of three more "Radio London" spots, lead into "I Can See For Miles", perhaps the most popular song from The Who Sell Out. Although the song reached the Top Ten on both sides of the Atlantic, it was a big disappointment for Townshend, who felt it was the "ultimate" Who record yet. The song is intense throughout with a low, sustaining guitar through the verses accompanied by Moon's brilliant drum beats. The tension is broken by the soaring release of the melodic hook during the chorus, which is accented by twangy guitar notes like a beacon through space.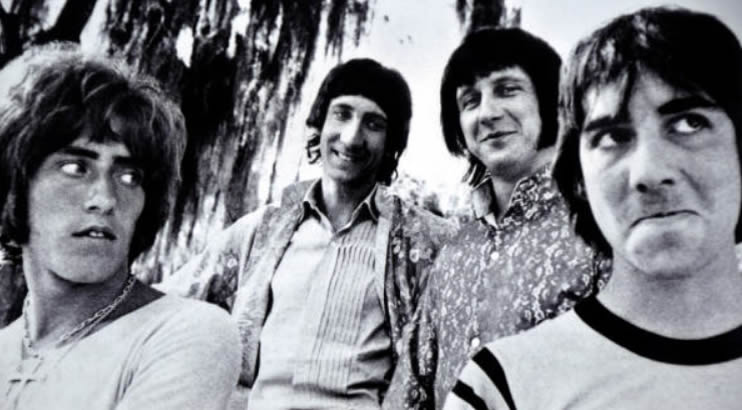 The (original) album's second side all but abandons the commercials and PSA's for more Artistic Who songs that preview some of their upcoming rock operas, especially 1969's Tommy. "I Can't Reach You" was one of the first songs Townshend wrote on the piano, and provides a very melodic and easy-going counterpart to the intense "I Can See for Miles". "Relax" features Townshend on organ, adding yet another element to the band's increasing sound spectrum. Entwistle's "Silas Stingy" is written in the traditional English folk song about his own "penny pinching" to buy his first home, while "Sunrise" is a solo track by Townshend featuring jazz chords on an acoustic guitar and very folk-like vocals and lyrics.
"Rael 1" (or simply "Rael") is a mini-suite which closes the original album. Starting with a marching beat and verse lead by Daltrey's strong vocals. The song's second section changes melody, guided by a constant organ and Moon's driving drums. It then enters a section which would be reused on the next album Tommy as the instrumental "Underture" before returning to the original theme.
Nearly as many tracks were left off The Who Sell Out as were included on the original album and most modern collections some or all of these. "Rael 2" is a short, church-hymn counterpart to the album's closer, while "Melancholia" is an excellent and haunting song with layered guitars and a driving rhythm. Entwistle's "Someone's Coming" has a nice brass arrangement while the band's psychedelic arrangement of "Hall Of The Mountain King" is a true lost gem in their catalog. Among these bonus tracks are several unused "commercials" such as "Top Gear", "Coke", "John Mason's Cars" and "Jaguar", the original composition that sparked the album's idea in Townshend in the first place.
Although not as coherent and focused as the band's next three albums (the finest of their career), The Who Sell Out definitively shows where they were heading at the end of 1967.
~

Part of Classic Rock Review's celebration of 1967 music.