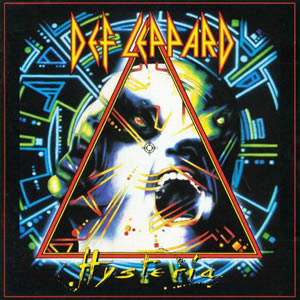 After the great success of their 1983 album Pyromania which sold 6 million copies, Def Leppard set out to achieve even loftier goals. They wanted to write an album made of "greatest hits" of "all killer, no filler" and wanted to chart at least seven singles. Amazingly, they pretty much achieved these goals, but in doing so they may have produced the most expensive record ever made in the U.K. This was due to a toxic mixture of bad decisions and tragedy, which would delay the album for nearly three years before it was finally released in August 1987. A bad decision was attempting to have Meatloaf songwriter Jim Steinman produce the album in lieu of Pyromania's producer Robert John "Mutt" Lange, who ultimately returned and started again from scratch. A tragedy occurred on December 31, 1984, when drummer Rick Allen was in a near fatal car crash which cost him left arm.
The band relocated to Dublin, Ireland in February 1984 as "tax exiles" from the UK and each bought a Fostex 4-track cassette recorder and drum machine to work on new song ideas. The first song to be written was "Animal" and the record company forwarded them production funds based on the strength of this single song. Initially the album was to be named "Animal Instinct" but Lange dropped out after pre-production sessions, and Steinman was brought in to replace him. However, Steinman's vision of making a raw rock record did not jive with the band's interest in making a big and pristine pop production and the band decided to "buy out" Steinman, causing the production budget to instantly sky rocket. When Lange returned in 1986, the initial recordings sessions were entirely scrapped. Also that year, Allen notified the band that he had developed a modified drum kit to allow him to play with only one arm. The band decided to hear him as a courtesy, but were blown away when he played the intro to Led Zeppelin's "When the Levee Breaks" and it was clear that he would not be replaced.
Lange's production was a painstaking obsession which used dense sonic detail and required the band members to do hundreds of takes. Lange also encouraged the band to simplify their riffs and fills, so that each detail could be easily picked out by crowds in large arenas. However, this does not mean that the band was devoid of high talent, especially when it came to the layered vocal harmonies which they performed live (with no artificial enhancements) to supplement their  hooks and riffs.


Hysteria

by

Def Leppard
Released: August 3, 1987 (Mercury)
Produced by: Robert "Mutt" Lange & Def Leppard
Recorded:Various Locations, February 1984-January 1987
Side One
Side Two
Women
Rocket
Animal
Love Bites
Pour Some Sugar On Me
Armageddon It
Gods Of War
Don't Shoot Shotgun
Run Riot
Hysteria
Excitable
Love and Affection
Group Musicians
Joe Elliot – Lead Vocals
Phil Collen – Guitars, Vocals
Steve Clark – Guitars
Rick Savage – Bass, Vocals
Rick Allen – Drums

Def Leppard did release their goal of seven singles from Hysteria and, in the American market, the first six went in the exact sequence of the album's first side. The opener "Women" seems, in retrospect, a curious choice being it is not nearly as strong as some of the other tracks and that was reflected in its modest chart success. "Rocket" followed, as a lyrical sequence of old record titles, built on a strong drum shuffle rhythm. The arrangement was forged by lead vocalist Joe Elliot and included a quasi-psychedelic middle section laced with many sound effects and backwards masking.
"Animal" was the third single released and became the band's first Top 10 hit on both sides of the Atlantic. In total, the song took over two and a half years to get right, the most difficult of their career. Like many songs on the album, "Animal" contains well produced layered guitar riffs by guitarists Steve Clark and Phil Collen and musically, it is the closest extension to Pyromania and signaled to many long-time fans that the band was truly back. Still, at this point album sales were lagging behind those of the predecessor and it looked like Hysteria may actually lose money.
Then came the huge, chart-topping hits. "Love Bites" was written by Lange as a near-country song and transformed to a power ballad for Def Leppard. It was the cross-over hit that the band had long wanted and opened them up to a pop audience like no song before. "Pour Some Sugar On Me" was written last, when much of the band (but not Lange) thought the album was completed. It originated from a hook by Elliot and was built like a rap song along with Lange. The ultimate success of "Pour Some Sugar on Me" sent sales of Hysteria through the roof as it sold nearly four million copies during the single's run on the charts. The first side concludes with another charting single, "Armageddon It". The tongue-in-cheek joke title came from a literal studio conversation when Lange asked Clark "Are you getting it?" To which Clark replied "I'm a-gettin' it".


The album's best song (although far from the most popular) is the title song "Hysteria". The music was based on an acoustic riff from bassist Rick Savage, with the title being suggested by drummer Rick Allen after his auto accident and the media coverage that followed. The most mellow song on the album, this unique and moody song is a true musical gem, not just on this album or by this band, but for the era in total.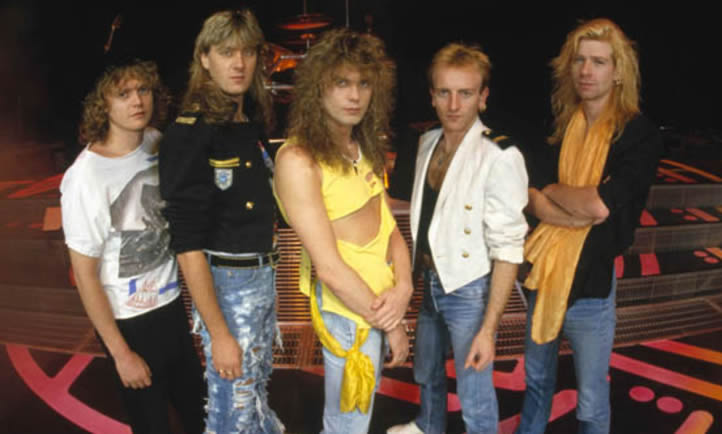 Unfortunately, the rest of side two is not nearly as satisfying. "Gods of War" starts out sounding interesting, with a unique intro by Clark, but it turns into another boilerplate "we hate war" hollow screed. Hysteria would be the last album to feature Steve Clark, who died in 1991. Although the band had vowed "no filler" on this album, there is plenty on side two. "Don't Shoot Shotgun" is the worst song on the album (and maybe the band's entire career) while "Run Riot" and "Excitable" are not much better. There is some slight redemption in the moody closer "Love and Affection", but this still pales in comparison to the better track on the album.
The story of the events during making of Hysteria was told in the book Animal Instinct by rock journalist David Fricke. One assertion made by Fricke is that Hysteria is the album that Def Leppard intended to make when they were just getting started at age 14 or 15. They accomplished this magnificent feat in a little more than a decade, but would never come close again.
~

Pat of Classic Rock Review's celebration of 1987 albums.