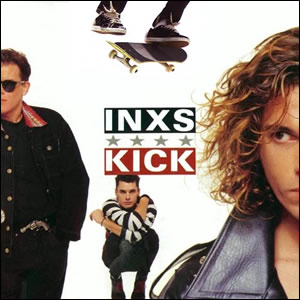 The Australian band INXS reached their absolute commercial peak with the well-crafted pop/rock/dance album Kick in 1997. This was the band's sixth overall studio album since 1980 and marked a distinct migration from their New-Wave roots towards a more funk and soul oriented refinement of late eighties pop.  It yielded four Top Ten hits,  more than any other album in their career. The album's sound was perfectly in sync with the visual media and the image forged by iconic front man Michael Hutchence which, in turn, also translated well into the non-visual radio and dance club formats. It ultimately transformed the band from the status of an alternative niche to that of a mainstream pop headliner, a status which they maintained well in the 1990s.
Produced by Chris Thomas, the album was initially rejected by Atlantic records who felt the funk and dance elements would alienate INXS's traditional rock following. They were reportedly offered $1 million to "go back to Australia and start again" but the band persisted in sticking with their plans and the label eventually relented.
The result is amazingly accessible while still maintaining a level of originality from track to track, with each song possessing a different feel from the one previous. Still there are some common elements throughout, especially the simple, direct, and upfront drum beats of drummer John Farriss and the unambiguous guitar riffs forged by brothers Andrew Farriss and Tim Farris. This mixture proved to be a winning formula which the band soon rode to international stardom.


Kick

by

INXS
Released: October 19, 1987 (Atlantic)
Produced by: Chris Thomas
Recorded: Rhinoceros Recordings, Sydney, & Studio De La Grande Armée, Paris, 1986–1987
Side One
Side Two
Guns In the Sky
New Sensation
Devil Inside
Need You Tonight
Mediate
The Loved One
Wild Life
Never Tear Us Apart
Mystify
Kick
Calling All Nations
Tiny Daggers
Group Musicians
Michael Hutchence – Lead Vocals
Andrew Farriss – Guitars, Keyboards
Tim Farris – Guitars
Kirk Pengilly – Saxophone, Vocals
Garry Gary Beers – Bass
Graham Broad – Drums, Percussion

The drum infused, monotone "Guns In the Sky" starts the album off, complete with opening grunts by Hutchence. The song barely leaves the repetitive, two-chord structure but sets up as a nice contrasting intro for the subsequent, more melodic pop song "New Sensation". The first of several funk-infused rockers on Kick, "New Sensation" is a fun ride led by a twangy and flanged guitar riff and containing some direct, shouting vocals and well-timed breaks for effects.
The album then moves to a dance oriented semi-suite which contains some of their most popular songs ever. "Devil Inside" is a cool and riff-driven tune with dynamic vocals in both range and style. The lyrics are sexually-fused and nicely complimented by the crisply distorted guitar riff, which cuts through the otherwise smooth sound scape. The song eventually builds towards a strong, climatic ending with building keyboard presence by Andrew Farriss. "Need You Tonight" continues the same general theme and feel, while adding a bit more funk in it's constant, rotating riff. A well arranged song with overlapping elements, each catchy and memorable in its own right, which helped to make this the band's top overall hit. "Mediate" is an interesting extension to "Need You Tonight" with a droning rap set over a constant beat and sunrise key pad, before finishing with a well-placed saxophone lead by Kirk Pengilly. Each of these songs contains strong video counterparts, with "Mediate" intentionally replicating the format of Bob Dylan's classic video for "Subterranean Homesick Blues" right down to the point of apparently deliberate errors.
The sides are bookmarked with strong but middle-of-the road tunes. "The Loved One" has elements of blue-eyed soul with a more modern 1980s arrangement and beat, which gives the impression it could have been a hit in its own right. "Wild Life" is another funky song with a good pop hook and an anthemic vocal hook.


On several fronts, Kick is very similar to another 1987 album that we recently reviewed, Def Leppard's Hysteria. Both albums represent the popular apex of bands who started in the earlier 1980's and both albums are a bit top-heavy with the bulk of the pop songs on side one and lesser known numbers on side two with the exception of one great, out-of-the-ordinary tune. In the case of Def Leppard that song was "Hysteria", in the case of INXS, this song is "Never Tear Us Apart". Driven by fast strings and accented by strategic rests, this song stands out from the band's other radio hits as a brilliantly composed ballad, complete with counter-harmonized backing vocals and a Pengilly sax solo that doesn't sound like it was put there just to satisfy some formula. This song proves that the band can, in fact, succeed by stretching the limits of their musical scope.
The album concludes with a series of less popular yet very strong songs (there is no filler on this album). "Mystify" is an upbeat swing tune, which is held down to earth by the rock guitars and drums. The title song "Kick" features 1960s style, soul-rock with liberal use of horns throughout and a great driving bass by Garry Gary Beers. "Calling All Nations" returns to the funk formula driven by bright guitars and "Tiny Daggers" is pure 80s pop, keyboard led with slightly interesting vocals.
In total, Kick did just about everything you can expect from a high-end pop/rock album of the 1980s. It forged incredibly catchy and modern sounding songs, while not giving way to the mind-numbing, formulaic trends on many contemporary artists of the time.
~

Part of Classic Rock Review's celebration of the 25th anniversary of 1987 albums.