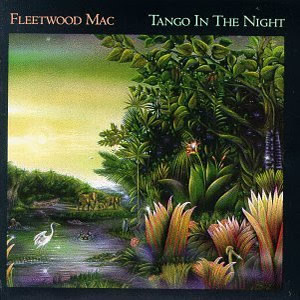 Tango In the Night is the fifth and final studio album by successful quintet that brought sustained stardom for Fleetwood Mac. Like their previous four albums, it found popular success driven by the angst and inner turmoil of the band and resulted in the parting of guitarist Lindsey Buckingham soon after its release. The album went on to become the band's best selling since Rumours a decade earlier, which was one of the top selling albums of all time. Somewhat ironically, the album sprang from a Buckingham solo project, meant to be his third solo album, and the soon-to-depart Buckingham ended up with the bulk of the songwriting credits on the album.
Following the band's previous album Mirage in 1982, most members dedicated some time to respective solo careers. Vocalist Stevie Nicks released two albums, while Buckingham and Keyboardist Christine McVie each released one during this era. All met a measure of commercial success, which prompted rumours of a band breakup.
However, by 1985 the band had reconvened for this new album, with Buckingham and Richard Dashut co-producing. Together, they forged a unique sound that used just the right amount of 1980s-style synthesizers along with vast use of diverse rhythms, driven by drummer Mick Fleetwood. The result was a commercially successful album that was also distinct from anything the band had produced previously.


Tango In the Night

by

Fleetwood Mac
Released: April 13, 1987 (Warner Brothers)
Produced by: Lindsey Buckingham & Richard Dashut
Recorded: November 1985 – March 1987
Side One
Side Two
Big Love
Seven Wonders
Everywhere
Caroline
Tango In the Night
Mystified
Little Lies
Family Man
Welcome to the Room…Sara
Isn't It Midnight
When I See You Again
You and I (Part 2)
Band Musicians
Lindsey Buckingham – Guitars, Percussion, Vocals
Christine McVie – Keyboards, Vocals | Stevie Nicks – Vocals
John McVie – Bass | Mick Fleetwood – Drums, Percussion

The album kicks off with Buckingham's "Big Love" with its unique driving rhythms and decorated cool soundscapes. The intense, shouting lead vocals are flanked by overdubbed guitars and vocals harmonies and chants throughout. Nicks' "Seven Wonders" provides an immediate contrast to follow. Co-written by Sandy Stewart, the song was an immediate pop radio hit. Christine McVie's "Everywhere" completes the initial circuit of pop songs in the style that McVie had composed so often through the 1970s and 1980s. It is decorated with great vocals and harmonies, nice keyboard riffs, and just a touch of mystical sound sequences.
A trifecta of Buckingham penned songs rounds off the first side. "Caroline" is percussion driven with African beats at the start before morphing into a more Caribbean rhythm for the verses and choruses. The title song, "Tango In the Night" is a moody, methodical rocker with distinctive sections. "Mystified" was co-written by Christine McVie and contains Baroque style keys over yet another drum beat.


"Little Lies" was written by Christine McVie and her current husband Eddy Quintela. Ironically, she kept the surname of her previous husband, bass player John McVie, who has a strong presence in the song. The song contains great vocal parts for each of the band's singers along with bent-note keyboard effects for its signature riff. The song reached #4 on the Billboard charts in the US and #5 on the UK charts.
The ill-advised "Family Man" follows as a cartoonish 1980s pop caricature.
Stevie Nicks' "Welcome to the Room…Sara" is a pleasant and moderate ballad with a strong beat but melancholy sentiments about her time in rehab. Her acoustic ballad "When I See You Again" contains a spare arrangement and some duet Buckingham vocals towards the end. "You and I, Part II" concludes the album as a sequel to a non-album B-side to the single "Big Love".
Shortly after the release of Tango In the Night, tensions came to a head and Buckingham departed the band prior to their scheduled tour in support of the album. Although this classic lineup of Buckingham/Nicks/Fleetwood/McVie/McVie would reunite a decade later for the live album The Dance in 1997, they would not again record a studio album.
~
R.A.