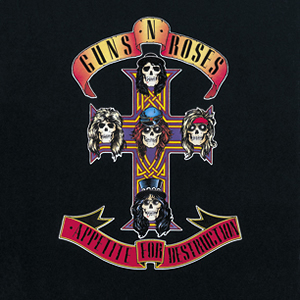 Guns n' Roses arrived like a tsunami on the rock scene with their strong 1987 debut, Appetite for Destruction, a hard rock album which blew the glam out of the hair-band dominated scene. Amazingly, the album was well received in its day both critically and commercially (a rarity for hard rock bands), and it reached the top of the Billboard album chart. At the time, this debut album was considered Hardcore, dirty, and mean due to the nasty edge of their songs and the explicit lyrics about drug abuse, cheap women, and crime. It was also created during their own  fountainhead of creativity. During this period in late 1986, the band would write much of the best material of their entire career, not only for this album, but for hit future albums as well.
Guns n' Roses was formed from the remnants of three Los Angeles area bands that had moderate success in the early 1980s. Two of these, L.A. Guns and Hollywood Rose, would be morphed to give the new band their name. The third, Road Crew, provided the band with their rhythm section along with their dynamic guitarist Slash. In late 1986, the band recorded an ill-conceived EP named Live ?!*@ Like a Suicide, which was actually recorded in a studio with overdubbed crowd noises. For their debut LP, the band shopped for a big name producer before settling on Mike Clink, who spent untold hours with Slash perfecting his guitar tone, which would be a signature of this album and compliment the more traditional riffs of fellow guitarist Izzy Stradlin.
Lead vocalist Axl Rose wrote many of the song lyrics about his first hand accounts of his journey to and struggles in L.A, depicting the ugly side of the "city of angels". Among this group of songs were later hits "You Could Be Mine", "November Rain" and "Don't Cry", which were actually omitted from Appetite for Destruction. The band took great pains in forging their image for this album from the album cover representing each member to the re-labeling of the albums sides "G" and "R".
 

Appetite For Destruction

by

Guns n Roses
Released: July 21, 1987 (Geffen)
Produced by: Mike Clink
Recorded: Los Angles, August−December 1986
Side One
Side Two
Welcome To the Jungle
It's So Easy
Night Train
Out Ta Get Me
Mr. Brownstone
Paradise City
My Michelle
Think About You
Sweet Child O Mine
You're Crazy
Anything Goes
Rocket Queen
Group Musicians
Axl Rose – Lead Vocals, Keyboards
Slash – Lead Guitars
Izzy Stradlin – Guitars, Vocals
Duff McKagan – Bass
Steve Adler – Drums
Appetite for Destruction is boosted right away with the fantastic opener "Welcome To the Jungle". This strong, multi-part song contains a crisp and fast riff which guides the listener on an adventure ride through the chaotic "jungle" of this song. Rose screams and chants in-between more melodic and harmonized lines with raw honesty that helped make this song a surprising radio hit.
Much of the rest of the first side is made up of short, thematic songs "It's So Easy" was co-written by bassist Duff McKagan and band collaborator West Arkeen about finding groupies to support them during their leaner days. "Night Train" has a vibe like early Aerosmith and became a minor hit, while "Out Ta Get Me" is more anthemic and trite with lyrics that reflect on Rose's constant trouble with the law as a youth in Indiana.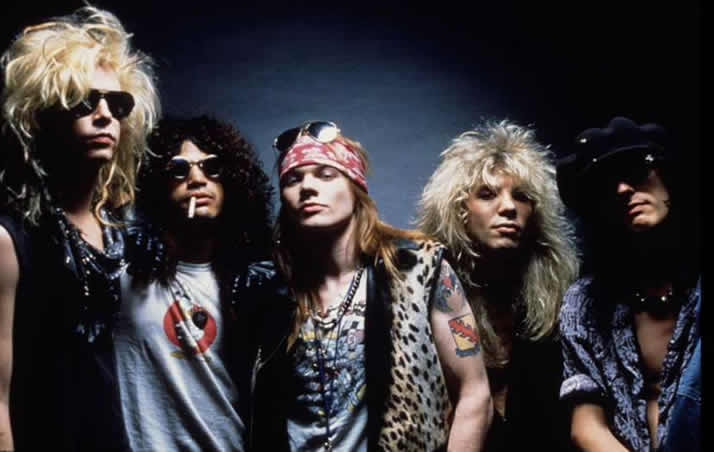 "Mr. Brownstone" is the best pure song on the side, with choppy, marching rhythm leading into the darkness of heroin abuse. It acts as a stark contrast to the following "Paradise City", with a synth-driven intro and a chanting hook line. This song was written by Stradlin, McKagan, and Slash while riding in the back of a van on the way home from a gig.
 
 
The second side contains the top gem on the album, "Sweet Child O' Mine". The song became the band's first and only number-one single due to highly, accessible mass appeal lyrics written about Rose's then girlfriend. But the true beauty of this song is the signature harmonized guitar riffs by Slash, which both nicely subdivide the verses and spare the song from the dreaded "power ballad" status (although, if ever there was a positive example of that term, it is here). On the back end, drummer Steve Adler drove the song through the many passages that make it so interesting.
"My Michelle" is a forgotten gem on the album, with a great intro that breaks out with all abandonment and the dark and memorable opening lyrics;
Your daddy works in porno, now that mommy's not around
She used to love her heroin but now she's underground…"
"You're Crazy" was originally written as an acoustic song, re-arranged as a standard electric rock song for this album, and then later recorded as another acoustic for the 1988 EP G N' R Lies. The album concludes with a couple of the band's earliest songs. "Anything Goes" was written in 1981 for Hollywood Rose, while "Rocket Queen" was one of the first compositions by the newly formed Guns n Roses in 1985.
Appetite For Destruction instantly established Guns n Roses as a headlining band and gave them momentum well into the next decade. Although they would have subsequent albums, most especially the double release of Use Your Illusion I amp; II in 1991, this band would never again reach this level of importance and breakthrough originality.
~

Part of Classic Rock Review's celebration of 1987 albums.