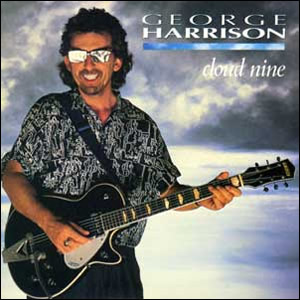 After a long hiatus from the regular recording process, former Beatle George Harrison teamed up with former Electric Light Orchestra front man Jeff Lynne to produce Cloud Nine. This was Harrison's tenth solo studio album but his first in five years and his last to be released in his lifetime. The album was a surprise, re-establishing Harrison as a radio pop artist as well as a recipient of much critical acclaim. The album fuses much of  Harrison's signature sound along with Lynne's richly produced sonic landscapes (which were themselves derived from late-era Beatles) along with some of the slick rock and synth qualities of contemporary 1980s production.
After the lukewarm reception to his 1982 album Gone Troppo, Harrison grew frustrated with the music business and suspended his recording career. He tried his hand at film making and contributed a few single songs to soundtracks and other artist's projects. He made a rare public appearance at a tribute to Carl Perkins in late 1985 along with former band mate Ringo Starr and friend Eric Clapton which rekindled his desire to make music again.
Production for Cloud Nine began in late 1986 at Harrison's home studio in England. Along with Lynne, both Starr and Clapton contributed to the album as well as other major recording artists such as Gary Wright and Elton John, who contributed on piano but not vocals as he was on his own career hiatus recovering from vocal surgery at the time. The end result was a sort of "comeback" album for Harrison, who was well aware of this fact. He inserted many vintage references in the lyrics and musical styles and posed with one of his first guitars, a 1957 Gretsch 6128 Duo Jet, for the cover shot.
 

Cloud Nine

by

George Harrison
Released: November 2, 1987 (Warner Brothers)
Produced by: George Harrison & Jeff Lynne
Recorded: FPSHOT, Oxfordshire, England, January−March 1987
Side One
Side Two
Cloud 9
That's What It Takes
Fish On the Sand
Just For Today
This Is Love
When We Was Fab
Devil's Radio
Someplace Else
Wreck of the Hesperus
Breath Away from Heaven
Got My Mind Set On You
Primary Musicians
George Harrison – Guitars, Keyboards, Sitar, Lead Vocals
Jeff Lynne – Guitars, Keyboards, Bass, Vocals
Gary Wright – Piano
Jim Horn – Saxophone
Ringo Starr – Drums, Percussion
 
Harrison's slow and steady title song, "Cloud 9", starts things off in a trance-like fashion with not much real movement musically but with plenty of sonic décor from the signature Harrison slide guitar to sharp and short brass accents. A collaboration with Lynne and Wright called "That's What It Takes" follows as a more traditional pop song. This song is acoustic and upbeat but with a definite melancholy edge and signature background vocals by Lynne.
"Fish On the Sand" is the album's first foray into synth-driven music with near programmic bass and drum beat accented by a simple electric riff and some nice chord progressions. "Just For Today" is a minor key piano ballad by Harrison in the fashion usually reserved for ex-band mates John Lennon and Paul McCartney, while "This Is Love" is a pleasant and accessible pop song with great lead guitars and trends towards the song style of the subsequent Traveling Wilburys project. In fact, the original B-side for this single was "Handle w/ Care", which itself was the lead track and single for Traveling Wilburys.
 

 
The most interesting song on Cloud Nine is "When We Was Fab", a collaboration between Harrison and Lynne, which has a very ELO edge while making an overt nod to Harrison's days with the Beatles. It is complete with many string arrangements, Harrison's slide guitar, rich vocal harmonies and a sitar section at the end of the song. The lyrics make direct references to original Beatles songs as well as inside stories and the song reached the Top 40 on both sides of the Atlantic.
The album's second side starts with "Devil's Radio", a straight out piano-driven rocker with measured guitar interludes and lyrics which express Harrison's general disdain for the media. "Someplace Else" is a pleasant, acoustic ballad which is a fine listen but contains fairly typical subject matter of melancholy songs. On the contrary, "Wreck of the Hesperus" is an upbeat and fun song with lyrics that invoke various landmarks around the world but the following "Breath Away from Heaven" is an ill-advised, almost painful experiment, which uses many 1980s style synths in its methodical choppiness.
 

 
It is almost a shame that the final song on Harrison's final solo studio album during his life was written by someone else, as "Got My Mind Set on You" was written by Rudy Clark for James Ray in 1962. But that being said, this is a fun pop song which Harrison performs masterfully and squeezes every ounce of entertainment from this beat-driven simple song. The song features great grawling sax by Jim Horn and it went on to become Harrison's third and final #1 hit. In fact, as of 2012, "Got My Mind Set on You" was the last #1 hit by any former Beatle.
Although Cloud Nine was the last solo album released in Harrison's lifetime, it wasn't his final project and he and Lynne moved on to form The Traveling Wilburys, who released a brilliant debut album in 1988. Harrison spent over a decade on his final album, Brainwashed, released in 2002, a year after his death.
~
Part of Classic Rock Review's celebration of 1987 album.