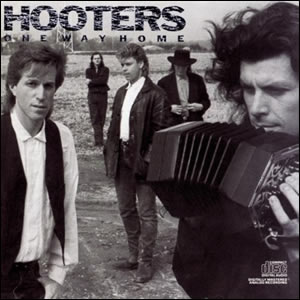 After two years of extensive touring in support of their first major label success, Nervous Night, the Philadelphia based group The Hooters returned to the studio to record One Way Home. Like their breakthrough predecessor, this album was co-produced by Rick Chertoff, a former executive at Columbia Records, along with the band's primary songwriters Eric Bazilian and Rob Hyman. Unlike its predecessor, One Way Home was heavily folk and Americana influenced and a testament to the Hooters desire to put the music first as well as experiment with the new influences and instruments they discovered during their extensive touring.
Although there are some similarities in songwriting and instrumentation, One Way Home is a clear step forward from Nervous Night in terms of production. That 1985 is heavy with slick, pop, eighties style production while this 1987 album, although still clearly catchy pop, is closer to the Hooters' signature rootsy mixed sound.
Along with Bazilian and Hyman, the band consisted of rhythm guitarist John Lilly, bassist Andy King, and drummer Dave Uosikkinen, who had been with the band since its inception in 1980. Uosikkinen's distinctive drumming is the backbone of The Hooters sound as he hits those drums hard and with an intensity that keeps the sound loud and right up front.


One Way Home

by

The Hooters
Released: July, 1987 (Columbia)
Produced by: Rick Chertoff, Eric Bazilian, & Rob Hyman
Recorded: Various Locations, 1986-1987
Side One
Side Two
Satellite
Karla With a 'K'
Johnny B
Graveyard Waltz
Fightin' On the Same Side
One Way Home
Washington's Day
Hard Rockin Summer
Engine 999
Band Musicians
Eric Bazilian – Lead Vocals, Guitars, Mandolin, Saxophone, Harmonica
Rob Hyman – Lead vocals, Keyboards, Accordion, Melodica
John Lilly – Guitars
Andy King – Bass
David Uosikkinen – Drums

The album begins with "Satellite", an example of the Hooters ability to artfully blend modern synth sounds with traditional instruments. The song was inspired by a televangelist broadcasting his message and includes some space aged synthesizer sounds. "Karla with a K" takes this one step further by making a accordion sound really hip and fresh. The song, named after a hurricane, was inspired by a street performer the band met in Louisiana.
The band also included an updated version of "Fightin' On the Same Side" from their independent album, Amore – still upbeat but with a slower tempo and the awesome addition of accordion. "Johnny B" is a haunting song about fighting addiction with an outstanding guitar solo and harmonica accents. This song remains very popular to this day with the band's German fans. "Hard Rockin' Summer" was inspired by a group of "heavy metal" kids who would hang out outside the band's rehearsal space. The title song, "One Way Home" is perhaps the best on the album. It has a heavy reggae beat, similar to the Nervous Night version of "All You Zombies". The lyrics are dark and spiritually cryptic similar to Zombies as well.
"Washington's Day" is akin to a campfire sing a long and is rumored to be Bob Dylan's favorite Hooters Song. It has a hook that can get a crowd swaying in unison. "Graveyard Waltz" has the same eerie feeling as that on the earlier "Where Do the Children Go?", as both songs deal with death, depression, and thoughts of suicide.
Although One Way Home did not enjoy the mass commercial appeal of its predecessor, it did open up the European market for the band due to the popularity of "Satellite" across the Atlantic. In fact, after the band performed the song on Britain's Top Of the Pops in December 1987, they were privileged to meet their idol Paul McCartney. A month earlier, on Thanksgiving night 1987, The Hooters headlined a show at The Spectrum in Philadelphia, which was broadcast live on MTV and Westwood One radio network simultaneously, perhaps the absolute pinnacle of their American success. Through the late 1980s and into the 1990s, the fan base for the band shifted even larger in Europe, especially in Sweden and Germany, while it declined in America.
~

Part of Classic Rock Review's celebration of 1987 albums