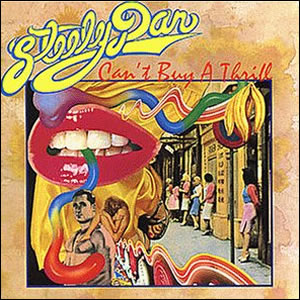 For a debut effort, Can't Buy a Thrill by Steely Dan is quite polished and refined. This is hardly a surprise as the group's founders and core songwriters Donald Fagen and Walter Becker are notorious for their attention to every sonic detail and near-obsessive perfectionism in the studio. Long considered a unique item in the group's collection, the album has hardly a weak spot and is loaded with solid pop/rock tunes back-to-front. Still, the two biggest hits were both extended pieces which each explored differing musical genres. This would be a forecast of the subsequent albums through the latter part of the decade.
Although Fagen provided lead vocals for the bulk of the songs on the album, he was not confident in his live performance. So the band enlisted David Palmer to be the "frontman" live and Palmer also sang lead on a couple of the tracks on the album. After a short time however, Fagen and Becker grew dissatisfied with Palmer's interpretation of the songs and this, coupled with the fact that the big hits from the album featured Fagen on lead vocals, led to Palmer's released from the band in 1973, with Fagen handling lead vocals for the rest of Steely Dan's career.
It is clear that the songwriting on Can't Buy a Thrill is top notch, with each song being tightly constructed, while a spectrum of sub-genres are explored. These include, Latin, jazz, bossa nova, and traditional "classic" rock n' roll. Also, the diversity of instrumentation and sound textures used on this album make it a very interesting listen and have helped it hold up well over the past four decades.

Can't Buy a Thrill

by

Steely Dan
Released: October 1972 (ABC)
Produced by: Gary Katz
Recorded: The Village Recorder, Los Angeles, August 1972
Side One
Side Two
Do It Agian
Dirty Work
Kings
Midnight Cruiser
Only a Fool Would Say That
Reelin' In the Years
Fire In the Hole
Brooklyn (Owes the Charmer Under Me)
Change of the Guard
Turn That Heartbeat Over Again
Primary Musicians
Donald Fagen – Lead Vocals, Piano, Keyboards
Walter Becker – Bass, Vocals
Jeff "Skunk" Baxter – Guitars
Denny Dias – Guitars
Jim Hodder – Drums, Percussion, Vocals
The album begins with "Do It Again", which was the biggest commercial hit from Can't buy a Thrill. This six minute song fueled by Latin rhythms of Victor Feldman, draws you in and holds you throughout, despite virtually no pattern changes throughout. There are two overlapping solos, each using odd effects to flavor the middle part of the song, starting with an "electric sitar" performed by Denny Dias, then a plastic organ by Fagen. Altogether, "Do It Again" is remarkably odd material for a top ten radio hit of the early 1970s.
"Dirty Work" follows with a more traditionally soft pop/rock arrangement. However, due to the inclusion of lead vocals by Palmer and the overall Philly blue-eyed soul sound, the song was all but scrubbed from the band's repertoire and relegated to the lost gems category. "Kings" takes a dramatic jazz approach, much like the future work of Steely Dan. It contains good guitar overdubs, led by session man Elliot Randall and clever, ironic lyrics such as;
"and though we sung his fame, we all went hungry just the same…"
"Midnite Cruiser" is a pleasant and melodic song with lead vocals by the group's original drummer Jim Hodder, who also sang on on Steely Dan's non-album debut single, "Dallas". "Only a Fool Would Say That" finishes off the first side with a Bossa-Nova beat, excellent guitars by Jeff "Skunk" Baxter and good vocals by Fagen.
"Reelin' in the Years" is a great jam all-around – piano, bass, drums, vocal harmonies and, of course, guitars led by New York session man Elliott Randall – it is a true classic rock classic. This became the second hit song from Can't Buy a Thrill. Becker's dryly sarcastic lyrics and thumping bass line made it one the most overtly sharp and heavy tunes in the Steely Dan catalog.
The rest of side two contains lesser known songs which are solid nonetheless. "Fire in the Hole" contains a nice choppy piano by Fagen and pedal steel guitar by Baxter. "Brooklyn (Owes the Charmer Under Me)" is the second song to feature Palmer on lead vocals and should be considered a great soft rock classic with a bouncy bass line by Becker. "Change of the Guard" is another pop-oriented song with great electric piano and a definite late 1970s Billy Joel vibe, while "Turn That Heartbeat Over Again" is like a mini-prog rock song with good extended lead parts and interesting effects. This last song is also notable as one that contains co-lead vocals by Becker, a rarity.
Can't Buy a Thrill was the first of seven top-notch albums by Steely Dan that extended through the rest of the decade into 1980, the pinnacle being 1977's Aja. Although the group ceased from touring altogether in 1975, they still produced enough critically acclaimed albums and radio hits to make them one of the top acts of the 1970s.
~

Part of Classic Rock Review's celebration of 1972 albums.