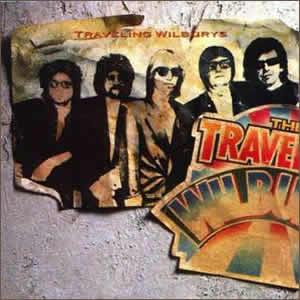 "Super Groups" were commonplace during the seventies and eighties, often causing much hype which was rarely surpassed by the music itself. But in the case of the Traveling Wilburys, by far the most "super" of any super group, the resulting music was downright brilliant. Their debut Traveling Wilburys Vol. 1 displays an incredible array of three decades of pop and rock elements wrapped in concise tunes penned and performed by some of the biggest legends in the business. The group and album were not initially planned and came together through a serendipitous series of coincidences and the fantastic music they produced together easily makes Traveling Wilburys Vol. 1 Classic Rock Review's Album of the Year for 1988.
It all started in Los Angeles in Spring 1988 when George Harrison was looking to record B-side material for a vinyl 12-inch European single. Jeff Lynne, who co-produced Harrison's most recent album Cloud Nine was also in Los Angeles at the time. Lynne was producing some music for Roy Orbison as well as the debut solo album, Full Moon Fever by Tom Petty. Lynne was able to enlist both artists to help out Harrison, who was in a huge hurry to record his material. The final piece of the Traveling Wilbury puzzle was Bob Dylan, who had built a home studio in nearby Malibu and agreed to let the makeshift group record the very next day. On that day, the legendary musicians wrote and recorded the song "Handle with Care" in about five hours. The experience was so positive that all five agreed to form a group and reconvened a month later to record the other nine tracks on what would become Traveling Wilburys Vol. 1. Here the magic continued as the group wrote and recorded on acoustic guitars. With a limited amount of time before Dylan headed out on a scheduled tour, the five singers in the group often took turns at songs until Harrison (as group arbiter) selected the best "lead" voice for each part. The final phase was Harrison and Lynne returning to England for final overdubs and production. Here Harrison added some electric and lead guitars, Lynne added keyboards and bass, Jim Keltner was brought in on drums.
Although it is generally agreed that Harrison was the group's leader, they did work hard to maintain a collective image and even set up fictional names for each member masquerading as the "Wilbury" brothers – Nelson (Harrison), Otis (Lynne), Lucky (Dylan), Lefty (Orbison), and Charlie T. Jr. (Petty) with Keltner given the humorous "outsider" name "Buster Sidebury". All group members also got songwriting credits on the album, although the publishing credits were disbursed according to the actual songwriter. The Wilbury name originated from Harrison and Lynne previously working together as a pseudonym for slight recording errors ("we'll bury 'em in the mix").

Traveling Wilburys Vol. 1

by

Traveling Wilburys
Released: October 18, 1988 (Warner Brothers)
Produced by: Jeff Lynne and George Harrison
Recorded: Lucky Studios and Dave Stewart Studios, Los Angeles and FPSHOT, London, April–May 1988
Side One
Side Two
Handle with Care
Dirty World
Rattled
Last Night
Not Alone Anymore
Congratulations
Heading for the Light
Margarita
Tweeter and the Monkey Man
End of the Line
Band Musicians
George Harrison – Guitars, Vocals
Bob Dylan – Guitars, Harmonica, Vocals
Jeff Lynne – Guitars, Bass, Keyboards, Vocals
Roy Orbison – Guitars, Vocals
Tom Petty – Guitars, Vocals
Jim Keltner – Drums
The ringing guitars of "Handle with Care", the original Wilbury song, starts things off. Harrison, the primary composer, delivers deliberate vocalizing during the verses which gives way to Orbison's smooth crooning during the choruses. Dylan and Petty deliver a chanting post-chorus and two instances of Harrison's classic guitar along with a short Dylan harmonica lead make the song a true classic in just about every way. Within its brief three and a half minutes the song is dotted with decades of rock history, making this the perfect track to introduce the album. While not every song on the album wraps itself so well as "Handle with Care", there is not a truly weak moment on the album.
On "Dirty World" Dylan's rough lead vocals are complimented by smooth backing vocals and a bright acoustic arrangement. The song also contains some horns and an interesting arrangement all around. This song was a particularly enjoyable one for the band to record as each member took a turn singing in the "round" during the extended outro. Jeff Lynne's "Rattled" is pure rockabilly led by Orbinson on vocals, almost like a lost early Elvis song. Lynne's bass and Harrison's lead guitar shine musically and the actual "rattle" in the song is drummer Keltner tapping the refrigerator grill with his drum sticks.
"Last Night" contains Caribbean elements with some percussion and horns and Petty singing during verse and Orbinson during the bridges. The whimsical, storytelling song has a great aura and feel throughout. Petty did the core composing with each group member contributing to the songwriting approach. The verses has an upbeat folk/Latin feel with the bridge being a bit more dramatic. The first side completes with "Not Alone Any More", a vocal centerpiece for Orbison. His vocals smoothly lead a modern version of early sixties rock and Lynne's keyboards add more decoration than any other song on the first side. If "Not Alone Anymore" is in the clouds, the second side opener "Congratulations" is right down at ground level. This tavern style ballad with Dylan on lead vocals sounds much like his late 70s / early 80s era material, with blues-like reverences to broken relationships, and includes a very short but great lead guitar by Harrison right at the end.
The up-tempo "Heading for the Light" is a quintessential Harrison/Lynne production, with the former Beatle composing and singing and the former ELO front man providing the lush production and orchestration. The song contains great picked guitar fills as well as a saxophone solo by Jim Horn. "Margarita" may be the oddest song on the album but is still a great sonic pleasure. It begins with a programmed eighties synth line then the long intro slowly works its way into a Latin acoustic section topped by horns, lead guitar, and rich vocal harmonies. It is not until a minute and a half in that Petty's lead vocals come in for a single verse then the song works its ways through various short sections towards an encapsulated synth ending. This spontaneous composition with free-association lyrics showed with a group of this talent could do on the spot.
"Tweeter and the Monkey Man" is Bob Dylan channeling Bruce Springsteen and coming out with what may have been one of the best Springsteen songs ever (even though he had nothing to do with it). This extended song with the traditional Dylan style of oodles of verses and a theatrical chorus includes several references to Springsteen songs throughout and is in Springsteen's home state of New Jersey. It may have been Dylan's delayed response to the press repeatedly coining Bruce "the next Dylan". No matter what the case, the result is an excellent tune with lyrics rich enough to base a book or movie.
The most perfect album closer to any album – ever, "End of the Line" contains a Johnny Cash-like train rhythm beneathe deeply philosophical lyrics, delivered in a light and upbeat fashion. Harrison, Lynne, Orbinson, and Harrison again provide the lead vocals during the chorus hooks while Petty does the intervening verses. The song revisits the classic music themes of survival and return with the universal message that, in the big picture, it all ends someday. The feeling of band unity is also strongest here with the folksy pop/rock chords and great harmonies. The music video for "End of the Line" was filmed after Roy Orbison's death in December 1988, mere weeks after the album's release, and paid tasteful respect with a shot of a guitar sitting in a rocking chair during the verse which Orbison sang.
Traveling Wilburys Vol. 1 sold over two million copies within its first six months, a figure which made this album a higher seller than any of Bob Dylan's albums to that date. The album was critically favored and won a Grammy award in 1990. The surviving members of the group reconvened for a second album, which fell far short of capturing the magic of this debut and a long-planned tour by the group never materialized, although members continued to collaborate on each other's albums for years to come. The incredible magic that came together in 1988 is yet to repeated anywhere in the rock universe.
~

Part of Classic Rock Review's celebration of 1988 albums and our album of the year.