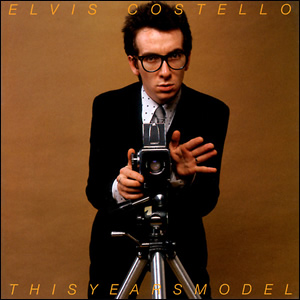 1978 was a breakthrough year for Elvis Costello. His second album, This Year's Model, was released in the Spring featuring his backing band, The Attractions, for the first time. Further, My Aim Is True, Costello's 1977 debut album, was re-released internationally following his signing with Columbia Records. Much of the material for This Year's Model is comprised largely of leftovers from My Aim Is True and the tour which followed. While the debut featured a more retro sound, this album leans more towards punk, with the Attractions adding a reckless rock edge. Produced by Nick Lowe, Costello and the Attractions speed through the album's tracks at a frantic and blinding pace.
Different releases of the album contained different tracks. The single "Radio, Radio", a song protesting the commercialization of radio broadcasts and recording studios, appeared on the US version of the album. The subjects of this song caused much hesitation over when and where it was to be broadcasted. In December 1977, Costello was a last minute replacement on Saturday Night Live and was instructed to play the song "Less than Zero." However, after a few bars, Costello turned to the Attractions, waved his hand to stop and then led the band in a performance of "Radio, Radio." Costello was banned from SNL for a dozen years afterward.
Nervous energy drives the action in This Year's Model, a 35 minute journey of sweet pop-driven blasts. Brief as it is, the entire album is filled with hooks, efficient without excess.

This Year's Model

by

Elvis Costello
Released: March 17, 1978 (Columbia)
Produced by: Nick Lowe
Recorded: Eden Studios, London, 1977–78
Side One
Side Two
No Action
This Year's Girl
The Beat
Pump It Up
Little Triggers
You Belong to Me
Hand In Hand
(I Don't Want to Go to) Chelsea
Lip Service
Living In Paradise
Lipstick Vogue
Night Rally
Primary Musicians
Elvis Costello – Guitars, Vocals
Steve Nieve – Piano, Organ
Bruce Thomas – Bass
Pete Thomas – Drums
In less than two minutes, "No Action" sets the pure punk pace right from the jump. The organ by Steve Nieve adds a little melody and high-end flourishes to the song's paranoia. "This Year's Girl" follows as more retro pop than punk, with a fuzzy guitar that is somewhat obscured by the swirling organ during this de facto title song of the album. Lyrically, the song is a downright vicious indictment of a socialite/hipster, becoming a centerpiece of Costello's early work.
After the weaker track "The Beat", comes "Pump It Up", a driving, riff-driven rock song fused with eros and frantic lyrics. It is an especially good track for bassist Bruce Thomas. "Little Triggers" is a mellow and emotional piece and the closest thing to a ballad on this album. The first side closer "You Belong to Me" is the best song on the first side. With McCartney-like vocals, the upbeat and direct tune is not at all ambiguous lyrically, vocally, or sonically. Reverted to the pattern of the first album, the song is a tribute to garage rock with Nieve's whiny Vox Continental organ line and Costello's echoed and twangy lead guitar.
The second side begins with a quintessential Elvis Costello pop song called "Hand in Hand", a short, melodic, direct, and entertaining tune. "(I Don't Want to Go to) Chelsea" features a very new wave syncopation and beat complete with ska-influenced odd timings under a very standard melody and big tremolo organ sound. The song was left off the original U.S. release because record execs thought the theme was too "British".
"Lip Service" contains nice riffing in a generally pop-oriented tune while "Living in Paradise" is fueled by Nieve's new wave synth in tandem with Thomas' rolling bass. The mood oriented "Lipstick Vogue" is driven by a frenzied beat by drummer Pete Thomas along with bassist Bruce Thomas (no relation). Perhaps the most punk of any song on the album, the song serves as a showcase for the new group's extraordinary energy along with the scornful cynicism of Costello's lyrics.
The album concludes with "Night Rally", which works like a sixties British pop song updated for seventies new wave. A calm but apt closer for the album, "Night Rally" demonstrates how Costello's songs seem to work best when they are short, direct, and to the point, in this case the subject is an expose on fascism.
After a North American tour and some personal and professional controversy, Costello and the Attractions continued the momentum into 1979 with the production of his released his third album Armed Forces.
~

Part of Classic Rock Review's celebration of 1978 albums.