Buy Steppenwolf
Buy The Second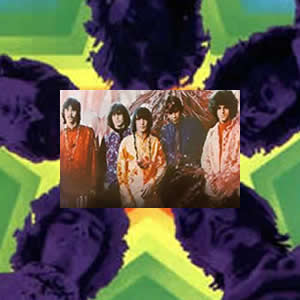 Steppenwolf arrived on the rock scene like a storm in 1968 and released their first two albums, which produced their most indelible classics which persist to this day, that year. Their debut, Steppenwolf, was released in January 1968 and included two songs made world famous by their eventual inclusion in the cult film Easy Rider in 1969, along with two more radio hits. The follow-up album, simply titled The Second, was released towards the end of 1968 and includes another smash hit along with a long rock medley on its second side. Both albums were produced by Gabriel Mekler and recorded in a Los Angeles studio between the extensive touring by the band.
Steppenwolf was formed out of the ashes of sixties group The Sparrows in 1967, led by vocalist John Kay along with brothers Jerry and Dennis Edmonton. The name was suggested by Mekler and was inspired by the novel of the same name by Hermann Hesse. Jerry Edmonton stayed on board as drummer of Steppenwolf while Dennis adopted the pen name Mars Bonfire and chose a strictly songwriting affiliation with the new group.
Entering the studio well rehearsed, Steppenwolf released a surprisingly strong debut with a hard rock motif and populist themes built on classic blues. The resulting music is raw and powerful with distorted trade-offs between guitarist Michael Monarch and organist Goldy McJohn and the tight rhythms by Edmonton and bassist Rushton Moreve.

Steppenwolf

by

Steppenwolf
Released: January, 1968 (ABC Dunhill)
Produced by: Gabriel Meckler
Recorded: American Recording Co. Studio, Studio City, CA, Fall 1967
Side One
Side Two
Sookie Sookie
Everybody's Next One
Berry Rides Again
Hootchie Kootchie Man
Born to Be Wild
Your Wall's Too High
Desperation
The Pusher
A Girl I Knew
Take What You Need
The Ostrich
The Second

by

Steppenwolf
Released: October, 1968 (ABC Dunhill)
Produced by: Gabriel Meckler
Recorded: American Recording Co. Studio, Studio City, CA, Summer 1968
Side One
Side Two
Faster than the Speed of Life
Tighten Up Your Wig
None of Your Doing
Spiritual Fantasy
Don't Step on the Grass, Sam
28
Magic Carpet Ride
Disappointment Number
Lost and Found By Trial and Error
Hodge, Podge, Strained Through a Leslie
Resurrection
Reflections
Band Musicians (Both Albums)
John Kay – Lead Vocals, Guitars, Harmonica
Michael Monrach – Guitars
Goldy McJohn – Piano, Keyboards
Rushton Morave – Bass
Jerry Edmonton – Drums
The first two singles released from Steppenwolf were "A Girl I Knew" and the opening track "Sookie Sookie". Written by R&B artists Don Covay and Steve Cropper, "Sookie Sookie" is almost like almost a soul or Motown track arranged to a heavy late sixties rock beat and methodical guitar riff. "A Girl I Knew" was co-written by Morgan Cavett and contains a very English sounding harpsichord with Kay mimicking the mood in the lead vocals during short intro before song breaks into a driving, sixties hipster beat with a bouncing organ riff by McJohn.
Other songs on the debut album find the group experimenting with various sub-genres. On "Everybody's Next One" an acoustic piano gives way to full electric arrangement as this progressive song moves through several sections in its short duration of less than three minutes. One of the prominant riffs would later be "borrowed" by The Doors for their 1970 song "You Make Me Real". "Berry Rides Again" is old time rock and roll through and through as an obvious tribute to Chuck Berry with the piano really standing out on top of the mix. The band's rendition of the Willie Dixon / Muddy Waters classic "Hootchie Kootchie Man" features the guitars slowly working out before falling into the most standard of blues riffs in an original and entertaining version of this well-healed classic. "Your Wall's Too High" is more blues , but a bit more up-tempo with some rock riffs and bouncy sections mixed in.
The band's most famous song, "Born to Be Wild", was composed by Mars Bonfire and features a tight beat under the distorted guitars, with just the right amount of organ chops to make it interesting. Drummer Edmonton is the truly unsung hero of this song, holding together tightly an otherwise loose arrangement and supplying a great drum fill into second verse and perfect rolls later in the track. Due to its inclusion during the opening scene of Easy Rider, it is often tied to bikers in popular culture and the song is also the first to coin the term "heavy metal", which would be attributed to various heavy rock styles for the next four and a half decades and counting. The third single off their 1968 debut, "Born to Be Wild" would become Steppenwolf's most successful single, reaching #2 on the U.S. pop charts.
The other song from the debut later included on Easy Rider, "The Pusher" is a consistent blues song by Hoyt Axton, built around four chords, squeezed out through the intro guitar riff. Later, Monrach provides long descents into the guitar leads, make it interesting despite the lack of true variety. Kay takes his vocals to another level during the various "God Damn" wails on this amazingly frank and candid look at the darker side of drugs at a time when it was "cool" for rock bands to celebrate such use. This is one of the few songs retained by the group from their Sparrow days.
Side two of Steppenwolf includes a handful of other strong tracks. A beautifully constructed orchestra of melodic noise leads into the bluesy "Desperation" with constant tension between the sustained organ and distorted guitar chords throughout along with moving vocal melodies. "Take What You Need" contains an upbeat, driving piano beat and whining guitar overlay along with animated bass and drumming. "The Ostrich" is bluesy with a "Hand Jive" beat heavy with floor toms. A really good closer for the debut album with the late flaw of a good jam breaking down into an awkward, out of tune improv to finish things up.
Steppenwolf's follow-up album, The Second, embraces more bombastic hard rock, psychedelia, and blues with more refined production and songwriting techniques. This is really a mixed blessing as some songs really bring out the finer points of composition while others are just plain filler. Unfortunately,
"Faster than the Speed of Life", the opening track penned by Mars Bonfire is the latter with weak harmonies and uninspired guitar licks.
Fortunately, The Second does improve from there. "Tighten Up Your Wig" is a grittier and bluesier tune than the opener with a cool good harmonica lead by Kay and subtle instrumentation licks. "None of Your Doing" starts with a penny whistle organ and English folk style acoustic for a single line in each verse before the rocking kicks in with slight restraint. "Spiritual Fantasy" contains a slide acoustic guitar and strings throughout in a waltz-like ballad. This song is interesting because it is so different than anything else, but it does seem like the musicians struggle to keep time throughout. Meckler's "Twenty Eight" almost has a surfer vibe in an intentional reach towards pop.
"Don't Step on the Grass, Sam" fades in with bass riff and great sounding guitars playing interesting riffs. The music is measured and excellent throughout, perfectly accenting the lyrics in this pro-marijuana message which acts as a reciprocal to "The Pusher" on the first album;
Well it's evil, wicked, mean and nasty, don't step on the grass Sam and it will ruin our fair country, don't be such an ass, Sam…"
"Magic Carpet Ride" was co-written by bassist Moreve, starting as a psychedelic form with guitar feedback. It then breaks into the simplest of riffs with good vocal melody to carry the song. The original track is asymmetrical, with the actual "magic carpet ride" happening through various sound effects above the tense funk jam before the tension is released with a short outro chorus. Released as the lead single from that album, it peaked at #3 on the US pop charts making it the band's second-biggest hit.
A year before the Beatles Abbey Road, Steppenwolf had a multi-song second side medley in similar form. "Disappointment Number (Unknown)" contains slide blues guitar and a really sparse and laid back arrangement before it finally gives way to the full band with fine bass, drums, and honky-tonk piano by McJohn. Later it unexpectedly breaks out of blues riff and ends slightly with live bar sound before it quickly segues directly to "Lost and Found By Trial and Error" as a continuation blues song moving through several new forms with the guitars sounding sharp and fine. The jam continues with organ taking lead through the instrumental "Hodge, Podge, Strained Through a Leslie", which leads to the intense climax of "Resurrection" as the extended arc piece gets closer to conclusion with the theme "Shake Your Money Maker" repeated until rudiments complete the jam part. The short "after" piece "Reflections" is some soft Baroque with heavy reverb.
Steppenwolf reached #6 on the Rock Albums charts, while The Second later climbed to #3 on the same chart. Steppenwolf continued to have success through the early 1970s and has gone on to sell more than 25 million records worldwide. The band initially broke up in 1972 but have reformed several times through the decades with various lineups behind John Kay, who is the only original member to remain with the band since its inception.
~

Part of Classic Rock Review's celebration of 1968 albums.