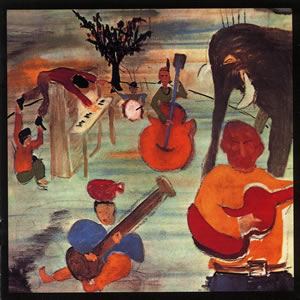 After a decade of touring as a backing group for other artists, The Band released an incredible debut with Music from Big Pink in 1968. By blending their vast influences of country, Gospel, rock, folk, and R&B into strong compositions, influenced and helped along by Bob Dylan, the group forged an album with an honest, laid-back feel, which sharply broke with the current trends of over-the-top psychedelic rock. The album's title stems from a (pink) house near Woodstock, NY, where several band members lived while they wrote and rehearsed material for this album. While many demo tapes were recorded there, the actual recording of the album, produced by John Simon took place in studios in New York City and Los Angeles. Concurrently, much of the Dylan-fronted material was recorded and eventually released as The Basement Tapes by Bob Dylan in 1975.
The group's originator was drummer Levon Helm, from the Arkansas side of the Mississippi Delta, who formed the rockabilly group The Hawks with front-man Ronnie Hawkins in the late fifties. In 1958, the group migrated to Ontario, Canada, which had a growing market for music from the American South, and toured clubs up there for many years. Along the way, Canadian natives Rick Danko, Robbie Robertson, Richard Manual, and Garth Hudson joined up at various points. When Hawkins took time off, the rest of the band continued to play club dates and soon migrated more towards the blues stylistically. In 1964, the group split from Hawkins and released a few singles as Levon and the Hawks with Helm on lead vocals. When Bob Dylan went "electric" in 1965, he enlisted The Band as his backing group, and they toured the world through 1966. However, Dylan suffered a near fatal motorcycle accident and was unable to tour for nearly a year. He retreated to the Catskill town of Woodstock and the Band decided to join him, taking a long deserved break from touring to try their hand at writing their own music.
With this brand new endeavor, The Band made a consorted effort to produce the most "legitimate" songs possible. This philosophy also extended the adaptation of the simple name "The Band". While Dylan composed three of the eleven album tracks and there was one cover, Manuel and Robertson split most of the rest of the songwriting duties, later admitting they were students of Dylan's various approaches to composing. Dylan also did the cover illustration for the album.

Music From Big Pink

by

The Band
Released: July 1, 1968 (Capitol)
Produced by: John Simon
Recorded: New York and Los Angeles, 1968
Side One
Side Two
Tears of Rage
To Kingdom Come
In a Station
Caledonia Mission
The Weight
We Can Talk
Long Black Veil
Chest Fever
Lonesome Suzie
This Wheel's on Fire
I Shall Be Released
Band Musicians
Robbie Robertson – Guitars, Vocals
Richard Manuel – Piano, Keyboards, Drums, Vocals
Garth Hudson – Piano, Organ, Clavinet, Saxophone
Rick Danko – Bass, Fiddle, Vocals
Levon Helm – Drums, Percussion, Vocals
With a "how slow can you go?" tempo, the opener "Tears of Rage" is full of deliberate anguish. Co-written by Bob Dylan and Richard Manuel, the song has a strong Biblical underlying theme, examining a relationship between parents and daughter. A version of this song with Dylan on lead vocal and the Band backing him was included on The Basement Tapes. "To Kingdom Come" is Robertson's debut as a songwriter and contains more upbeat, sixties-style music with harmonized vocals and a great bass by Danko throughout, gluing together the slight bursts of musical motifs. The worst part of this fine song is that it ends too quickly, fading out during an interesting guitar lead by Robertson.
Manuel's "In a Station" returns to the bluesy ballad with topical keyboards and slightly interesting guitar interludes. Written and sung by Robertson, the fine "Caledonia Mission" starts as a ballad but progresses to an interesting, jazzy number with strong horns throughout.
The most famous song on the album is "The Weight", an iconic music marker in the history of rock n' roll. A significant influenced on American popular music the lyrics return to Biblical settings, with fictional characters playing the modern day protagonists. Over time becoming one of The Band's best known songs, it failed to reach the Top 40 when released as a single in 1968, although subsequent cover versions did much better for various artists. Robertson sites the movies of Spanish filmmaker Luis Buñuel as well as his initial visit to the Mississippi Delta as influences for the song, although Helm later claimed several member of the band had a part in writing the lyrics.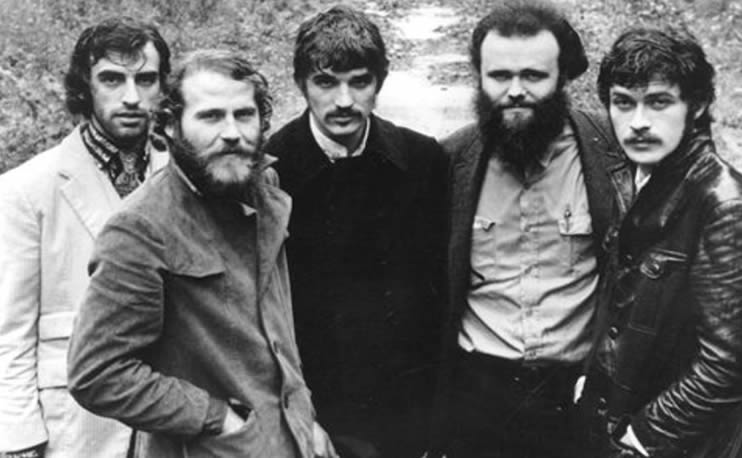 Side two of the original LP starts off with the funky "We Can Talk", with Manuel, Helm, and Danko taking turns on vocals. "Long Black Veil" is an Americana cover, written by Marijohn Wilkin and Danny Dill, and contains a fine acoustic guitar and prevalent electric piano. "Chest Fever" starts with Hudson's calm but catchy organ riff, topped by Manuel's rock piano and Danko's bass. Soon to become a fan favorite, this may be the closest to traditional hard rock that they get on this album.
"Lonesome Suzie" is a ballad with Manuel crooning above Hudson's soulful organ and Robertson's calmly picked guitars. "This Wheel's on Fire" is a good solid track co-written by Dylan and Danko, featuring high-pitched harmonies, and a country-tinged backing. Dylan also composed the closer "I Shall Be Released", which drips with melancholy and depth. Led by Richard Manuel's haunting tenor vocals above gently stroked piano and acoustic, this is a real template for future power ballads. With more connotations of redemption, the song stands as a classic "prison song". One of his unrecorded gems, Dylan later recorded his own impromptu version of the song, included on Bob Dylan's Greatest Hits, Vol. II.
Although not a great commercial hit, Music from Big Pink came as a big surprise to music insiders, with many established rock musicians siting it as an immediate influence. An eponymous follow-up album made of unfinished songs from these sessions was recorded and released in 1969 to near equal acclaim.
~

Part of Classic Rock Review's celebration of 1968 albums.