Buy Led Zeppelin I
Buy Led Zeppelin II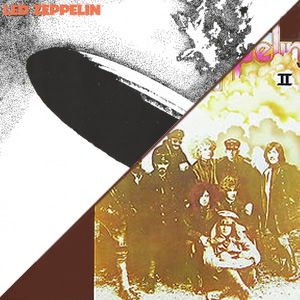 While there have been many fine debuts in rock history, it can be argued that no band ever made such a game-changing splash than Led Zeppelin did in 1969. The group released two albums, Led Zeppelin (I) near the beginning of the year and Led Zeppelin II in the Fall of 1969. Both of these albums were produced by guitarist Jimmy Page and fused together hard core American blues with English folk and added to the mix indelible guitar riffs, jazzy bass rhythms, thundering drum beats, and majestic lead vocals with just a touch of psychedelia to forge a new hard rock direction which would sustain for decades.
Led Zeppelin originated from the latter days of the British group The Yardbirds, which Page joined in late 1966 while they recording their, "Roger the Engineer" , album. Page wanted to form a supergroup with fellow guitarist Jeff Beck and a few members of The Who but only one song resulted from that project, "Beck's Bolero", written by page but released on Beck's solo album, Truth. In that recording session was bassist-keyboardist John Paul Jones, a seasoned and respected London session player. After the Yardbirds split for good in July 1968, Page maintained the group's name in exchange for promising to perform at committed concerts in Scandinavia. Scrambling to find a group, Page was referred to Robert Plant, lead singer for the Band of Joy. Plant accepted and, in turn, suggested drummer John Bonham, a childhood friend. Jones completed the quartet, which was initially named "The New Yardbirds".
After completing the Scandinavian tour, the group entered the studio to record their first album in September. Incredibly, after being together barely two months the group was able to record and mix the album in nine days. With no recording contract in place, Page and manager Peter Grant financed the recording costs themselves, with Page firmly in control of all production duties. After the recordings were completed, the band changed their name to Led Zeppelin when former Yardbirds members threatened legal action. The name was suggested by The Who drummer Keith Moon who had suggested the original supergroup with Page and Beck (which he was part of) would go down like a "lead balloon".
In November 1968, the group signed with Atlantic Records, a label which traditionally courted blues, soul and jazz artists, but had made a concerted effort to court progressive rock acts. Arriving with "tapes in hand", the terms of the new contract were favorable to the band, granting much autonomy to Led Zeppelin over the content, design, and promotion of each album.
Beginning in late 1968, Led Zeppelin completed a total of eight separate tours of the US and the UK. Still, they used any available time to develop and record new material for a second album. Unlike the first album recorded in one London studio over a short time, Led Zeppelin II was recorded in various North American studios including New York, Los Angeles, Memphis, and Vancouver. Each song was separately recorded and overdubbed, making it all the more amazing that the finished product sounded so cohesive.

Led Zeppelin I

by

Led Zeppelin
Released: January 12, 1969 (Atlantic)
Produced by: Jimmy Page
Recorded: Olympic Studios, London, September–October 1968
Side One
Side Two
Good Times, Bad Times
Babe, I'm Gonna Leave You
You Shook Me
Dazed and Confused
Your Time Is Gonna Come
Black Mountain Side
Communication Breakdown
I Can't Quit You Baby
How Many More Times

Led Zeppelin II

by

Led Zeppelin
Released: October 22, 1969 (Atlantic)
Produced by: Jimmy Page
Recorded: Various Studios, Europe & North America, January–August 1969
Side One
Side Two
Whole Lotta Love
What Is and What Should Never Be
The Lemon Song
Thank You
Heartbreaker
Livin' Lovin' Maid
Ramble On
Moby Dick
Bring It On Home
Band Musicians (Both Albums)
Robert Plant – Lead Vocals, Harmonica
Jimmy Page – Guitars, Theremin, Vocals
John Paul Jones – Bass, Organ, Vocals
John Bonham – Drums, Percussion, Vocals
According to Page, the first album is mainly a live album, with sparse overdubs on top of core tracks recorded live with much natural room ambience used to enhance the texture of the sound. The opener "Good Times Bad Times" displays the group's compositional inventiveness within the first 15 seconds, turning the metronome-like intro into an inventive riff. Starting from the second verse of the song, Jones really stands out and makes a presence on bass, with out-front fills added between parts. For the guitar lead, Page fed his guitar through a Leslie speaker to create a swirling effect. Overall, the song was far ahead of its time and set the stage for much more excellence to come.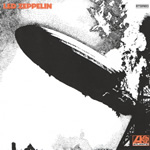 The band immediately shows its other side on "Babe, I'm Gonna Leave You". Page's finger-picked, acoustic guitar pattern of the verses is first separated by a Spanish-like acoustic interlude, but later replaced by a full-fledged electric onslaught once described as the Zeppelin dropping its first bomb. It is an excellent sonic effect driving a fine song with the only downside being the repetition after the 3:30 mark, which unnecessarily stretches the track to nearly seven minutes long. However, the song does recover with the quiet and melodic folk ending, a marked change following the myriad of heavy rock. Written by Anne Bredon in the 1950s, this would be one of many songs on the first two albums to be controversial due to lack of proper songwriting credits.
No such controversy with "You Shook Me", rightfully credited to Willie Dixon from the start. However, Jeff Beck did have an issue with its inclusion, as he had previously recorded the same track for his Truth album with Rod Stewart on vocals, and he accused Page of stealing his idea. But there is no doubt that the Zeppelin version is far superior as this song can make a blues man out of any rock fan. Page's space-like guitar is real treat here, mocking Plant's vocals through the verses. Another highlight is the triple middle solos – all excellent, starting with Jones's soulful organ, Plant's bluesy harmonica, and Page's other-worldly guitar. The concluding section includes some brilliant backwards echo, which Page used on Plant's vocals.
Side one of the first album ends with "Dazed and Confused", one of the most famous tracks from Zeppelin's early years. The doomy and hard rock of this track forged a template for Black Sabbath and several more of the "darker" rock bands of the 1970s, then simply known as heavy metal. Although Page claimed compositional credit, the song was actually written by Jake Holmes as a folk song in 1967. Holmes opened for The Yardbirds at a gig in New York and Page instantly began adapting the song for a rock arrangement. Two years later, the Led Zeppelin version featured long instrumental passages and a unique, bowed guitar in the middle. After the release of Led Zeppelin I, the group continued to develop the song live, gradually extending its duration to well over a half hour and being a staple of Led Zeppelin's concerts.
"Your Time Is Gonna Come" starts with Jones's long church organ intro seems superfluous at first, until it breaks down into the upbeat waltz of the main riff. Bonham then thunders in with an unapologetic drum thump, accompanying Page's folksy acoustic guitar in beautiful melodic contrast. From here, it is a totally pleasant pop song with Page adding a pedal steel guitar for a country effect during the choruses and the second verse. "Black Mountain Side" is an acoustic instrumental, which seems out of place on this part of the album, While certainly a mesmerizing tune, the unsettled un-smoothness never quite jives together. Drummer and sitarist Viram Jasani played tabla on the track, adding a slight Eastern flavor.
"Communication Breakdown" is a pure, hard rocker, with Plant's vocals hyper and desperate in the highest of registers, complemented by Bonham's drumming, which seems as amped up as Plant. In contrast, Page and Jones play at rather steady pace (with the exception of Page's blistering lead), and this is one of a few songs  on which Page sang a backing vocal. A second Willie Dixon cover, "I Can't Quit You Baby" follows, but is much less interesting than the earlier track. While Page is playing his bluesy best throughout and Plant tries his best to wail (but falls just short), Jones and Bonham are unfortunately relegated to basic rhythms on this track.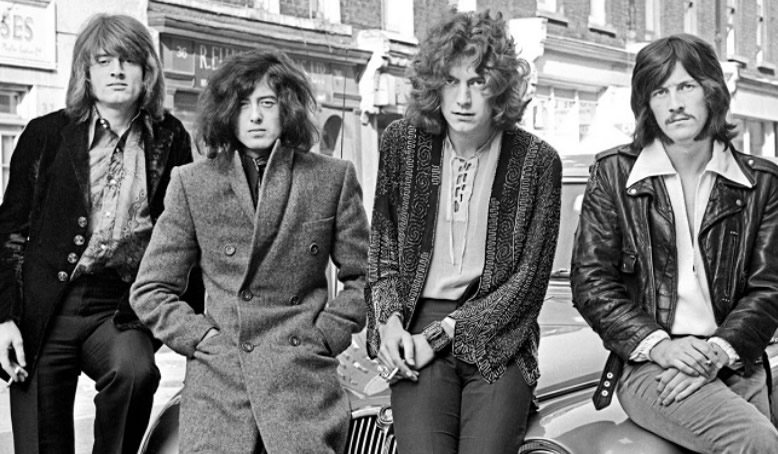 "How Many More Times" is the absolute climax of the album, tieing together the previous elements introduced on Zeppelin's fine debut. The various sections of this complex tune are extraordinarily polished and performed perfectly for such a young band together for such a short amount of time, a really tribute to Page's brilliant producing. The middle section of "How Many More Times" contains complex, almost ceremonial drum fills and another brilliant bowed guitar. The song keeps getting ever more intensive before building towards the marching section and the musical climax launched by Plant's extended wail and then the final verse where Bonham goes absolutely nuts on the drums and Plant screams himself senseless. Any listener is left wanting more at the end of this brilliant debut.
And more they got later in 1969. Starting with the sexual-laced "Whole Lotta Love", Led Zeppelin II makes an immediate impact due to the maturation of Plant's voice (as well as the overall sound of the band). With a definite seventies sound, the song was born out of a live improvisation during one of the band's many 1969 tours, with Plant accompanying Page's riff with slightly improvised lyrics based on Muddy Waters "You Need Love". The studio track also included a rather psychedelic mid section built on Bonham's jazz drumming and Page's use of a Theremin. Without the band's consent, an edited version of "Whole Lotta Love" was released as a single in the US and it climbed to #4 on the pop charts in early 1970. This would be the group's highest charting single, as they were hesitant to release many more singles throughout their long career.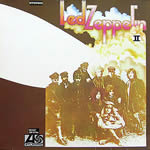 The sophisticated and excellent "What Is and What Should Never Be" alternates from soft sixties jazz verse to a rock hard seventies chorus and is a true showcase for all band member's talents. Jones off on bass tangents while rest of the group is calm and direct, Bonham and Plant are majestic and dynamic, and Page provides a brilliant middle solo which perfectly mirroring the two vibes of this song, climaxing with a very bluesy second half of the solo. The coda part also adds an asymmetrical aspect to the song, making it totally original. Reportedly, The lyrics and song title for this song reflect a romance Plant had with the younger sister of his future wife.
"The Lemon Song" is an underrated classic, recorded live in the studio much like the material from Led Zeppelin I. This hodge-podge of many blues classics borrows from Howlin' Wolf's "Killing Floor", Robert Johnson's "Travelling Riverside Blues" and Albert King's "Cross-Cut Saw", and it surpasses the best blues efforts on the first album as this track is totally mesmerizing and awe inspiring. During a long mid section, Jones bass playing is at its absolute peak, adding a funky element unheard on previous Zeppelin tracks. "Thank You" is the original "power ballad", and the song is pretty good until after the second verse when it gets a little bit tacky. Page lays down a great acoustic lead and Jones plays a sweet keyboard outro, but Zeppelin would wisely decide to leave love ballads for other bands after this.
The second side returns to raunchy rock with "Heartbreaker", but also continues the trend of multi-section, complex rock songs. A song which would have sounded right at home on the future Led Zeppelin IV. With a memorable guitar riff by Page and a later true, unaccompanied solo, the track has been lauded as one of the best guitar songs of all time. "Living Loving Maid (She's Just a Woman)" is a fun little pop/rocker, written as an ode to an older groupie who amused the band in their early days of debauchery. Due to Page's dislike of the song, it was never performed by the band in concert, although Plant did resurrect it for a solo tour decades later.
"Ramble On" is one of the best Led Zeppelin songs ever. A totally moody and chord-striking original tune, this is a song of youth and change, adventure and excitement. While the lyrics borrow heavily from J.R.R. Tolkien, they are used more as parables for travel and adventure, which naturally fit the mood of the constantly touring musicians in 1969. The intro acoustic, bass and percussion set the mood for the adventure, later enhanced by Page's overdubbing magic. Every member of the group is at their absolute best on this track, even Bonham, who puts down the sticks during the verses but drives the rocking choruses. During the outro, Plant's overdubbed improvised lines seem like they can go on forever but cease too quickly.
"Moby Dick" is an instrumental, bookended by riffs and containing a percussion and a Bonham drum solo in the middle. Although a little awkward in this studio form, this grew as a centrepiece for Bonham's formidable percussive skills, methodically building from an established rhythmic foundation and employing his trademark bare-handed attack. "Bring It On Home" is not quite the powerful closing climax of "How Many More Times" on Led Zeppelin I, but a fine track nonetheless to finish Led Zeppelin II. Plant's fine harmonica in the intro section and Page's overdubs and Jones's bass in the song proper continue the Zeppelin excellence in this song with a homage to the Sonny Boy Williamson to finish their second album.
Some estimates calculate that Led Zeppelin's debut album has grossed about 2,000 times as much as originally invested. Led Zeppelin II was an even greater commercial success and reached number one in both the US and the UK. Although these albums were recorded under very different circumstances, they form a collective foundation which launched the career of one of rock's greatest acts.
~
Led Zeppelin online



Led Zeppelin official website
Buy Led Zeppelin I
Buy Led Zeppelin II

Part of Classic Rock Review's celebration of 1969 albums.