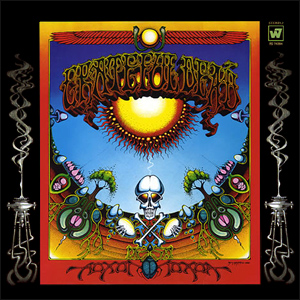 Aoxomoxoa is the third studio album by Grateful Dead and, perhaps, the one most dominated by lead guitarist and vocalist Jerry Garcia. Created under the working title of "Earthquake Country" (because the group wanted to create a "seismic shift" in popular music), the album's unique name was a fabricated palindrome by lyricist Robert Hunter who co-wrote all of the songs, marking the commencement of a longtime songwriting partnership with Garcia. Aoxomoxoa was completely self-produced by the Grateful Dead and claims to be the very first recorded on a 16-track tape machine.
The Grateful Dead was formed in 1965 as a five-piece group called The Warlocks consisting of Garcia, Bob Weir on guitars and vocals, Ron "Pigpen" McKernan on keyboards and harmonica, Phil Lesh on bass and Bill Kreutzmann on drums. They changed their name to Grateful Dead for a performance at one of Ken Kesey's Acid Tests in December 1965. With various influences mixed into a loose format, the group has been labeled "the Godfathers of the jam band". Their self-titled debut album was released in March 1967 and consisted mainly of covers with only two band originals on that album. Later that year, the group added Mickey Harty as a second drummer. The second album, Anthem of the Sun was released in July 1968 and contained completely original material, with each of the (then) six band members contributing to the compositions. Keyboardist Tom Constanten joined the band in the studio to provide piano and "electronic tape" effects on Anthem of the Sun, which eventually led to his formally joining the band as a seventh member, although he would only be with the group for barely a year.
With this widely expanded lineup, one might expect rich, full, orchestral arrangements. However, Aoxomoxoa does have a strong emphasis on acoustic songs and simple arrangements, which give it a very accessible sound on most tracks. Still, the group put tremendous time, effort, and money into the production of this studio album, something they would focus much less on as their career unfolded and they became more focused on their legendary touring.

Aoxomoxoa

by

Grateful Dead
Released: June 20, 1969 (Warner Brothers)
Produced by: Grateful Dead
Recorded: Pacific Recording Studio, San Mateo, CA, September 1968-March 1969
Side One
Side Two
St. Stephen
Dupree's Diamond Blues
Rosemary
Doin' That Rag
Mountains of the Moon
China Cat Sunflower
What's Become of the Baby
Cosmic Charlie
Group Musicians
Jerry Garcia – Lead Vocals, Guitars
Bob Weir – Guitars, Vocals
Phil Lesh – Bass, Vocals
Ron "Pigpen" McKernan – Keyboards, Percussion
Tom Constanten – Keyboards
Bill Kreutzmann – Drums, Percussion
Mickey Hart – Drums, Percussion
With Garcia taking the lead on most of the recorded material, "St. Stephen" acts as an exception with some compositional work by Lesh and some strong vocals and guitars by Weir. The song feels its way around before it kicks in to proper verse and after three rapid renditions of verses, the tune enters a middle European folk section for the bridge, driven by instrumental motifs from keyboards, bass, and lead guitar. A couple of good jam sections dominate the ending sections of the song, which tell of 1st century martyr and saint of the new Christian religion. This is followed up by "Dupree's Diamond Blues", an entertaining carnival-like blues with ascending and descending single-note guitar riffs complimented by bouncing organ. Garcia delivers rapid vocal verses which are melodic and entertaining, built on his advanced sense of jug band songcraft.
"Rosemary" Is a short acoustic ballad with emotional, flanged vocals by Garcia. Beginning immediately with no lead-in, the lyrics are hard to decipher because of the heavy vocal treatment and, after three brief verses and a couple of bare guitar phrases, the song quickly ends. "Doin' That Rag" contains very interesting musical arrangements and great drumming by the team of Kreutzmann and Hart. With much melody and song craft, this piece goes through various style changes rotated through the verse, post-verse and chorus along with some well-timed sudden stops and starts. "Mountains of the Moon" closes the first side with a picked acoustic rhythm topped by harpsichord. This track has a definite Baroque feel musically, but Garcia's vocals are more blues-based and Lesh's sparse acoustic bass provides just enough variation to make it interesting.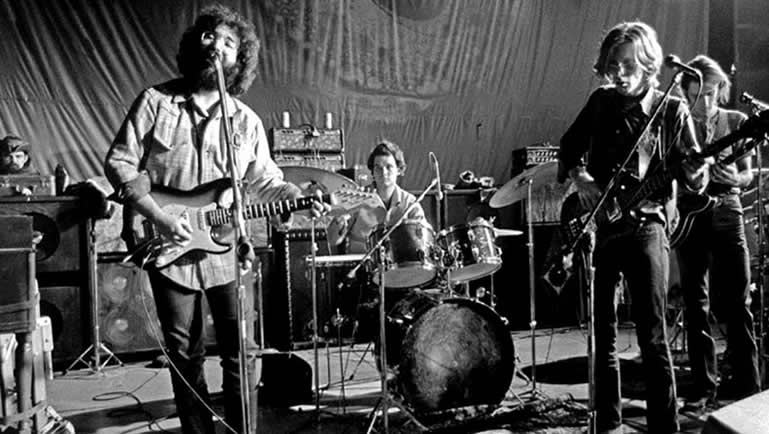 An odd drum roll introduces "China Cat Sunflower", which takes a few seconds to find its groove but when it does the great complementing riffs make this one of the most indelible Dead songs ever. Here the group also provides vocal choruses which actually harmonize decently (something they fail to do on many songs in their catalogue). A very popular song among "Deadheads", "China Cat Sunflower" was one of the most performed songs in through the decades. In contrast, "What's Become of the Baby" is one of their most forgettable tracks. Almost monk-like chanting by Garcia throughout with well-treated vocal effects, this song almost ruins an otherwise fine album with this ridiculous eight and a half minute indulgence, which was only really meant for use with the right chemical mix. Then, like landing back to Earth with fine rock blues, "Cosmic Charlie" finishes the album with fine rudimental harmonies during the bridge section and whining lead guitars throughout. Finishing things on a high note, this song sets the band up for the type of music they would forge and make famous the in 1970, when they produced two of their most famous albums.
Aoxomoxoa was not a tremendous commercial success, as it did not receive "gold" certification until 1997, nearly three decades after its release. However, it was a critical success and held in high enough regard by the band that they completely overhauled the mix in 1972 to catch up with technical innovations.
~

Part of Classic Rock Review's celebration of 1969 albums.