Buy Arthur (or the Decline and Fall of the British Empire)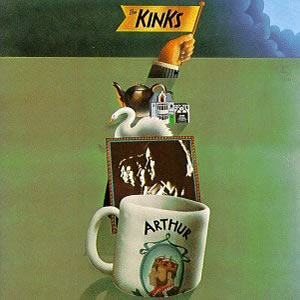 Although The Kinks were part of the first wave of British artists to break through following the Beatles, they were never really considered to be directly influenced by the Fab Four. However, to listen to the Kinks 1969 album ,Arthur (or the Decline and Fall of the British Empire), is to hear some of the finer elements of their more famous British counterparts, performed in parallel time. All that being said, this concept album is truly unique and excellent in its own right, exploring many genres of English and American music. In fact, the album may have been their finest overall output during the 1960s.
The album was born out of an unfinished television play, partially developed by novelist Julian Mitchell in January 1969. Kinks front man Ray Davies composed an accompanying soundtrack, with a plot which roughly revolved around a fictional character based on Davies' own brother-in-law. The songs explore about a hundred years of English history through the eyes of one this fictional character.
Although the group was in the midst of their finest work, development took place during a period of turmoil. Their previous album, The Kinks Are the Village Green Preservation Society ,was a commercial disappointment and founding bassist Pete Quaife abruptly quit to form a new group and was replaced by John Dalton. Recording for the album began in May 1969, with Davies as producer and chief composer. Guitarist Dave Davies did write a track which was used as a B-side of a single, while also releasing his debut solo album during the year. By July, the album was ready for release but was delayed as production of the television play developed with a planned broadcast of late September. However, problems got progressively worse and the show was cancelled at the last minute when financial backing fell through.

Arthur (or the Decline and Fall of British Empire)

by

The Kinks
Released: October 10, 1969 (Pye)
Produced by: Ray Davies
Recorded: Pye Studios, London, May–July 1969
Side One
Side Two
Victoria
Yes Sir, No Sir
Some Mother's Son
Drivin'
Brainwashed
Australia
Shangri-La
Mr. Churchill Says
She's Bought a Hat Like Princess Marina
Young and Innocent Days
Nothing to Say
Arthur
Group Musicians
Ray Davies – Lead Vocals, Guitars, Keyboards
Dave Davies – Guitars, Vocals
John Dalton – Bass, Vocals
Mick Avory – Drums, Percussion
While most songs on Arthur (or the Decline and Fall of the British Empire) are under four minutes in duration, they are very richly arranged as Ray Davies packs more into short songs than any other top-level composer. The driving rhythm and orchestra of guitars lay the foundation of "Victoria", with an intro which sneaks up until hitting full rock and roll throws. A great melody and hook with subtle moments of extravagance (such as the sparse horn arrangement and background hysterical laughter) gave this pop song some chart and radio success.
The marching drum of Mick Avory introduces "Yes Sir, No Sir". A song of cynicism, glazed with humor in the tradition of the novel Catch 22, Ray Davies' vocals seem intentionally flat in order to portray a sense of meek obedience through the opening verses. The song then breaks into different sections with many horns with much packed into to this three minutes and forty-five seconds song. "Some Mother's Son" continues the anti-war/anti-military theme but in a more melodramatic and haunting fashion. With heavy use of harpsichord and strings and melancholy vocals, Davies does a masterful job of tugging on heartstrings
While loosely continuing the anti-war theme, "Drivin'" does so in a Beatle-esque, happy-go-lucky theme that is more about escaping the worries of the day. The good, upbeat song with strong bass and rich background vocals was the first song recorded for the album and should have been a big hit for the band at the end of the sixties. "Brainwashed" is a song which takes another venture musically, with pure sixties hip, heavy rock instrumentation, and just the right amount of brass. The bass of newcomer Dalton really shines on this riff-driven rocker that is a precursor to punk. The first side concludes with the extended track "Australia", which is put together almost like a commercial, albeit with much sarcasm. A cocktail jazz rhythm during first verses with cool piano mixture and high-pitched bass eventually gives way to some changes before settling into a calm jam which persists through the second half of the tune.
The second side begins with "Shangri-La", a definitive British folk song and the best overall song on the album. Starting with a picked acoustic guitar and later harpsichord before climaxing with the intense chorus hook, "Shangri-La" is an in-depth look at middle class aspirations, lyrically. The bridge section adds more intensity with strong rhythms and horns and forceful vocals before dissolving back into the final verse, which includes great drum accents by Avory. This is one of those songs that seeps in slowly but ultimately makes an indelible mark.
The middle of side two contains the weakest material on the album, although not totally terrible. "Mr. Churchill Says" is a rock blues song about World War II era Britain during the first verses. Air raid sirens divide the song with a pure old-time rock jam section following. Some tacky chanting rap near the end of song is quite annoying as it obscures an otherwise fine percussion section. "She's Bought a Hat Like Princess Marina" is another harpsichord-driven ballad, almost like an English children's nursery song, while "Young and Innocent Days" starts as a gentle acoustic folk song but, like most songs on this album, builds in intensity. That song ends with nice, gentle acoustic guitar outro and contains lyrical nostalgia like;
I wish my eyes could only see everything exactly as it used to be
The album ends very strong with a couple of very good rockers. "Nothing to Say" is almost like a counterpart to "Yes Sir, No Sir" on the first side, a very good rock rhythm topped with fine piano and slide guitar by the Davies brothers. The title song "Arthur" has almost Southern guitar riffs with an upbeat country rhythm through verses. Again, there are pleasant sonic surprises around every corner and, although this song does not vary much through its five and a half minute duration, it never gets bogged down by predictability. In the end, the lyrics sum up the entire plot line of the album, retelling the story of Arthur Morgan.
Arthur was met with almost unanimous acclaim upon release. It received generous coverage in the US rock press
Although Arthur (or the Decline and Fall of the British Empire) only reached number 50 on the charts in the UK (and number 105 in the US), it was their highest charting position since 1965 and set up the commercial success of their 1970 album, Lola Versus Powerman and the Moneygoround. More importantly to us future rock fans is the excellent music itself, which is ultimately all that matters.
~

Part of Classic Rock Review's celebration of 1969 albums.