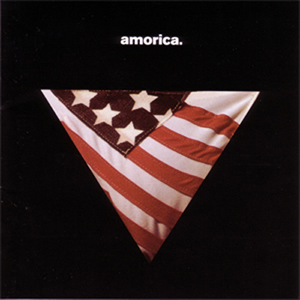 Although not a particularly strong seller, The Black Crowes may have reached the quality peak of their career with their third album, Amorica. After two commercial blockbusters in the early nineties, the band was not able to sustain their commercial momentum. However, they may have strongly elevated their artistic credibility as they completed their evolution towards quasi-improvised, groove-constructed tracks that improve with each listen. Produced by Jack Joseph Puig, the album is also a sonic masterpiece, has just enough rock elements are strategically placed in the cracks between the funk and blues inspired structures.
The group's 1992 album, The Southern Harmony & Musical Companion, saw them expand their sound with a chorus of backup singers and two new permanent band members. On this album, the six-piece band went "old school", finding plenty of space for each musician to exercise their respective chops, while guitarists Rich Robinson and Marc Ford stayed firmly above the fray. Lyrically, vocalist Chris Robinson wrote highly introspective lyrics.
On the popular music front, Amorica is noted for the controversy over its racy original album cover (taken from a 1976 cover of Hustler magazine). As a result, early pressings were banned from many retail outlets and an alternative cover (pictured above) was put together for later releases.

Amorica

by

The Black Crowes
Released: November 1, 1994 (American)
Produced by: Jack Joseph Puig
Recorded: May-June 1994
Track Listing
Group Musicians
Gone
A Conspiracy
High Head Blues
Cursed Diamond
Nonfiction
She Gave Good Sunflower
P.25 London
Ballad In Urgency
Wiser Time
Downtown Money Waster
Descending
Chris Robinson – Lead Vocals
Rich Robinson – Guitars
Marc Ford – Guitars
Eddie Harsch – Keyboards
Johnny Colt – Bass
Steve Gorman – Drums, Percussion
A percussive start by drummer Steve Gorman leads into the opening track "Gone", a raw, slightly out of tune guitar jam that sounds rough and unrehearsed track, but still carries cool charm. "A Conspiracy" is similar but a bit more refined, after starting very choppy with the illusion of being highly unfocused. The guitar arrangement between Ford and Robinson provides the thrust behind lyrics laced with a sense of dread. "High Head Blues" is really the first really accessible song on the album, as an upbeat and entertaining track reminiscent of Eric Burden and War. The percussion is provided by guest Eric Bobo and drives the long verse sections before the driving rock of the refrain.
"Cursed Diamond" is the first of several ballads, although this includes some loose and wild instrumentation which really picks up in intensity as it goes along. "Nonfiction" has a country feel and features picked acoustic with sweet overtones of slide guitar, accordion, bass, and fine keyboards by Eddie Harsch. Harsch starts "She Gave Good Sunflower" with a cool, 70's-inspired distorted electric piano before meandering into a more standard Black Crowes-style rock and soul arrangement, although most of the remainder of the song is a simple, upbeat jam with flailing wah-wah guitars. "Ballad in Urgency" is another completely unique track on the album, with calm but potent guitar tones and phrasing and decidedly downtrodden lyrics. The song dissolves into a piano section with fine bass added by Johnny Colt.
The highlight of the latter part of the album, "Wiser Time" is driven by the excellent beat by Gorman, slide guitars by Rich Robinson, and duo lead vocals. The extended verses are carried by this fine three chord repetitive sequence, with sparse rock chorus sections breaking up the song. Later on the track there is a great four-part lead section, starting with a bluesy acoustic, followed by electric piano, then a single wailing electric guitar, and finally soaring harmonized guitars, giving this song buckets of variety. "Downtown Money Waster" contains ragtime piano and slide acoustic with scat percussive effects, while Chris Robinson does a great Delta blues impression vocally. The closer, "Descending" is a long ballad with more great slide guitars. The thumping bass riff of Colt picks things up a bit in the middle section before a true piano solo brings song and album to a calm ending.
Amorica eventually reached Gold status by selling 500,000 copies and the band enjoyed a successful tour the following year. In 1996, the group followed up with Three Snakes and One Charm, the final album with this lineup before several members parted ways in subsequent years.
~

Part of Classic Rock Review's celebration of 1994 albums.