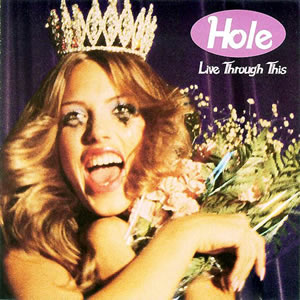 For their second album, Hole took a much different approach than on their debut, Pretty On the Inside. That first album featured a straight-out, punk rock approach, while Live Through This is forged more in the nineties style pop/punk approach presented by Nirvana. Of course, this is far from coincidence as Hole's front woman Courtney Love was married to Nirvana's front man Kurt Cobain, and Cobain had at least some influence on this album (the exact amount of his input and influence has now been a controversy for 20 years). Whatever the case may be, Live Through This received much critical accolades along with the band's first taste of commercial acceptance.
Hole was formed by Love and guitarist Eric Erlandson in 1989. Love had briefly been a member of Faith No More before moving to Los Angeles to pursue work as an actress. The duo used Michael "Flea" Balzary's rehearsal space and began writing material for what would eventually be their debut album in 1991. Released on an independent label, Pretty on the Inside got a positive reception from underground critics who appreciated its loud, abrasive and deliberately shocking approach. That same year, Love became romantically involved with Cobain as Nirvana's Nevermind achieved international success. Late in 1992, Hole signed an eight-album contract with Geffen Records in late 1992.
In early 1993, Hole permanently added bassist Kristen Pfaff and drummer Patty Schemel to halt the rotation of temporary rhythm players. With a full band in place, they released the single "Beautiful Son" and set out on some short tours before heading into the studio later in the year. Produced by Paul Q. Kolderie & Sean Slade, the album was recorded at Triclops Sound Studios in Marietta, Georgia.

Live Through This

by

Hole
Released: April 12, 1994 (Geffen)
Produced by: Paul Q. Kolderie & Sean Slade
Recorded: Triclops Sound Studios, Marietta, Georgia, October 1993
Track Listing
Group Musicians
Violet
Miss World
Plump
Asking For It
Jennifer's Body
Doll Parts
Credit In the Straight World
Softer, Softest
She Walks On Me
I Think That I Would Die
Gutless
Olympia
Courtney Love – Lead Vocals, Guitars
Eric Erlandson – Guitars
Kristen Pfaff – Bass, Piano, Vocals
Patty Schemel – Drums, Percussion
The opener "Violet" starts the oft-used, fire-one approach of three-cord riff / vocal line / repeat. This is an effective way to get a message through and gives off the vibe of a modern day Velvet Underground. The song, which explores themes of sexual exploitation and self-abasement, was released as a single and peaked at number 29 on the Billboard's Modern Rock Tracks. "Miss World" starts as a lazy acoustic before becoming more potent with a gradual building and good drums by Schemel. Apparently referring to the album cover, the song's lyrics touch on the theme of self-image and pageantry as put forth by the lyric; "I'm miss world, somebody kill me!" the more electric-based "Plump" follows as a short vessel for Love to emotively rant.
"Asking for It" is one of the more substantive tracks, inspired by an occurrence at a concert in which Love was assaulted and had her clothes ripped off of her while crowd-surfing. This song, with a calmer approach musically which lets Pfaff's bass come through, includes the phrase which gave Live Through This its album title. After "Jennifer's Body", which explores the humiliation of a faithless lover, the album moves to the folksy and moderate "Doll Parts". The song went on to peak at #4 on the US Billboard Modern Rock Tracks and became one of the band's most popular songs. This dark song contains some entertaining and potent melodies and was written by Love during the early part of her relationship with Cobain with whirlwind lyrics such as; "I love him so much it just turns to hate".
The latter part of the album tends to thin out a bit, with the one exception being the deep and indelible "Softer, Softest", which features Cobain on backing vocals. Erlandson and Love wrote the song in 1991 with the original title "Pee Girl" and the track references some childhood traumas of Love. "She Walks on Me" is a pure punk track with screaming vocals during verse and more melody during chorus, while "I Think That I Would Die" is more interesting in its approach, with finely picked acoustic during verses and harmonized vocals, cool bass, and some keyboards during bridge. "Gutless" is not terrible in a punk/new wave approach, but it is very tiresome at this point on the album. The closer "Olympia" was a last second replacement for a track entitled "Rock Star", switched out so late that the album mislabeled the final song. The actual final song criticizes the Women's Studies department at Evergreen State College, where a lot of "riot grrl" bands which were emerging at the time.
Most critics consider Live Through This to be the finest output of Hole's career. However, a significant cloud was put over the critical success of this album, as Kurt Cobain was found dead of a self-inflicted gunshot four days prior to the album's official release. Adding to the tragedy, bassist Kristen Pfaff (who had already decided to quit the band) died of an apparent heroin overdose just two months later.
~

Part of Classic Rock Review's celebration of 1994 albums.