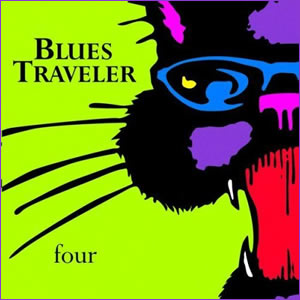 Labeled as a "jam band" since their inception in the late 1980s, many have contended that Blues Traveler does not translate well on standard studio recordings. Their 4th album, Four seems to dispute this assertion as it strikes a nice balance of sonic aptitude, classic sounding blues rock and compositional originality. The album was also the New Jersey group's commercial breakthrough, fueled by the radio appeal of a couple well-record simple pop songs. But the truly rewarding material on four are the more complex works where songwriting genius meets inspired performance to reach that higher level of indelible entertainment. It is for this reason, that Classic Rock Review has chosen Four as best among all the great works of 1994 and our Album of the Year.
The four members of Blues Traveler started together while still in high school in Princeton, New Jersey in 1987. John Popper was a multi-instrumentalist who aspired to be a stand up up comedian but found his calling on harmonica after an in-class solo performance. Guitarist Chan Kinchla was a promising football player who committed to playing music after a knee injury. Rounding out the quartet was bassist Bobby Sheehan and drummer Brendan Hill. The group was originally called Blues Band but changed their name to Blues Traveler when they moved to Brooklyn, New York following their collective graduation from high school.
While in New York, Blues Traveler began playing gigs and shared resources with Spin Doctors, another group that Popper originally founded. By the end of the decade, the group signed to A&M Records and Blues Traveler released their self-titled debut in 1990. This was followed by Travelers and Thieves, a live EP tribute to Bill Graham called On Tour Forever and their critically acclaimed third album Save His Soul. Blues Traveler also got some national exposure through their appearances on the David Letterman show and their initiative in founding of the H.O.R.D.E. (Horizons of Rock Developing Everywhere) festival in 1992.
The production team of Michael Barbiero and Steve Thompson, who first worked with Blues Traveler on Save His Soul in 1993, stayed on for the production of Four in early 1994. This time, the crew got the full benefit of a public relations campaign by A&M Records, starting with the release of the lead single "Run-Around" and the accompanying Wizard-of-Oz-man-behind-the-curtain themed video, which introduced the group to the MTV crowd for the first time. A long bass slide by Sheehan introduces the album and its most popular song, which is no doubt catchy and entertaining although it never relents from its four chords.

Four

by

Blues Traveler
Released: September 13, 1994 (A&M)
Produced by: Michael Barbiero & Steve Thompson
Recorded: A&M Studios, Hollywood, February-June 1994
Track Listing
Group Musicians
Run-Around
Stand
Look Around
Fallible
The Mountains Win Again
Freedom
Crash Burn
Price To Pay
Hook
The Good, the Bad and the Ugly
Just Wait
Brother John
John Popper – Lead Vocals, Harmonica
Chan Kinchla – Guitars, Mandolin, Vocals
Bobby Sheehan – Bass Vocals
Brendan Hill – Drums, Percussion
"Stand" is a funk/rap track which features a harmonica and guitar in sync post chorus and Popper's first great harmonica solo on the record. The bridge is backed by Kinchla's drenched guitar chords while Sheehan and Hill bring up the speed with clever use of rhythm, adding a progressive rock jam element to the otherwise standard funk rhythm. The ballad "Look Around" could not be more different as a soft rock piano ballad, featuring guest Chuck Leavell on piano. Solidifying the effect is the eighties style power guitar by Kinchla and slow tom fills by Hill. "Fallible" starts with a crazed harmonica solo before it breaks into a rock oriented groove with a distorted to wah-wah guitar. The lyrics speak of taking ownership with the limited life you have;
"in the name of all the power that's centered in your hand
If you crave some revolution take possession of your stand
It's the only one you'll get to make, in a moment come and gone
So do your best to stay awake and own the path you're on…"
Sheehan's sole composition on the album is the calm, acoustic tune, "The Mountains Win Again", with moderate bass pattern which is mimicked by vocal melody. Some of the best sounding guitars on this record are in the subtle deep blues riffs by guest Warren Haynes, who sustains absolutely every note and makes it count to the max. Everything else in this song is measured perfectly, even the reprise of the intro harmonica riff, which only lasts a single line to set up the single guitar chord which closes the song beautifully. After an odd and awkward bass intro, "Freedom" breaks into full-fledged rap/rock ala Red Hot Chili Peppers. Lyrically, the song tackles the slippery slope of statism in lieu of freedom;
I'll defend what's mine cause what's mine will be all mine
It's what I'd fight for it's for what I'd bleed
I roll the dice on the grand experiment, while I am strong I will get what I need
You take it for granted, I guess that's what it's for
But before you demand it take a look out your back door…"
The next three songs on the album are its best sequence, solidifying Four as a bonafide classic. "Crash Burn" is a short and fantastic, riff-driven jam showcase. Starting with a harmonized guitar/harmonica riff, then followed by the frenzied, rhythm-driven verses and then a lead section where each musician takes his moment to shine. Although largely unheralded, "Price to Pay" is the best song on this best overall album from 1994. It starts with a moody harmonica, picked guitar and bass notes and then kicks into a catchy rock/funk for effect and tactfully alternates between the two. Driven by Popper's potent story-telling, the middle part of the song builds emotionally into very intense rock sections which eventually give way back to the soft melody.
The popular song ,"Hook" is a song that is quite cynically (and brilliantly) baited to prove the psychological point of falling for the frivolous "hook". With lyrical lines such as "I've said nothing so far and I can keep it up for as long as it takes" and "I don't mean any of this, still my confession draws you near", the song is lyrically an intentional farce. Yet, it is a performance masterpiece for the group led by Popper's vocals and harmonica over the chord pattern and tempo similar to the classical Canon in D" by Pachelbel. Solidifying this instant classic is the rapid-fire lyrical rant through the final verse, which makes the song indelible.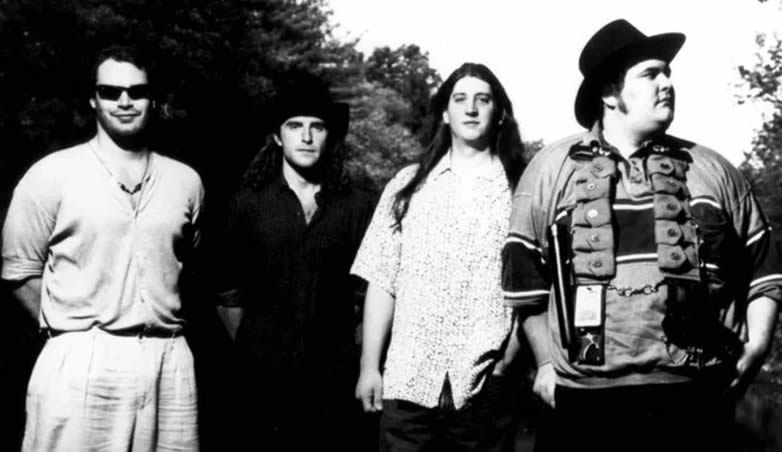 "The Good, the Bad and the Ugly" is an odd and short instrumental, which really seems out of place in this late sequence on the album. This is followed by "Just Wait", where Popperplays a 12-string acoustic in a folk song of hope and encouragement, almost religious in its sense of redemption. the album closes with "Brother John", a group collaboration in the tradition of Southern Gospel. The song features a wild classic bass riff by Sheehan and many rudimentary shifts, almost like Blues Traveler goes Blues Brothers. There is a  middle vocal section over drums with all band members provide backing vocals in the call and response to the soulful vocals of guest Jono Manson.
Four reached the Top Ten on the U.S. album charts and has sold over 6 million copies worldwide. Blues Traveler continued their rise through popular culture, with songs appearing on several television shows and movies in subsequent years. Beyond this commercial success, the album has held up beautifully over the past two decades and has earned its place in the pantheon of classic rock albums.
~

Part of Classic Rock Review's celebration of 1994 albums and our album of the year.