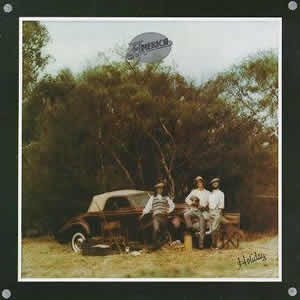 One of the most interesting things about doing all these classic rock album reviews are the little tidbits of information you learn along the way, some of which completely shatter your preconceptions about certain artists and works. Choosing to review the album Holiday by the group America seemed like a perfect match for the date July 4th. After all, this is the quintessential American holiday. But then some elementary research revealed that the group is, in fact, British. Who knew? In any case, the album review goes on as we examine this fine effort by the folk rock trio with the patriotic name, kicking off our two month feature on the most important albums released in the year 1974.
Multi instrumentalists and vocalists Gerry Beckley, Dewey Bunnell and Dan Peek shared a common lineage as they were all sons of American military fathers and British mothers. They met in high school in London in the mid-1960s and soon found that they complemented each others talents and blended three-part vocal harmony. The trio played their first gigs as America in the London area opening for acts such as Elton John, Pink Floyd, and The Who. America was eventually signed to a Warner Brothers UK subsidiary label in 1971 and released their debut album later that year. This was followed by the successful 1972 album Homecoming which helped win the group a Grammy Award for Best New Artist. However, Hat Trick, America's third album in 1973 was a critical and commercial disappointment..
For this fourth album, America brought on legendary producer George Martin along with engineer Geoff Emerick, both of whom shaped the sound of the Beatles the decade before. Under Martin's direction, the group adopted a more British pop style which was enhanced by Martin's addition of strings and brass. With all three group members composing songs for the album, Martin compared the competition among America as that among Lennon, McCartney, and Harrison. Each member's songs were well represented on the album with Martin doing all the final arrangements.

Holiday

by

America
Released: June 26, 1974 (Warner Brothers)
Produced by: George Martin
Recorded: AIR Studios, London, April-May 1974
Side One
Side Two
Miniature
Tin Man
Another Try
Lonely People
Glad To See You
Mad Dog
Hollywood
Baby It's Up To You
You
Old Man Took
What Does It Matter
In The Country
Primary Musicians
Gerry Beckley – Keyboards, Guitars, Bass, Vocals
Dewey Bunnell – Guitars, Vocals
Dan Peek – Keyboards, Guitars, Bass, Vocals
Willie Leacox – Drums, Percussion
Holiday begins with an intro instrumental with film soundtrack-like qualities call "Miniature", which features subtle piano with rich orchestration which swells in presence as the seventy-two second track progresses. After this brief theatrical intro, each of the three permanent group members present their best pop compositions in turn, starting with Bunnell's "Tin Man". The great jazzy chord patterns of acoustic and bass set the mood perfectly for this philosophical play on a character in The Wizard of Oz, while Bunnell's distinctive vocals come through with pristine clarity. The song is uni-directional as it never returns to the verse after the initial one, and the addition of a piano phrase in the final choruses shows Martin's absolute mastery of production techniques. "Tin Man" became the band's fourth Top Ten hit, climaxing at number four.
Beckley's "Another Try" is driven by an upbeat and bouncy piano tune musically, while the lyrics are more somber and downtrodden. Built in the tradition as late 60s British pop ala classic Bee Gees, the song is all piano and bass at the core, a departure from the folk rock for which America is noted, and just a touch of subtle strings and brass are added starting in the second chorus. Peek's "Lonely People" returns the listener to traditional acoustic folk in a song he co-wrote with his wife Catherine Mayberry. Despite its title, the song is really an upbeat and inspiring tune of encouragement lyrically and contains just the right amount of accordion, harmonica, and boogie piano beneath the strummed acoustic musically. Ironically, the song was inspired as an optimistic antidote to the Beatles' "Eleanor Rigby", on which Martin had an integral role nearly a decade earlier.
"Glad To See You" contains a moderate, rocking piano with a well-rounded bass and drums and pristine background harmonies, giving it the typical seventies soft rock sound with the added bonus of Martin's slight touch of orchestration. "Mad Dog" finishes the original first side as a McCarthy-esque bouncy old English dance hall tune with just a touch of 1970s production in the bass and overtone sounds. This entertaining song is about drinking too much, which would make it the perfect pub song.
While the second side of Holiday is not terrible, it very much boilerplate with few new original moments. One exceptional standout is Bunnell's "Old Man Took", an acoustic soft jazz track with a cool soul vibe and lyrical content that is more mature and introspective if not quasi-religious. "Hollywood" is a choppy dark folk song with a simple acoustic chord structure and splattered sound effects, while the minor hit "Baby It's Up To You" dips back into the smooth, love song, folk rock formula. the tracks "You" and "What Does It Matter" are pleasant enough listens while "In The Country" eases the album to its close without anything particularly memorable.
Holiday reached number 3 on the Billboard album chart and was certified gold just a few months after its release. Martin continued to work with America over the next few years and few studio albums, with the group's popularity peaking in 1975 with the releases of the Martin-produced Hearts LP and the compilation album History.
~

Part of Classic Rock Review's celebration of 1974 albums.