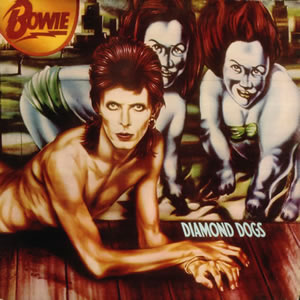 Following the successful album and tours of the conceptual The Rise and Fall of Ziggy Stardust and the Spiders from Mars, David Bowie decided to try another rock-opera-style piece based on George Orwell's novel Nineteen Eighty-Four. However, when the author's estate refused publishing rights, Bowie shifted slightly to the New York based, post-apocalyptic world of Diamond Dogs, with much of the Orwell related material reserved for the second side. The album is also transitional on several levels. It was the first release in five years not to feature Bowie's early seventies backing band, which had featured guitarist Mick Ronson, as Bowie took over all guitar duties himself. Further, it was stylistically the final album to contain "glam" elements musically. This album is unique and the raw approach has been credited as an early influence of the emerging punk sound.
Bowie had tasted his first bit of stardom in 1972 as both Hunky Dory and Ziggy Stardust charted and and his non-album single "John, I'm Only Dancing" became a hit in the UK. Further, Bowie wrote and produced the smash hit "All the Young Dudes" for Mott the Hoople and co-produced Lou Reed's solo breakthrough album Transformer with Mick Ronson. His 1973 album Aladdin Sane became his first number one album and a follow-up album of covers called Pin Ups also did well. All the while, Bowie continued to tour as "Ziggy Stardust" but got so entangled in the persona that it started to effect his offstage personality. Finally, Bowie decided to give the persona an abrupt "death" after a July 1973 press conferences and show in London, where footage for a film was shot.
In 1974 Bowie moved to New York, leaving his former backing band behind and gaining inspiration for this new concept album. Diamond Dogs does feature its own lead character "Halloween Jack". While Bowie self produced this album, it was the first of many in which he collaborated with Tony Visconti, who would co-produce much of Bowie's future work.

Diamond Dogs

by

David Bowie
Released: May 24, 1974 (RCA)
Produced by: David Bowie
Recorded: Olympic Studios and Island Studios, London, October 1973-February 1974
Side One
Side Two
Future Legend
Diamond Dogs
Sweet Thing
Candidate
Sweet Thing (Reprise)
Rebel Rebel
Rock 'n' Roll with Me
We Are the Dead
1984
Big Brother
Chant of the Ever Circling Skeletal Family
Primary Musicians
David Bowie – Lead Vocals, Guitars, Saxophone, Keyboards
Mike Garson – Keyboards
Herbie Flowers – Bass
Aynsley Dunbar – Drums
The long droning synths with spoken word, doomy lyrics make up the short intro track "Future Legend", where the stage for Diamond Dogs is set with "fleas the size of rats and rats the size of cats". The title track "Diamond Dogs" then begins with Bowie's interesting intro guitar riff and settles in a theatrical rock n' roll track which seems to hold back a bit from full-fledged production. Released as the album's lead single, the track was a disappointment on the charts.
Next comes a mini-suite, centered around the track "Sweet Thing", which starts with more doomy, backwards-masked effects before breaking into  a pleasant ballad with great singing. Bowie's first real guitar lead is also featured at end of (the first) "Sweet Thing". The avante garde "Candidate", the middle part of the medley, contains rolling drums, piano, saxophone, and distorted guitars. Lou Reed-inspired, this builds into a more upbeat and intense number before abruptly coming back down for "Sweet Thing (Reprise)" A sax solo and calmer demeanor, this piece was recorded during album sessions in 1973. The outro piano is interrupted by Herbie Flowers' thumping bass to complete the piece on an up note.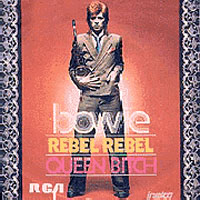 The most upbeat moment on the record, "Rebel Rebel" is a simple, fun, and direct rocker, where the repetition and unrelenting riff actually work to enhance the song. Dating back to 1973, the song became a glam rock anthem. Driven by its infectious guitar riff, "Rebel Rebel" reached Number five on the UK charts.
The second side begins with "Rock n' Roll with Me", co-written by Warren Peace. This piano ballad with edge, is much like Bowie's earlier seventies work but with anthemic elements such as the harmonized chorus and great lead notes in the second verse. "We Are the Dead" is perhaps the most moody and theatrical track on the album. It starts as a ballad but soon morphs into a long lyrical litany in the 'B' section before returning back to the pleasant, electric piano driven track with steady, rounded bass notes.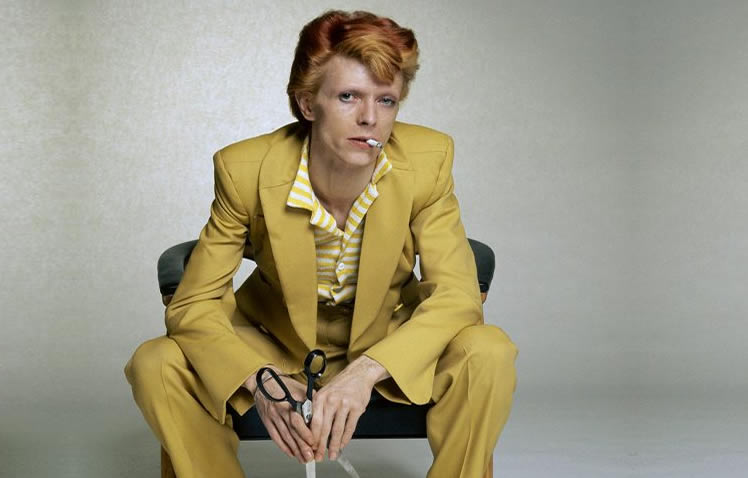 "1984" is built on pure 1970s funk, with squeezed chords, high strings, much hi-hat action by drummer Aynsley Dunbar. This Orwell-inspired track has a good hook and sounds like Bowie was trying to take the most futuristic approach possible in this song written about a time then ten years in the future. The album closes with a medley starting with "Big Brother", as a trumpet intro morphs into the thumping bass of the song proper. Lyrically, the song mirrors the finale of Nineteen Eighty-Four, with the character's love of "Big Brother". "Chant of the Ever Circling Skeletal Family" contains scat vocals of barely legible chants under rotating riff and percussion, as the last, classic-style Bowie track on record, throwing in the kitchen sink stylistically.
Diamond Dogs reached the Top five on both sides of the Atlantic and spawned a lavish North American Tour that was recorded for the live album, David Live, released later in 1974.
~

Part of Classic Rock Review's celebration of 1974 albums.