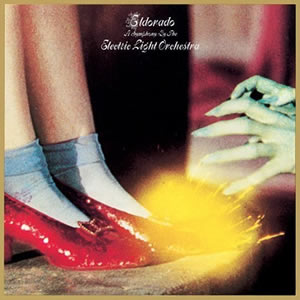 Electric Light Orchestra (ELO) made a huge leap forward with Eldorado, the first complete concept album by the group. Rich melodies with various rock and classical influences made this album highly accessible and well received by mainstream audiences making this ELO's commercial break through. Composed by vocalist, guitarist, and group leader Jeff Lynne, the tune sequence loosely follows the story of a dreamer trying to escape reality. Along the way there are plenty of mixed metaphors using various classic stories and characters from Robin Hood to William Tell to Lancelot to The Wizard of Oz and, of course, Eldorado.
When formed in 1969, ELO declared its purpose as to "pick up where the Beatles left off with 'I Am the Walrus'.". The idea came from Roy Wood, formerly of the band, The Move, who had the idea to form a rock band that would regularly use orchestral instruments. He recruited Lynne from fellow Birmingham group, The Idle Race. The debut ,The Electric Light Orchestra, was released in 1971 but tensions between Wood and Lynne led to Wood's departure during the recordings for ELO 2, which spawned the group's first US hit, a cover of Chuck Berry's "Roll Over Beethoven". Released in late 1973, On the Third Day, featured the hit single, "Showdown," and continued the band's rise in popularity.
On those early albums, Lynne would overdub the strings during recording. However, on Eldorado a 30-piece orchestra and choir was hired, with Louis Clark brought on to arrange and conduct the strings (Clark would later become a full group member). This inclusion limited the group's three resident string players to a few lead sections on scattered songs. Also during the recording of this album, bassist Ike de Albuquerque quit the group, leaving Lynn to also take on those duties. The inspiration for this ambitious record came from Lynne's father, a classical music lover.

Eldorado

by

Electric Light Orchestra
Released: September, 1974 (Jet)
Produced by: Jeff Lynne
Recorded: De Lane Lea Studios, London, February–August 1974
Side One
Side Two
Eldorado Overture
Can't Get It Out of My Head
Boy Blue
Laredo Tornado
Poor Boy (The Greenwood)
Mister Kingdom
Nobody's Child
Illusions in G Major
Eldorado
Eldorado Finale
Group Musicians
Jeff Lynne – Lead Vocals, Guitars, Bass, Keyboards, Orchestration
Richard Tandy – Piano, Keyboards, Orchestration
Mik Kaminski – Violin
Mike Edwards Hugh McDowell – Cellos
Bev Bevan – Drums, Percussion
"Eldorado Overture" commences with a dramatic entrance with haunting synthesizer sounds by Richard Tandy along with a spoken word poetry introduction before it breaks musically into the climatic main theme. Like many of the tracks on the album, the end dissolves directly into the next song. "Can't Get It Out of My Head" is a calm yet desperate melody about the dream of something deeper and more romantic. Very well produced and filled with rock and orchestral motifs and operatic backing vocals, this song would go on to become the first really great song by Electric Light Orchestra as well as the band's first Top 10 single in the US.
"Boy Blue" is an upbeat rocker with a message, describing the reaction of townspeople to the return of a soldier from conflict. The song is driven by piano and bass during verses and choruses with a break for orchestral flourishes above piano during mid-section. "Laredo Tornado" starts with a heavy, droning rock guitar but soon settles into a moderate, clavichord-driven soul and funk tune that takes its time navigating the first verses. The most seventies sounding cool of any track, the song climaxes during the chorus hooks with Lynne's high-pitched vocals and has extended outro for some string parts to compliment the opening guitar riff. "Poor Boy (The Greenwood)" returns to upbeat, old time rock n roll, with the song's finale briefly touching on the main theme to finish the first side.
The second side starts with an electric piano version of The Beatles' "Across the Universe" (albeit uncredited and with alternate lyrics), renamed as "Mister Kingdom". The song does break into different sections, but not enough to consider it an independent composition. "Nobody's Child" starts with strong strings, almost a wedding march, which dissolves into a marching piano and cinematic club jazz arrangement. "Illusions in G Major" is a pure fifties rocker, highlighted by a shredding lead guitar during the quickest and most straight-forward song on Eldorado.
The melancholy but beautiful title song "Eldorado" starts with strings playing an almost siren-sounding rotation before it settles into the calm ballad. Lynne's vocals are most somber and deep with the lyrical vibe being of melancholy resignation and living in dreams with expiration. Late in the song is a pleasant orchestral link to the climatic finale. "Eldorado Final" echos and extends the opening song but with a more furious, driving passage to the finale.
Although Eldorado would not chart in ELO's home UK until four years later in 1978, it was an instant hit in the US and several other nations. More importantly, the sound forged on this record would set a template for success on future ELO albums.
~

Part of Classic Rock Review's celebration of 1974 albums.