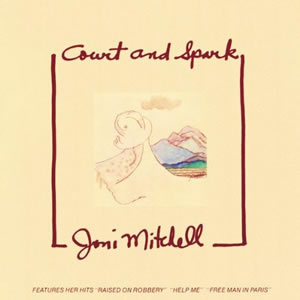 Court and Spark is the sixth album by Joni Mitchell and the first where she moved towards pop and jazz elements to blend with her base folk compositions. The album has been considered by some to be a concept album due to its consistent, recurring themes about love and fleeting relationships. Another underlying theme is Los Angeles and Mitchell's apparent inability to leave it despite her negative view of the city and its inhabitants. Musically, the new approach worked well and was well-received by audiences as Court and Spark became her best-selling album and lone chart-topper.
Mitchell released her debut album Song to a Seagull in March 1968, followed by the Grammy award winning Clouds in 1969. Subsequent albums Ladies of the Canyon, Blue, and For the Roses were all met with increasing popularity and critical praise through the early years of the seventies. These albums were also the first on which Mitchell also acted as producer.
While recording and producing Court and Spark, Mitchell intentionally made a break with her earlier folk sound. She was backed by the "L.A. Express", a talented group of musicians led by guitarist Larry Carlton. She would later tour with this group and recorded a series of shows in August 1974 that were used for the future live album Miles of Aisles.

Court and Spark

by

Joni Mitchell
Released: January 1, 1974 (Asylum)
Produced by: Joni Mitchell
Recorded: 1973
Side One
Side Two
Court and Spark
Help Me
Free Man in Paris
People's Parties
Same Situation
Car On a Hill
Down to You
Just Like This Train
Raised on Robbery
Trouble Child
Twisted
Primary Musicians
Joni Mitchell – Lead Vocals, Guitars, Piano, Clavinet
Larry Carlton – Guitars
Tom Scott – Woodwinds & Reeds
Wilton Felder – Bass
John Guerin – Drums & Percussion
While Court and Spark is pretty solid throughout, there is no doubt that it is a bit top-heavy, with the first four tracks being the best on the album. The title track "Court and Spark" contains slow, minor key piano and extra-melodic vocals, with Mitchell's voice pivoting smoothly through the many differing parts. This song constantly feels like it is about to break out, but instead offers great restraint and ends rather abruptly with strong piano bass notes followed by a single slide guitar note. "Help Me" became Mitchell's only Top 10 single as a pleasant pop ballad with a deeper musical, lyrical, and melodic connotations and great bass by Wilton Felder. Lyrically, the song talks about finding the balance between commitment and freedom;
"It's got me hoping for the future and worrying about the past / 'Cause I've seen some hot, hot blazes come down to smoke and ash / We love our lovin' but not like we love our freedom…"
Written in tribute to Asylum records owner David Geffen, "Free Man in Paris" contains bright and upbeat motifs over the bedding of Mitchell's driving acoustic and the subtle shuffle beat by drummer John Guerin. Guest José Feliciano adds some Jerry Garcia-like interlude riffs on guitar. "People's Parties" is a short song built on the strummed 12 string acoustic and recursive vocal melody. This song has no real structure but repeating verses until the "laughing it all away" and the direct fade to the piano ballad "Same Situation". This builds as it goes along, with tremolo guitar notes and soaring melodies of beautiful sadness.
"Car on a Hill" is a moderate pop/funk song with more excellent exercises on Mitchell's vocal range and a couple of unique sections where it dissolves into an avant garde section. The Grammy award winning "Down to You" was recognized for its very rich arrangement, which may be a bit much in parts as the song seems to get lost and unsure of itself. The mood picks up with "Just Like This Train", a bright acoustic track with the variety and vibe of those on the early part of the album and lyrics that use a train and station as allegories for relationships.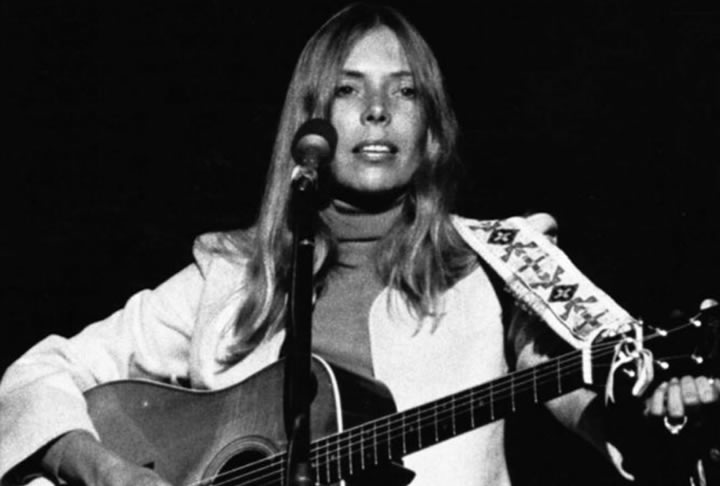 "Raised on Robbery" is a straight-forward, true rocker, which was released as the lead single ahead of the album in December 1973. This outright rock tune was emblematic of Mitchell's new musical direction and features The Band's Robbie Robertson on lead guitar. "Trouble Child" is another pleasant soft rock track with the slightest tinge of an edge, as it musically has just the slightest elements of jazz, led by the trumpet of Chuck Findley. The album finishes with a cover of the 1952 Annie Ross jazz tune "Twisted", a half-serious ode to the protagonist's insanity, which contains some backing skits by the comedy team Cheech & Chong.
Court and Spark received four Grammy nominations as an album and eventually went double platinum. Joni Mitchell continued to migrate towards jazz rock on subsequent fine albums, The Hissing of Summer Lawns, and, Hejira, but neither were quite as successful as this one.
~

Part of Classic Rock Review's celebration of 1974 albums.