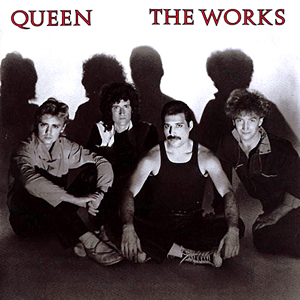 The Works was sort of a comeback album by Queen in 1984. We say "sort of" because the group never really went away, they just faced a major commercial flop with their previous effort, a quasi-disco record called Hot Space, which seemed woefully outdated in 1982. In this light, The Works was a return to form, albeit with strong eighties sonic and arrangement sensibilities. On this nine track album, each member of the quartet brought in at least one complete composition and, while there are some major weak points in the mix, these are superseded by the brilliant high points as well as the fact that this album turned out to be an important pivot point for Queen in the 1980s.
The decade began strong for the group, with the 1980 release of The Game, which topped the charts on both sides of the Atlantic and would become their best selling album. Later that same year, the group released the soundtrack to the movie Flash Gordon, which further expanded their audience and reach. A worldwide tour followed, which included several concerts with audiences topping 100,000 in Latin American in 1981. That same year, Queen worked with David Bowie on the single "Under Pressure", a spontaneous occurrence, as Bowie happened to drop by the studio while Queen were recording, and another huge success, reaching number one in the UK. Late in 1981, Queen released their Greatest Hits compilation, which sold over 25 million copies worldwide and is still the best selling album in UK Chart history. However, 1982 turned out to be a disaster, not just with the flop of Hot Space, but with the inner turmoil which began to brew in the band, as guitarist Brian May and drummer Roger Taylor were both very critical of the new sound and its apparent abandonment of Queen's core rock audience. For the first time in a decade, the group took a break from touring and recording, with some band members working on outside projects and solo albums.
After about a year apart, Queen reunited in August 1983 to begin work on this eleventh studio album. They convened in Los Angeles, making this the first time Queen recorded in America, and spent several months working on the album with co-producer and engineer Reinhold Mack. Here the group fused May and Taylor's rock sound with some of the German-influenced electro pop advocated by vocalist and arranger Freddie Mercury, to fulfill the original mission laid out by Taylor, who stated at the beginning of recording, "Let's give them the works!"

The Works

by

Queen
Released: February 27, 1984 (EMI)
Produced by: Queen & Reinhold Mack
Recorded: The Record Plant, Los Angeles and Musicland Studios, Munich, Germany, August 1983–January 1984
Side One
Side Two
Radio Ga Ga
Tear It Up
It's a Hard Life
Man On the Prowl
Machines (Or 'Back to Humans')
I Want to Break Free
Keep Passing the Open Windows
Hammer to Fall
Is This the World We Created…?
Group Musicians
Freddie Mercury – Lead Vocals, Piano, Keyboards
Brian May – Guitars, Keyboards, Vocals
John Deacon – Bass, Keyboards
Roger Taylor – Drums, Vocals
In what was probably an attempt to show the world that "Queen is back", most of the songs on the albums first side, seem to harken back to previous famous songs by the band. May's straight-forward anthem rocker "Tear It Up" contains a consistent beat that seems to slightly rip off the group's own "We Will Rock You" from the 1977 album News of the World. Mercury's piano ballad, "It's a Hard Life" is pleasant and with good sound production, reminiscent of classic Queen of the 1970s, especially during the uplifting guitar lead by May. "Man On the Prowl" is a Jerry Lee Lewis inspired rockabilly track, complete with those famous Queen backing vocals, very similar to those used on the group's 1979 hit "Crazy Little Thing Called Love".
"Radio Ga Ga" was the lead single from The Works, as well as its opening track, and immediately feels like a breath of fresh musical air. This brilliant composition which combines a synthesized rhythm with pristine melody, was written by Taylor wholly on a synthesizer, but brilliantly arranged by Mercury, who really shines during the escalating pre-chorus, as the singer transforms the rather silly and trite lyrics into an uplifting and majestic piece. There is very little presence by May on this track, but when he does appear at the very end, he performs a simple slide lead which enhances the track further.
The album's second side begins "Machines (Or 'Back to Humans')", a really convoluted and disorganized song, which has no real direction and it appears to just throw in the "kitchen sink" of styles and techniques as a kind of extended filler. Deacon's "I Want to Break Free" is far better than previous track, as it contains good pop craftsmanship, a cool rhythmic riff and a catchy vocal melody, resulting in a pure pop song that is impossible not to enjoy at some level. When Deacon insisted he didn't want a guitar solo on the track, session man Fred Mandel was commissioned to perform a synth solo. Mercury's "Keep Passing the Open Windows" starts as a dramatic piano track but, quickly morphs to a bass-driven rock track led by bassist John Deacon, which is fairly entertaining at first, But the trite lyrics grow old as the repetition increases through this five and a half minute track.
"Hammer to Fall" contains a catchy rock riff, catchy melody, and catchy harmonies, adding up to a latter-era Queen classic. Lyrically the song deals with the threat of imminent doom, but musically it feeds into the good-time, call-and-response of eighties pop/rock. This track should have concluded the album on a high note, but instead the group opted for the short acoustic folk ballad "Is This the World We Created?", a very simple and somber piece by Mercury, which leaves the listener in a low mood as the album concludes. Not a bad piece, but should have been placed before "Hammer to Fall" for maximum effect.
Commercially, The Works did fine as an album, charting in the Top 20 in over a dozen nations worldwide. More importantly, Queen was restored as a top-level, headline act. By 1985, they were again once again playing in front of hundreds of thousands and they performed in front of millions at Live Aid in July of that year. During that festival, the visual of the entire audience at Wembley Stadium clapping in unison to "Radio Ga Ga", has been cited as one of the greatest live performances of all time.
~

Part of Classic Rock Review's celebration of 1984 albums.