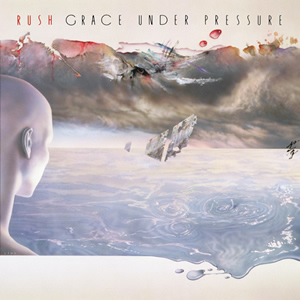 For their tenth studio album, Grace Under Pressure, Rush brought in producer Pete Henderson, after employing Terry Brown for eight consecutive studio albums, dating back to Fly By Night in 1975. The parting with Brown was amicable and the band even went so far as to include a small tribute to him in the liner notes of the album. A dark album thematically, drummer and lyricist Neil Peart examined subjects from within and without and from the past and present. Peart gave the album its title from a Ernest Hemingway line that seemed to describe were the band was after leaving Brown and moving onto uncharted musical territory.
Grace Under Pressure is a natural compliment to Rush's previous 1982 album, Signals, although this one is a bit darker and more mechanical in approach. Like on that album, bassist and vocalist Geddy Lee continued to use synthesizers as a primary instrument, but the production on this album balances the synths perfectly with the layered guitar work of Alex Lifeson. Although he had a lighter role than on previous Rush albums, Lifeson described Grace Under Pressure as the, "most satisfying of all our records."
Rush had originally approached producer Steve Lillywhite to record this album, but Lillywhite withdrew at the last minute, leaving the group to temporarily self-produce until Henderson was hired. Recorded in the familiar confines of Le Studio in Quebec, Henderson and the band spent up to fourteen hours per day perfecting the album's sound.

Grace Under Pressure

by

Rush
Released: April 12, 1984 (Anthem)
Produced by: Peter Henderson & Rush
Recorded: Le Studio, Morin-Heights, Quebec, November 1983–March 1984
Side One
Side Two
Distant Early Warning
Afterimage
Red Sector A
The Enemy Within (Part I of "Fear")
The Body Electric
Kid Gloves
Red Lenses
Between the Wheels
Group Musicians
Geddy Lee – Lead Vocals, Bass, Synths
Alex Lifeson – Guitars, Synths
Neil Peart – Drums, Percussion
The album starts with Lee's driving bass line and key synth hook on "Distant Early Warning". Unlike much of Rush's early catalog, Peart uses repetition to get across important lyrical themes and "red alert" is the key hook here, as Peart conflates the universal and the personal. Lifeson later adds a minimal, textured guitar lead, which brings the strongest rock element to the song as a whole, as the track continues to build to a crescendo. Released as a single, "Distant Early Warning" reached #3 on the U.S. Mainstream Rock charts. Peart wrote "Afterimage" to describe the impressions left by a friend who died suddenly in an accident. The song roars in with a wall of pure sound during the intro and first verse and music and has elements of reggae during the post-verses, while the choruse uses more pop/rock elements with Lifeson's lead riff mimicking Lee's voice
"Red Sector A" is built on Peart's consistent, almost disco-flavored beat and Lee's constant synth arpeggio, as there is no bass guitar on the track. Lyrically, this is one of the darkest songs in Rush's collection, as it was inspired by Lee's mother's stories about the liberation of Bergen-Belsen, where she was held prisoner. Using an atypical arrangement, in a lot of ways, it is Lifeson's guitars that best convey the feel of this song as his chord structure throughout mimics the desperate wails of a human soul in a mechanical Hell; "Are we the last ones left alive? Are we the only human beings to survive?" The open reggae chords and funk rhythms of "The Enemy Within", concludes the first side. Far from the doom and gloom of other parts of the "Fear", this upbeat track is rhythmically supreme, especially with Lee's bass.
The first two songs of the second side are where Lifeson has the most presence. "The Body Electric" is an exciting rocker that seems to at once celebrate and lament and the emerging computer age. Built on Peart's rotating and almost robotic drum pattern, Lee and Lifeson add much melody over top during the verses, while the choruses are more rock-oriented and intense. "Kid Gloves" features Lifeson's well-textured, staccato guitar riff and some odd-timed rudiments as it moves through passages that play with time and tempo.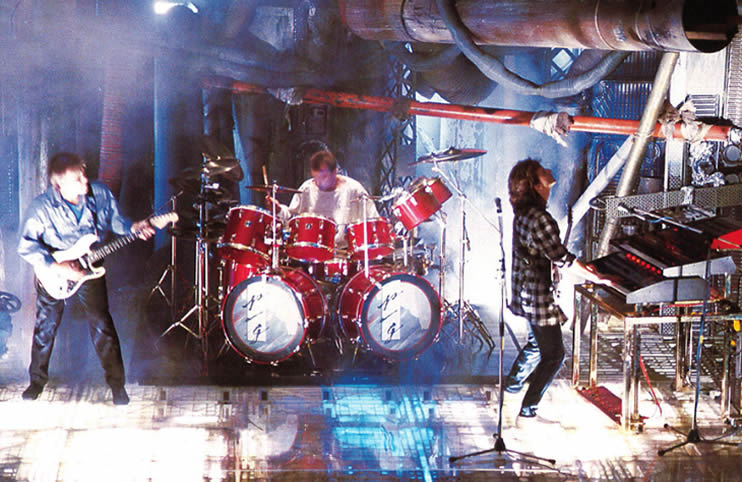 The oddest track on the album, "Red Lenses" alternates between two distinct sections of chorus and verse, with the verses being totally synth-driven and almost cheesy in approach, while the opening and chorus sections are built on a cool, funky bass and rhythms. During an expanded mid section, Peart moves from marimba-style beats to additional, percussion-driven parts, making this his strongest overall track. The grinding synth intro of the closer "Between the Wheels" perfectly illustrates the song's intended vibe of a negative and dystopian world. The track contains sections of brilliant rock arrangements, always eventually returning the beginning grind, and ends almost violently, with foreboding riffs on guitar and percussive smashes on drums and piano.
Grace Under Pressure reached the Top 10 on the Billboard album charts and immediately went platinum upon its release in the US. This would mark the high-water mark of Rush's mid-eighties body of work, as subsequent albums relied much more heavily on synthesizers.
~

Part of Classic Rock Review's celebration of 1984 albums.